Five tips to help handle criticism
Sometimes criticism can leave us feeling down. Be sure to look at the bright side too!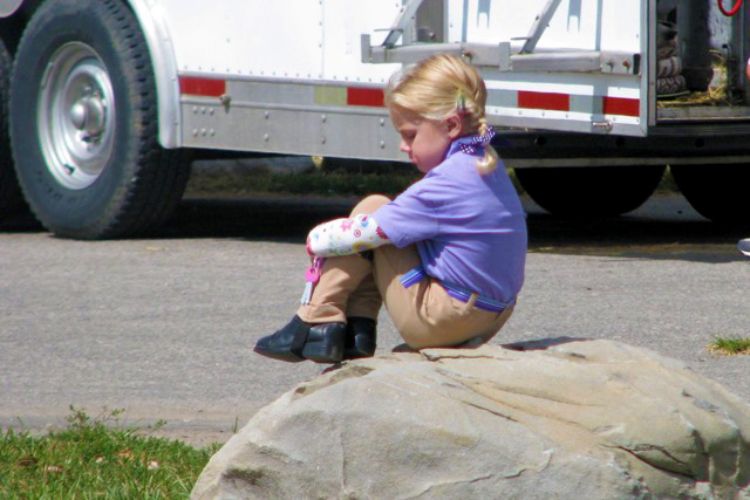 When you're immersed and invested in an activity, it is easy to get caught up in the moment. Nowhere is this more evident than in horse showing. After investing many hours and likely even more dollars, the idea of that pretty blue ribbon and a trophy can get the best of us. I, too, am guilty of this. I'm guilty of not enjoying the journey and only focusing on the end goal. I'm guilty of not celebrating the many, smaller successes throughout the learning process.
With the tips listed below, I hope to equip you with information to better handle the emotionally-charged activity of horse showing. If you follow these five tips, you'll be able to appreciate the progress you make, albeit it slow at times, which will only make reaching your ultimate goals that much sweeter.
First things first: It's crucial to realize just how useful criticism and critique can be. My horse is by no extent a perfect horse. I have put my all and then some into training him myself along with lessons from my 4-H leader. You and I like to believe we are the best and deserve that first place, but in reality our successes in the show ring are only one way to measure our overall success.
No matter your competitive performance, all of us could improve in some degree. Have you ever gotten that sick feeling in your stomach when someone tells you to change this, improve this or work harder on that? That feeling like you can't seem to get anything right? Yeah, me too. But we have to remember that if someone is providing us with constructive criticism, they are trying to help us improve and achieve our goals. They are unselfishly sharing their expertise with us. Here are some tips on how to take criticism like a champ.
Don't complain. First of all, any true equestrian knows this is not an easy sport and you need to work to get what you want. If you want to be in this game, there will be blood, sweat and tears. Your trainer, friend or 4-H leader is just trying to help you get better. Complaining to them may inadvertently send the signal you don't want help. This will likely prevent them from offering advice in the future.
Be willing to work. As with anything worth having, you must work for reaching success with your horse. You will get out of the experience as much as you are willing to put in.
Listen and reflect before reacting. Before responding to any criticism, take a moment and try not to react. If you take a deep breath and reflect on the critique offered, you'll realize that most of the time they aren't even being negative. Most educators, like trainers, coaches and leaders, will usually phrase the criticism in a positive manner.
Don't take it personally. Again, your coach or leader has the best intentions for you and just wants to help you succeed. If what is being said is actually offensive, then politely tell them it wasn't appreciated. It's likely they didn't mean to offend you.
Ask questions. A good amount of the time an offensive criticism is just a misunderstood one. If you don't understand the critique, just ask for clarification. Through this process there will be more opportunities for learning on both sides of the conversation.
If you would like to read more on this topic, check out this article from Psychology Today on "Top 10 Tips for Receiving Criticism." Just always stay humble and remember why you are doing this: to have fun.