Flint, Mich., area urban agriculture report – July 17, 2013
Crop harvest from urban hoop-houses and the field continues, little to no rainfall and much higher temperatures in the past week has urban growers irrigating.
Weather
According to the Michigan State University Enviro-weather station in Flint MI, temperatures for the past week ranged from a 53.2 degree Fahrenheit low to a 94.2F high with an average of 74.9F. We are at 1424 GDD base 50 (Growing Degree Days), which is ahead of normal (1323), but behind last year's reading of 1620 at this time. The area received around .04 inches of rainfall in this period, unlike the previous rains we had been receiving. Our rainfall total for the year is 21.11 inches – the average annual rainfall in the Flint area is 30.3 inches.
Crop Reports
Several pest problems noted this week. Some powdery mildew noted in summer squash in hoop-houses; possible sunscald in bell peppers, both in hoop-houses and in the field. Squash bugs, cucumber beetles and Japanese beetles are present on winter squash and edamame beans. Green bean rust has been noted in the hoop house. Early blight and Septoria leaf spot has been found in tomatoes in the field.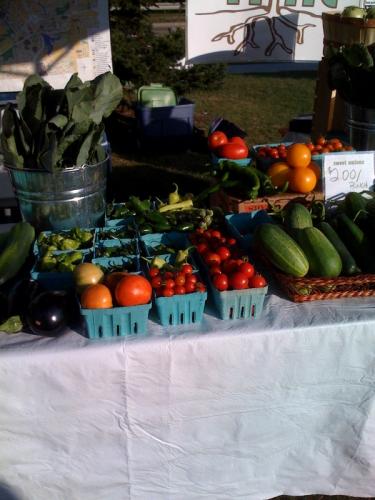 According to a Michigan State University Extension educator, herbs, collards, tatsoi (Asian greens), salad and mustard greens (from low tunnel production), rainbow Swiss Chard, yellow and zucchini summer squashes, Hungarian and sweet banana peppers from the field were brought to the urban growers' co-operative stall at the Flint Farmer's Market on Saturday. Growers are still harvesting kale – red Russian, ragged Jack, dinosaur and curly varieties. Out of area hoop-houses, the crops brought to the market included slicing and cherry tomatoes, green beans, cucumbers, summer squashes and basil.