Flint, Michigan area urban agriculture report – June 3, 2015
Updates about urban and semi-rural small scale diversified vegetable farm fields, hoop-houses and market gardens in the Flint area.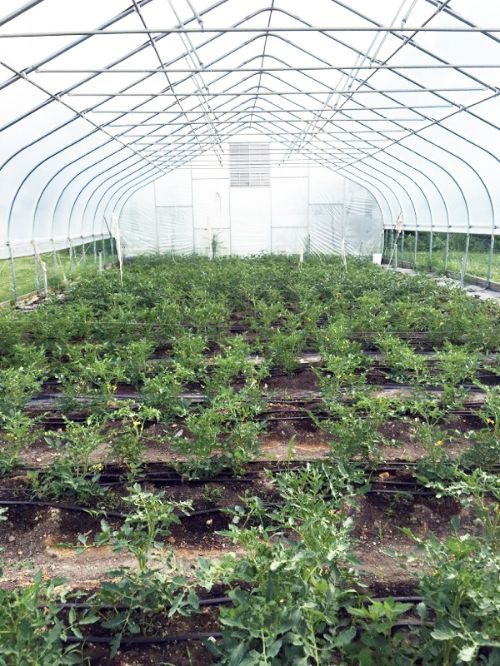 Weather
According to the Michigan State University Flint Enviro-weather station, temperatures for the past week ranged from a 39.2 degrees Fahrenheit low to an 83.6 F high. We are at 528 growing degree days (GDD) base 50; this past week's fluctuating temperatures swinging from warm to cold has been a challenge for planting warm season crops in the fields. The rainfall total for the year to date in Flint, Michigan, is 6.96 inches; we were pleased to receive over 1.5 inches of rainfall in the past week in the area.
Crop reports
According to research done in the MSU Hoop-houses located at the Student Organic Farm and educator observations from the field, warm season crops are being planted and cool season crops are being harvested due to season extension technology this time of year. MSU Hoop-house resources include general information, crop schedules, business planning information, transplant information and funding opportunities for hoop-house growers. In area hoop-houses, planting of warm season crops including summer squash, basil, ginger and cucumbers continues. Trellising of tomatoes and weeding are the two main activities in area hoop-houses this week. Cold night temperatures this week required dropping the sides of hoop-houses to close them and protect the tender crops growing there.
Flea beetles are now a problem in the field, and the much needed rain has brought out weeds. Three-lined potato beetles have appeared on tomatillos this past week, and one grower identified the first lacewing of the season.
In outdoor fields, growers are busy planting succession plantings of carrots, beets, beans, salad greens and kale to extend the harvest for fresh market sales over an extended period. Several growers have delayed the outdoor planting of warm season crops, waiting for the night temperatures to increase and stabilize.
Going to area farmers markets now
According to a Michigan State University Extension food systems educator, area growers are harvesting peas, strawberries and herbs from area hoop-houses this week. Outdoor harvest includes salad greens, spinach and radish.