Flint, Michigan, area urban agriculture update – April 28, 2017
Growers in urban and semi-rural small scale diversified vegetable farm fields, hoophouses and market gardens are prepping and planting during the recent days without rain this week.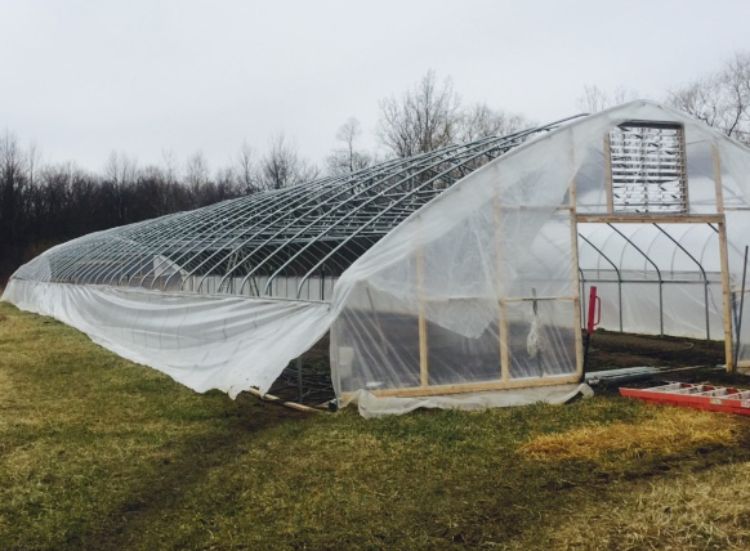 Weather
According to the Michigan State University Flint Enviro-weather station, temperatures for the past week ranged from a low of 34.1 degrees Fahrenheit to a high of 80.3 F. We are at 185 growing degree-days (GDD) base 50, which is seven to 10 days ahead of the five-year averages. The Flint, Michigan, area has received 7.32 inches of rain since March 1, which is almost twice the normal average rainfall for this time period—a warm, windy and wet spring indeed.
At least 10 area hoophouse growers lost the plastic covers on their hoophouses during the historic wind event that occurred last month on March 8, and many are still repairing that damage, pulling plastic over the hoops to replace tattered and torn plastic covers prior to spring plantings (see more pictures at end of article).
Crop reports
According to research done in the MSU hoophouses located at the Student Organic Farm and MSU Extension educator observations from the field, summer crops like tomatoes and peppers are being planted in area hoophouses and outdoors; cool crops like peas, salad greens and beets are being planted in fields that are workable at this time of year, although spring rains have delayed planting on heavier soils.
In area hoophouses, pests include early flea beetle damage on cole crops, like mustard greens, which one grower claims is one to two weeks ahead of normal in her hoophouse. Flea beetles damage plants by chewing small shot-holes in the foliage, can be a serious pest in the production of leafy vegetables and are one of the earliest pests found in spring.
Some mustard greens, kale, spinach and Asian greens have also bolted in area hoophouses due to the fluctuating air temperatures we have experienced. Bolting is a term that refers to a plant's process of sending up a flower stalk, or going to seed, in response to either day length or temperature. The exposure to very warm weather this spring has caused bolting, which causes bitterness and renders the crop unmarketable.
Going to area farmer's markets now
According to MSU Extension food systems educator, area growers are harvesting leafy greens, including radish, Bok choy, spinach, kale, mustard greens and Asian greens.