Flint, Michigan, area urban agriculture update — July 19, 2017
Updates about urban and semi-rural small scale diversified vegetable farm fields, hoophouses and market gardens in the Flint area.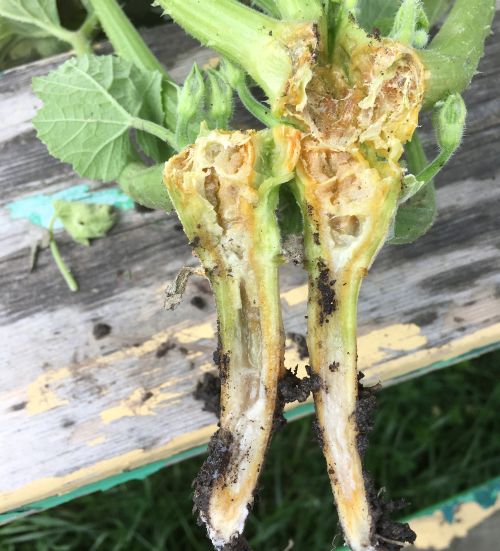 Weather
According to the Michigan State University Flint Enviroweather station, temperatures for the past week ranged from a low of 54.4 degrees Fahrenheit to a high of 86.2 F. We are at 1,435.8 growing degree-days (GDD) base 50; our season is still several days ahead in terms of the five-year averages. The Flint, Michigan, area has received 2.77 inches of rain over the past two weeks, which has been favorable for crop growth.
Crop reports
According to research done in the MSU hoophouses at the Student Organic Farm and MSU Extension educator observations from the field, growers are preparing beds for planting beets, carrots, Swiss chard and kale in hoophouses for fall harvest. Some examples of blossom end rot on slicing tomatoes has been observed.
Pests being seen include moderate numbers of cucumber beetles, blister beetles on pepper (an occasional pest found on plants in the tomato family) and some Japanese beetle damage. There have been isolated squash vine borer in zucchini in the field and some onion maggot damage in harvested garlic.
Diseases including early blight on tomato and leaf spot on cucumbers. Growers in Genesee County are also watching for downy mildew on cucumbers and melons since it have been confirmed in the state and recent humid, wet weather has been conducive to disease development.
Going to area farmer's markets now
Area growers are harvesting kale, kohlrabi, cherry tomatoes, slicing tomatoes, green peppers, basil, fennel, eggplant, cucumbers and carrots from hoophouses. In the field, zucchini, lettuce mix, beets, Napa cabbage, green beans, beet greens, garlic, kale and Swiss chard is being harvested.