Focus on forages at MSU Ag Innovation Day
Educational sessions range from reduced-lignin alfalfa to fitness tracking for cows.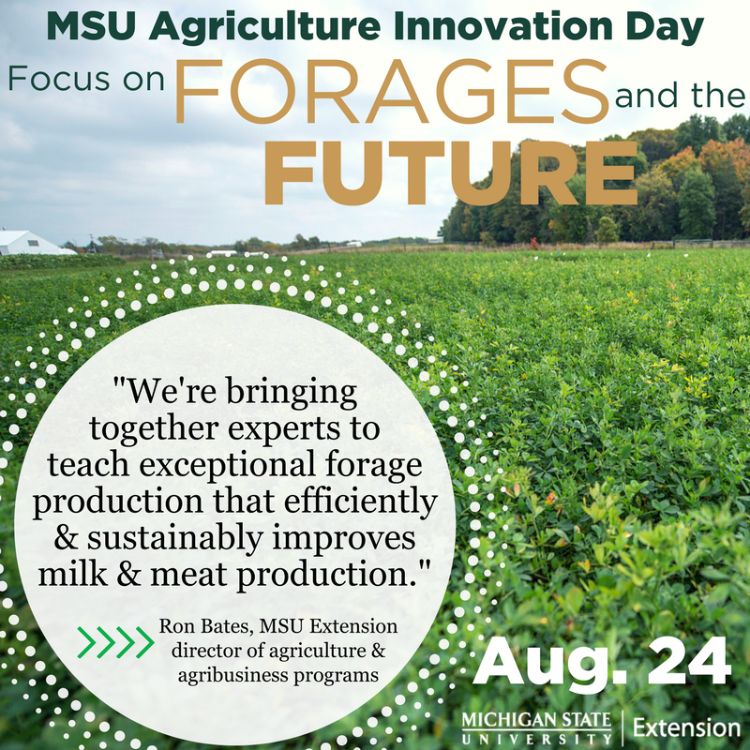 Michigan State University is packing a huge educational punch into its second annual MSU Agriculture Innovations Day Aug. 24 at the Lake City Research Center. Experts, scientists and researchers will tackle the most pressing issues facing farmers through breakout sessions and demonstrations on new and emerging technologies and how they can help farm businesses improve sustainability and profitability.
MSU Agriculture Innovations Day began last year after a steering committee of industry experts convened to develop a replacement for the discontinued Ag Expo. The day is designed as an educational event that moves annually throughout the state, providing information based on the identified needs in that specific locale.
Each year the theme changes. Last year's theme, "Focus on Soils," was hosted at the Michigan State University Saginaw Valley Research and Extension Center. It focused on cutting-edge technology regarding crop fertilization, drainage and soil compaction.
This year's theme, "Focus on Forages and the Future," is being hosted at the Lake City Research center located at 5401 W. Jennings Road, Lake City. This free event begins at 12:30 p.m. with registration and sessions starting at 1 p.m. Preregistration is not required, but is suggested.
A catered dinner is available to all participants to celebrate Michigan agriculture. The dinner will feature a short program with comments from MSU President Lou Anna K. Simon and Ron Hendrick, the dean of the College of Agriculture and Natural Resources.
Educational sessions offered
The educational sessions will discuss topics that address newly completed research on reduced lignin alfalfa, new technology to improve silage quality, better methods to produce baleage, ways to stretch acreage for manure application, and several sessions regarding improved methods in beef production. Each session will highlight key ideas needed for successful implementation and show financial analysis of how these ideas will impact farm profitability. They will include:
Reduced-lignin alfalfa in cattle feeding systems. Reduced-lignin alfalfa is a new innovation in alfalfa production, with limited information available regarding how it will perform and be used in modern dairy feeding systems. Mark Sulc, Ohio State University, will discuss the first release of results of a three-year study across multiple locations including MSU, comparing reduced-lignin alfalfa to traditional varieties. This will include both yield and quality results. Producers will learn how this technology may be used across Michigan depending on the length of the growing season, and see an example calendar demonstrating this concept. A cost analysis will show how this technology may positively impact farm profitability.
Improve chopped silage with app. Improving silage quality can have a tremendous impact on milk production and farm income, but improving particle size when chopping silage is difficult to do. Brian Luck from the University of Wisconsin will demonstrate a new phone app and how it can be used in the field when chopping silage. This technological breakthrough will help dairy farmers improve particle size while chopping silage in the field and will help to create more consistent silage. Participants will be able to learn how to use this technology and how it may affect their cost of production.
Precision dairy cattle monitoring. Precision agriculture is an often-used phrase that can mean many different things. However, how it will be used in cow management is emerging. Barbara Jones from Tarleton State University will discuss how precision animal monitoring can be used in modern dairy production to improve both health and reproductive management. This will include an assessment of how different forms of this technology impact the producer's bottom line.
Baleage made right. Baleage is an alternative to traditional silage or dry hay, but many producers face a challenge when trying to turn baleage into a high-quality feed for both developing heifers and overwintering cattle. Wayne Coblentz, USDA scientist at the Dairy Forage Research Center in Wisconsin, will discuss how better practices can improve baleage quality and show differences in forage quality based on different methods used in making baleage. The financial implications of differences in baleage quality will be featured as well.
Manure as a soil amendment. Manure as a soil amendment is an important component to improving soil quality and reducing the use of commercial fertilizers. Two sessions will cover manure application as a soil amendment. MSU educators Kim Cassida and Marilyn Thelen will talk about using cover crops in a double-cropping system that can increase forage production and improve forage quality for use in growing stock in both dairy and beef. This double-cropping approach is used to enhance soil nutrient removal to effectively increase the amount of manure applied on those acres. This type of system can increase forage production and stretch those acres in which manure can be applied. The financial impact of this on the farm will also be addressed.
MSU's Lisa Tiemann and Dean Baas will show producers how manure application is an important component to improving soil quality. Using manure along with forage crop selection, crop rotation and cover crops in a systematic approach will improve soil quality and overall soil fertility and sustainability. Emerging strategies show that a systematic approach to enhancing soil quality improves overall soil health and better support crop production.
Creating profitable beef operations. Beef production can be a rewarding and challenging business. Burke Teichert, past manager of Deseret Land and Cattle Co., will show how beef production can be successful from a farm business and holistic point of view. As a featured columnist for BEEF magazine, Burke will draw on his vast knowledge, as well as experiences of the many cattle producers he has worked with throughout his career.
Grass-fed beef. Consumer preferences are changing, and how they want their food produced is opening new marketing opportunities for farmers. Lately, grass-fed beef has begun commanding higher premiums than feedlot-finished beef. MSU Extension beef educator Kable Thurlow will cover the results from a five-year MSU study that provides important insights on how to successfully implement grass-fed beef production on Michigan farms and what the cost analysis indicates for farm profitability. John Nelson, beef producer from near Midland, will discuss how he has successfully implemented grass-fed beef production on his farm.
Land-to-Market program. To further address new opportunities to meet changing customer preferences, MSU's Matt Raven and Jason Rowntree will demonstrate how the Savory Institute's Land-to-Market program can improve soil quality and forage quality for both beef and sheep producers, allowing them to tap into emerging markets requiring these production specifications. This session will address how farmers can improve the quality of their soil, boost forage production and access these emerging markets with products meeting specified attributes.
Go online for more information on MSU Agriculture Innovation Day. Bates is the MSU Extension agriculture and agribusiness director.
The article was originally published in the July issue of the Michigan Farmer Magazine.