Focus on Forages winter meetings slated for February and early March
Recent forage research from Michigan State University will be featured at six locations in February and early March 2016.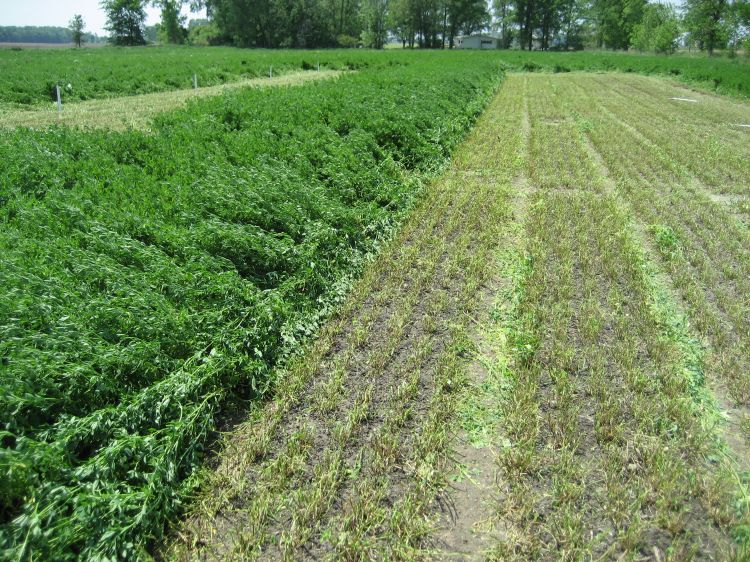 Editor's note: Two RUP credits are available for each meeting. This information has been added Feb. 1.
During the busy growing season, forage producers rarely have the opportunity to look at current university research to provide insights into increasing their current production due to perpetual harvesting that starts in May and ends in October. Michigan State University Extension is offering six Focus on Forages meetings beginning early February to give producers the opportunity to hear about recent forage research, forage demonstrations and management. Alfalfa, grass and corn silage producers, as well as custom harvesters, agribusiness professionals and consultants, are invited to hear from some of MSU Extension's forage team at the six regional meetings to be held across Michigan's Lower Peninsula. An additional meeting is being planned for the Upper Peninsula later this winter.
Producers will be able to compare their current yields and practices compared to the findings from MSU. According to USDA National Agricultural Statistics Service (NASS), the average yield for all hay and haylage is approximately 3.02 tons of dry matter per acre (alfalfa is 3.48 tons of dry matter per acre and grass 2.11 tons of dry matter per acre). This is roughly half of what MSU will harvest on their research acres. USDA NASS also reports that in 2014, Michigan had approximately 1.21 million acres of hay and haylage and an additional 320,000 acres of corn silage.
MSU forage specialist Kim Cassida will present her findings and latest information on low lignin alfalfa at all locations. She has been building her research program at MSU since arriving in 2012 and is eager to share her results. Additional topics for discussion include roundup ready alfalfa management, alfalfa/grass mixture management, a summary of the Michigan Forage Variety Test Report (current and long-term), birdsfoot trefoil management, the 2015 Michigan Alfalfa Sulfur Survey summary, forage quality of cover crops for hay and silage, and fertility and forage cost of production. A special presentation via video will be done by Kansas State University professor emeritus Keith Bolsen on "Bunker Silo Silage Safety." Additional members of the MSU Extension forage team will also be presenting.
Dates and locations for the meetings are as follows:
February 8, 2016
Isabella County Commission on Aging
2200 S. Lincoln Rd.
Mt. Pleasant, MI 48858
Meeting room B
February 9, 2016
Franklin Inn
1070 E. Huron Ave.
Bad Axe, MI 48413
February 16, 2016
Wexford MSU Extension
401 N. Lake St., Suite 400
Cadillac, MI 49601
February 17, 2016
Agro-Culture Liquid Fertilizer
3055 M-21
St Johns, MI 48879
February 25, 2016
Hillsdale County MSU Extension
20 Care Dr.
Hillsdale, MI 49242
March 2, 2016
Allegan County Human Services
The Zimmerman room
3255 122nd Ave #300
Allegan, MI 49010
All participants are asked to preregister. To register online or pay by credit card, go to the Focus on Forages Registration page. For those are unable to register online, please contact Tina House at 810-667-0341 or houset@msu.edu. All meetings will be 10 a.m.-2:30 p.m. and include lunch. On-site registration begins at 9:30 a.m. The cost for the program is $30 per person. Two RUP credits for each meeting are available.
For more information about the meetings, please contact me at 810-667-0341 or kaatz@msu.edu.