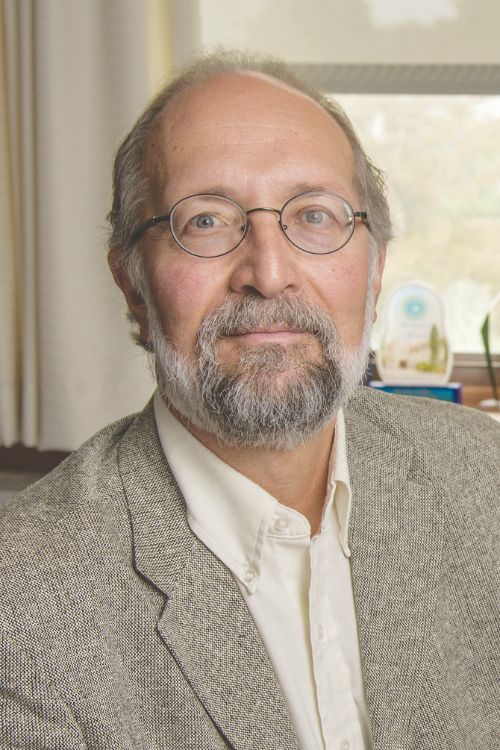 Food@MSU is about more than just food.
It's also about people.
The Michigan State University (MSU) AgBioResearch initiative unites academics, scientists, farmers, authors, community members and consumers to form a greater understanding of the myriad of ways in which food has an impact on our lives and our planet.
This unification of the public and experts through meaningful conversation represents "a refreshing paradigm shift from the way universities often engage the public," said Doug Buhler, director of MSU AgBioResearch, in an interview with WKAR's Kirk Heinze on the May 11 edition of "MSU Today."
Our Table, the main component of Food@MSU, is a series of ongoing roundtable discussions on specific food topics. These conversations are intended to be an open dialogue between community members and panelists to share scientific findings and other information, insights, concerns and experiences related to the chosen topic.
Based on the concept of meaningful conversation around a dinner table, Our Table aims to take experts out of their silos, real or perceived, and into an environment of intentional listening.
"One of the things we found out in some of our own work and from really viewing some of the literature out there is [scientists] are not viewed as being very good listeners," said Buhler.
Buhler said thinking along the lines of "if you just understood us, you'd love us" is an ineffective way for academic experts to communicate messages to the public.
Part of the paradigm shift is to rethink the ways in which science is communicated to a more general audience.
"I think we're realizing that we need to back up a little bit and realize not everybody thinks about this stuff all day, every day like we do," Buhler said. "They have very complicated lives, they do other things, and we have to accept that. It's not negative or positive. It's just the reality of we need to re-look at how we're helping to educate people to understand these things."
The MSU Food Literacy and Engagement Poll, part of Food@MSU, forms a baseline of what consumers understand about food-related subjects, such as food access, sustainability and genetically modified organisms (GMOs). The data collected by the poll, conducted in part by Buhler and academic specialist Sheril Kirshenbaum, offers insight on gaps in public knowledge and prompts the Food@MSU team on priority areas for engagement.
"It has really been revealing," Buhler said of the poll. "It's really helped us."
Addressing concerns in an evidence-based way, however, can be difficult with all of the misinformation in today's fast-paced news cycle. It presents a struggle to consumers when determining fact from fiction, and a struggle for scientists and experts in effectively communicating a message that is easily understood and resonates with the public.
"Scientists love their data and they want to make sure that it's right. That takes a lot of time," said Buhler. "Unfortunately, the way the world moves now, that's not a system that always works real well, because we're kind of always behind."
Food@MSU strives to examine food issues from a lens that includes a wide variety of experts and consumers. It brings society one step closer to what an education-based initiative aims for – improving lives.
"I don't know exactly what the solution is, but we need to re-look at it and we can start by looking in the mirror and examining some of the things we're doing, and looking at new ways to help people," Buhler said. "That's our job, ultimately, to help people understand these things and help make their lives better."