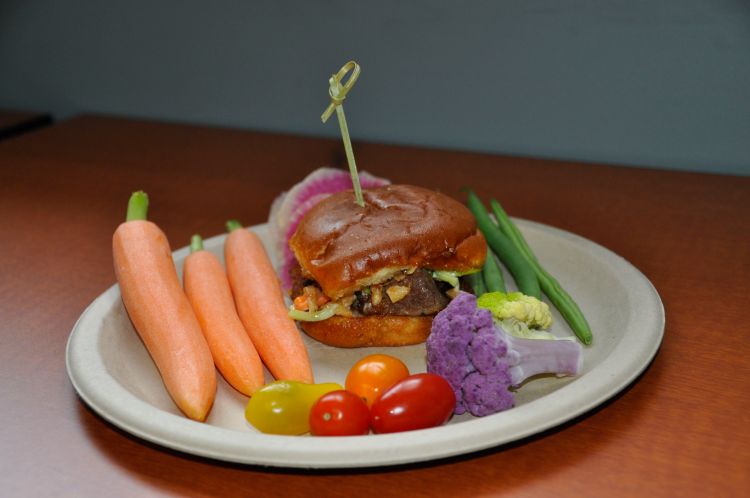 Barbecue beef tongue sliders, pickled watermelon rinds and broccoli stem chips were some of the items on the menu served prior to Food@MSU's Our Table panel discussion on food waste, held March 21 at the Michigan State University (MSU) Surplus Store and Recycling Center.
The dishes were the brainchild of Kellogg Catering executive chef Robert Trufant, who worked closely with planners to develop a menu that reflected the food waste theme.
"Any time that we can utilize this kind of product that is otherwise going to waste, it's good for everybody, from a sustainability standpoint," Trufant said.
In creating the menu, Trufant focused on good-quality food that is typically discarded or not consumed.
The broccoli stem chips were made from trimmings from previous parties that Trufant's team catered. For dishes such as the beef tongue sliders and cornflake-crusted pork strips, Kellogg Catering asked the MSU Meat Lab what was in their freezer going unused. Trufant said it was his goal to take "less popular cuts and make them approachable for people."
Scott Danci, a sous chef with Kellogg Catering, was appreciative of the resources available through MSU that were used in obtaining ingredients for the menu.
"It's nice to have the resources here on campus, like the meat lab or the dairy store, so sourced locally and local flavors," Danci said.
Although different, the menu wasn't so unusual that it would deter people from trying the food.
"I don't think it's too off the wall. I think if we really went out there and went crazy, I think maybe the wildest thing is the pickled watermelon rind," Trufant said. "Beef tongue, I think, nowadays, people are exposed to a lot more, so it's not so crazy."
The beef tongue, braised for four hours, was sliced and served on brioche buns. A broccoli slaw, which also uses broccoli stems, was put on top of the meat, along with carrots, and some crispy onions that were fried up fresh.
"Honestly, beef tongue is a fantastic product. It has a nice, intense flavor of beef and it is fall-off-the-bone, so to speak, melt-in-your-mouth, the way that we cook it," said Danci.
Danci said making the unusual dishes was an enjoyable experience.
"It's fun to work with ingredients that you don't usually get to work with every day," he said.
Trufant said being involved with an initiative like Food@MSU is important because "food security is paramount – every aspect of it, from how we're growing it all the way to the waste end, which is where we're at right now."
Trufant said he hoped his menu could teach the value of being more resourceful with food.
"From an educational standpoint, so people can go out and buy these underutilized cuts that are either getting thrown away or frozen, or when they trim their broccoli up at home they say, 'Oh, I could do something with the broccoli stems' and help them, educate them to stop wasting so much," he said.
Food@MSU is a public awareness campaign led by the College of Agriculture and Natural Resources that seeks to provide knowledge so consumers can make better informed decisions about food and its impact on our health, our planet and other facets of society. Our Table, a series of community roundtable discussions centered on specific food topics, is the centerpiece of the initiative.