Food for Change Summit 2013 focuses on community food systems
Second annual gathering puts spotlight on impact local food can have on health, economy and sustainability issues.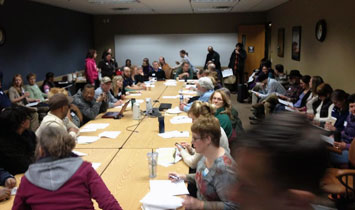 The topic of local/regional food systems is current and compelling, with its ability to boost quality food access, individual and community health and local economies simultaneously. With $1.1 billion dollars spent on food in Genesee County (Michigan) annually, most of which leaves the county for food produced outside of the county, enhancing local and regional food systems could benefit Genesee or any other county by keeping some of those dollars local.
This, plus a host of other food-supply topics was the subject of discussions at the second "Food for Change" Summit in Flint, Mich. on Jan 26. Summit organizers wanted to further the regional conversation that began at the first Summit in 2012 on food systems, engaging residents on food policy, food and economic development, and community-based efforts to improve local/regional food systems.
Nearly 250 people – urban and rural farmers, policymakers, gardeners, food entrepreneurs, food processors, food retailers, healthcare professionals and the public came to the second Food for Change Summit. Participants went to breakout sessions to discuss food policy and advocacy, food hubs, local resources for farmers and gardeners, healthy convenience stores, improving school food through the Food Corps program, and community-based food planning through the City of Flint's new Master Plan. The goal was to identify local/regional food issues and to advocate for a community-based food system.
The food served at the summit was all locally grown and/or raised, and it was amazing to see what growers in the area were able to produce in the middle of winter. Many participants were new faces to summit organizers, and their interest and enthusiasm was infectious.
"It's great to see people excited about the local food system and eating well and tying food to the community and land," said one participant.
Two unique activities took place during the day against the backdrop of informational sessions and facilitated conversation. One was a "classifieds" exercise that people voluntarily participated in by listing on a paper plate their "needs" and "wants" relative to policy, access, finance, skills, education, land, equipment, etc. This input is currently being compiled into an online resource for community members to use and eventually add to.
The second activity was a series of stimulating visual displays on sustainability from a national project called The Lexicon of Sustainability. The program's premise is that people can't be expected to live more sustainable lives if they don't know the most basic terms and principles that define sustainability. Nearly 200 leaders in food and farming from across the country contributed to the project. The posters were inspiring, thought provoking and relevant to the Food for Change Summit and will be used to educate others at future events.
The Food for Change Summit in Flint was sponsored by Michigan State University Extension, MSU's Center for Regional Food Systems and its MI Food Hub Learning and Innovation Network, Genesee County Farm Bureau and the Ruth Mott Foundation.
Photo courtesy of Sam Farah, edible flint.