Four Michigan youth compete in National Junior Dairy Management Contest
Four Ottawa County youth travel to Harrisburg, Pennsylvania, to compete at contest during the 2016 All-American Dairy Show.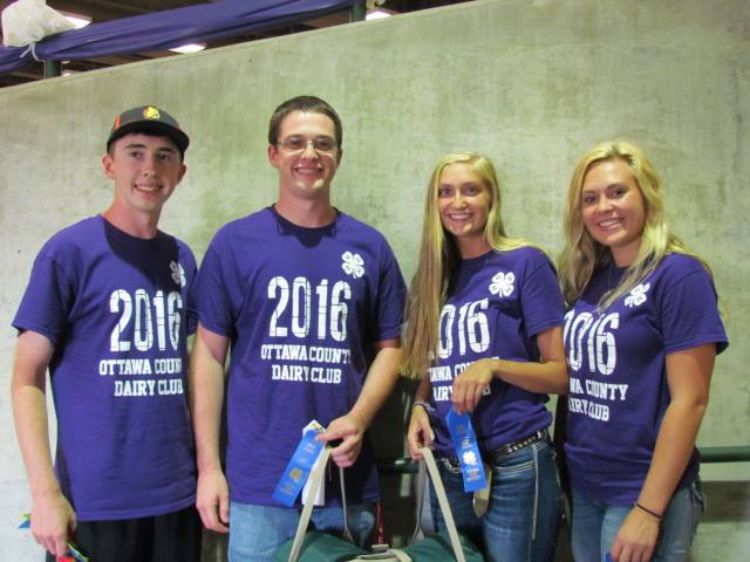 Every July, youth from across the state participate in 4-H Youth Dairy Days which is part of Michigan Dairy Expo, the largest annual dairy event in Michigan. During this week-long celebration of the Michigan dairy industry, youth have the opportunity to compete in multiple educational events. These events allow youth to demonstrate not only dairy knowledge, but other important life skills learned through 4-H, the youth development program of Michigan State University Extension.
The first educational contest of the week is the Dairy Management Contest. The Dairy Management Contest is similar to a laboratory practical where youth rotate through six stations and are asked to assess a problem; answer questions about dairy cattle nutrition, health, behavior or other topics; identify common tools found on a dairy cow; or demonstrate a specific skill, such as how to properly give an intermuscular (IM) injection. Youth can compete in teams of three or four or as individuals in one of three age groups: novice (9-11 years old), junior (9-14 years old) or senior (15-18 years old). Scores from the stations are totaled and winning teams and individuals are announced during the awards dinner at the end of the week.
In 2016, there were 10 novice teams, 12 junior teams and 17 senior teams competing. In addition to being recognized during the Michigan awards dinner, the winning senior team earned the opportunity to compete at the National Junior Dairy Management Contest held in conjunction with the All-American Dairy Show in Harrisburg, Pennsylvania. This contest, much like the contest held in Michigan, tests participants' dairy knowledge on topics such as feed identification, farm finance and current issues in the dairy industry. This year's winning team was four youth from Ottawa County: Chelsea Barnes from Grand Haven, Brittany Dreyer from Zeeland, and Caleb and C.J. Shearer from Hudsonville. Barnes, Dreyer and Caleb Shearer, plus Ashton Geurink from Zeeland, compete against other 4-H youth from across the country on Tuesday, Sept. 20.
4-H Youth Dairy Days and the educational contests held that week are just one example of science programming available through MSU Extension. Michigan State University Extension and the Michigan 4-H Youth Development program helps to create a community excited about STEM (Science, Technology, Engineering, and Mathematics). 4-H STEM programming seeks to increase science literacy, introducing youth to the experiential learning process that helps them build problem-solving, critical-thinking and decision-making skills. Youth who participate in 4-H STEM content are better equipped with critical life skills necessary for future success. To learn more about the positive impact of Michigan 4-H youth in STEM literacy programs, read our 2015 Impact Report: "Building Science Literacy and Future STEM Professionals."
For more information about 4-H Youth Dairy Days or other youth dairy science programming, please contact Melissa Elischer at elischer@anr.msu.edu.