Fourth annual Great Lakes Hop and Barley Conference focuses on marketing and business development
The fourth annual Great Lakes Hop and Barley Conference will be held in Kalamazoo, Michigan on March 12-14.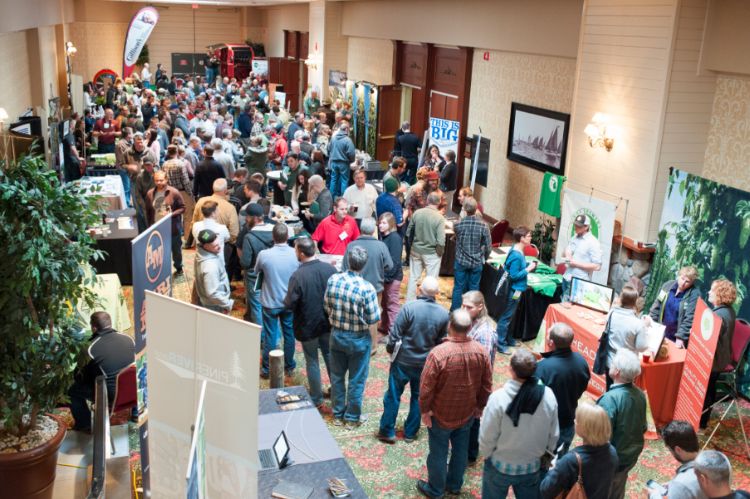 Educators from Michigan State University Extension with support from Michigan State University AgBioResearch, and the Michigan Brewers Guild are hosting the fourth Annual Great Lakes Hop and Barley Conference March 12-14 at the Radisson Plaza Hotel in downtown Kalamazoo, Michigan. This year's conference will focus on marketing and business development strategies for Michigan hop and barley producers and processors in order to uniquely identify these locally-grown products fueling the craft beer industry. The conference will once again include a diverse and expansive trade show.
Also new this year is an Introduction to Hop Production pre-conference session held during the afternoon of Monday, March 12. This schedule change will allow producers who attend the introductory session to also sit in on the more advanced hop track slated for March 13-14 in conjunction with the barley and malt track.
General session highlights include a craft beer industry update from the Brewers Association, learning more about growing specialty crop industries from the Michigan Christmas Tree Association, how to organize industries for growth, and special zoning and land use considerations for farm breweries. Tuesday's program will conclude with a keynote from Dave Lorenz from the Pure Michigan marketing campaign who has used the craft beverage industries to attract tourism and economic development in communities throughout the state.
The barley and malt track will include a comprehensive update from the MSU malting barley research program with a special focus on the winter malting barley research recently conducted. Scott Fisk from Oregon State University will also be presenting on the Flavor Fields Study, which focuses on flavor attributes of barley varietals. And Steve Edwardson, from the North Dakota Barley Council, will present on barley economics and considerations in establishing price and markets.
On Monday, March 12, there will be an introductory hop track for those interested in learning the basics of production, hopyard construction and management, and Integrated Pest Management. The cost for this ½ day session is $50. The full conference hop track will include presentations from: Dr. Dave Gent (USDA ARS)-powdery mildew management; Dr. Peter Darby (Wye Hops, LTD)- Hop Breeding and the UK Hop industry; Dr. Mary Hausbeck and Doug Higgins (MSU)-Downy Mildew Management; Derek Stepanski (Bells Brewery) and Alec Mull (Founders)-Hop Quality Group update, and Jeff Steinman (Hop Growers of Michigan and Hop Head Farms)-Hop Growers of Michigan update.
The Great Lakes Hop and Barley Conference planning team is also very excited to announce a special beer and food pairing event Tuesday evening led by Fred Bueltmann – the well-known Beervangelist from This Craft Nation and author of Beervangelist's Guide to the Galaxy: A Philosophy of Food & Drink. The evening reception will feature Michigan beers highlighting Michigan-grown ingredients.
Wednesday afternoon, attendees will have options for local industry tours, including a tour of Hop Head Farm LLC in nearby Hickory Corners. Hop Head Farm is one of Michigan's original hop farms, and attendees will get the chance to visit the harvest and processing facility, in addition to gaining valuable insight from experienced producers.
Registration is now live for this exciting opportunity to learn more about the quickly growing craft ingredient market – relevant for farmers, growers, processors, maltsters, craft brewers, educators, and allied industries.
To view the complete agenda, review sponsorship or vendor opportunities, or to register please visit https://events.anr.msu.edu/GLHBC2018/.
Any questions can be directed to the conference planning committee:
Betsy Braid, braidbet@msu.edu, 517-884-7081 (ANR Event Services)
Ashley McFarland, ashleymc@msu.edu, 906-439-5176 (Upper Peninsula Research and Extension Center)
Erin Lizotte, taylo548@msu.edu, 231-946-1510 (Wexford County)
Rob Sirrine, sirrine@msu.edu, 231-256-9888 (Leelanau County)
Scott Graham, director@michiganbrewersguild.com, 989-732-0569 (Michigan Brewers Guild)
Accommodations for persons with disabilities may be requested by contacting Betsy Braid at 517-884-7081 to make arrangements. Requests will be fulfilled when possible, please contact us regarding arrangements no less than one month prior to the event.