Free, hands-on squash bee workshop offered in Mason on July 16
This workshop will provide information about identifying and monitoring squash bees, an important native pollinator of cucurbits.
July 5, 2018 - Author: Diane Brown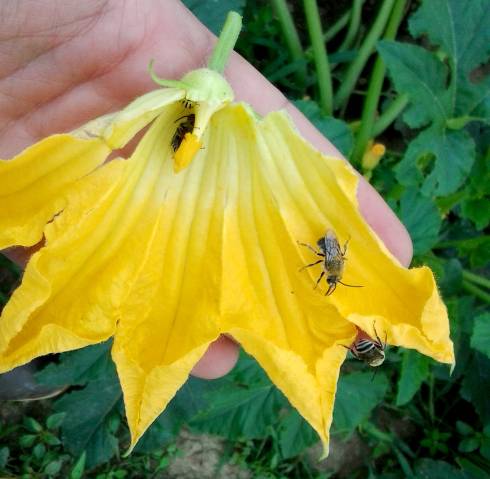 As part of a USDA Organic Research and Extension Initiative-funded grant on organic cucurbit (squash, melon, cucumber, gourds, etc.) management, a citizen science project to survey bees in cucurbit flowers is being conducted. Our goal is to better understand cucurbit pollination, in particular we are interested in the role of squash bees and the impact of farm management practices on them.
Join Michigan State University entomologist Zsofia Szendrei and her graduate student, Logan Appenfeller, for a free, hands-on workshop to learn how to identify and monitor our native, solitary squash bees that specialize in pollinating squash flowers. The Squash Bee Pollinator Citizen Science Workshop will take place Monday, July 16, 2018, from 9 a.m. – 12 p.m. at the Ingham County MSU Extension office, 121 Maple St. Mason, MI 48854. This training will give you an opportunity to interact with entomologists in the classroom and garden setting. You will acquire bee identification skills and get answers to questions about filling out the monitoring survey.
We will spend the first half of the training indoors and then drive a short distance to the Roots farm at the corner of Harper and Hagadorn Roads to try our new skills at identifying squash bees. We will also practice using the survey collection form and app while in the field. Be sure to dress accordingly.
The workshop is free and open to everyone, but participants must register online before July 15. This program qualifies for 2.5 hours of MSU Extension Master Gardener Program education credit. These hours should be reported in the VMS by selecting the project "2018 Squash Bee EMG Citizen Science Project."
This Citizen Science project will provide information used to educate organic vegetable gardeners and commercial growers increase productivity of cucurbit crops.
---