Free Smart Gardening presentations offered at the Escanaba Kiwanis Home & Garden Show
Many Smart Gardening topics and family friendly activities are available at the Escanaba Kiwanis Home & Garden Show April 14-16, 2023.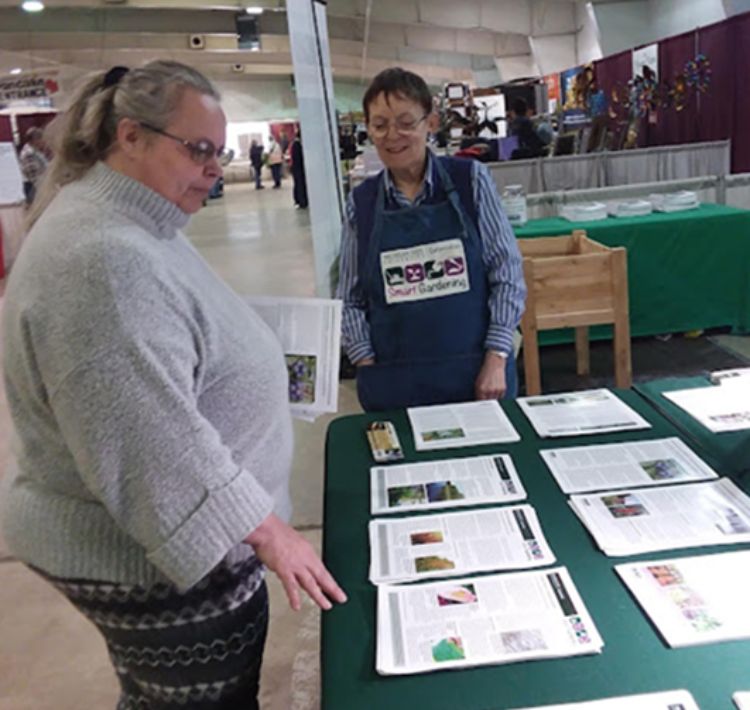 Time to think spring and gardening! Plan now to attend a bounty of free Smart Gardening presentations and activities planned by Michigan State University Extension for the Escanaba Kiwanis Home & Garden Show/Pancake Feed on April 14-16, 2023, in the Ruth Butler Building on the U.P. State Fairgrounds in Escanaba, Michigan.
Entry to the show is free but consider attending and purchasing tickets for the Escanaba Kiwanis Pancake Feed to help support their many community projects. Within the vendor area, MSU Extension consumer horticulture and nutrition staff along with Extension Master Gardeners will be on hand to present a plethora of different garden topics and engaging activities. A Smart Gardening booth with over 35 free tip sheets that focus on environmentally savvy messages will be available.
Extension Master Gardener Smart Gardening volunteers and MSU Extension staff will help you navigate the Smart Gardening resources and how you can make a positive impact when using proper gardening practices to help the environment. MSU has received favorable feedback on these informative, one-page colored tip sheets that are also available online. Statewide surveys, show that 87% of gardeners like to share this information with others further expanding the outreach effort.
Smart Gardening presentation schedule
Friday, April 14, 2023

5:30–6 p.m.

Reports of new Invasive Species found in the Central Upper Peninsula, Identification, and Reporting Information for the public --Elise Desjarlais, Coordinator of the Lake to Lake Cooperative Invasive Species Management Area

6:30–7 p.m.

Preserving your Garden Harvest: Freezing, dehydrating, and pressure canning-- Stephanie Ostrenga-Sprague, MSU Extension Supervising/Food Safety Educator

Saturday, April 15, 2023

9 a.m.–1 p.m.

Fun Family Activity - Yoga with Children with Amber Hayward, MSUE Community Nutrition Instructor

9–9:45 a.m.

Terrarium Planting—The basics of beginning a terrarium. From plant selection to design and care-- Liz Slajus, MSU Extension Advanced Master Gardener/MSUE Staff

10:15–11 a.m.

Benefits of Fruits and Vegetables --Learn about the benefits that Fruits and Vegetables provide our bodies and cost-effective ways to add more of them into our daily meals-- Amber Hayward MSUE, Community Nutrition Instructor.

12:15–1 p.m.

"The Marvelous Honeybee" --Bernie Driggs, Beekeeper for over 40 years, 2019 Beekeeper of the Year Award for Michigan Beekeeper's Association

2:15–3 p.m.

Houseplant Division - Do you need to repot or divide houseplants but you're not sure how? Watch a live demo and confidently tackle your own. -- Jackie Manchester-Kempe, MSU Advanced Extension Master Gardener

3–3:45 p.m.

Garden Irrigation DIY- Learn how to plan and install a garden irrigation system for your individual garden needs-- Stephen Slajus, MSU Extension Master Gardener

Sunday, April 16, 2023

9:30-10:15 a.m.

Incorporating Art in the Garden—A Garden Canvas—Ideas ranging from the use of metal, wood, fences, stone, recycled materials, and new modern garden compliments. Dan Doyen MSU Extension Master Gardener.

11:30-12:15 p.m.

How to Prune Your Apple Trees—Proper and annual pruning of apple trees is important for optimal fruit production and tree health. Attend this workshop to learn all of the basics for successful apple tree pruning. Rebecca Krans, MSU Extension Educator, Consumer Horticulture, UP Extension Master Gardener Program Coordinator
Family friendly activities
Extension Master Gardeners and staff will help children and families learn more about flowers and pollinators with a flower creation activity. The first 100 children will be able to create their own flowers and practice how pollination happens. Displays will also be present for you to learn more about the Upper Peninsula Extension Master Gardener program and the many volunteer projects located throughout the Upper Peninsula. Adults who attend Smart Gardening presentations can also win some local door prizes donated by Northern Sun Winery, Seven Acre Garden, Extension Master Gardeners and MSU Extension. We hope to see you there!