Fresh treats for the birds during winter
Get kids involved in making bird treats for the cold winter days.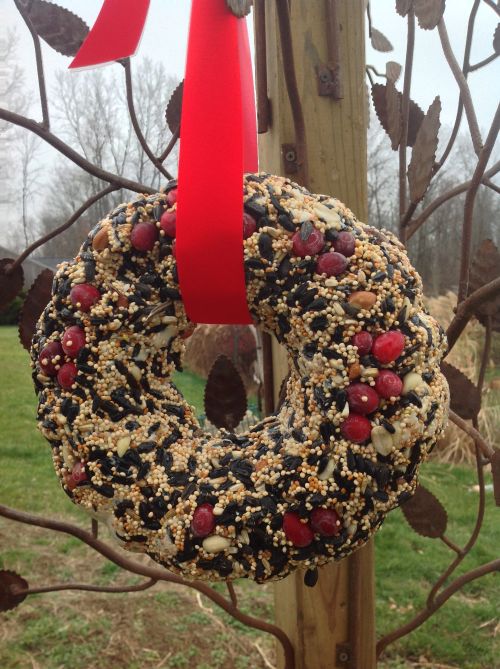 Bird watching comes second only to America's favorite hobby of gardening. It makes sense that most gardeners love bird watching and go to great lengths to plant habitats and flowers that provide seedheads for their feathered garden friends. Although planting habitats and seed barring plants are great ways to attract birds to your garden, during the cold, winter months the seedheads get depleted and birds need an additional food source. Birds need an incredible amount of energy just to keep from freezing to death. Feeding birds in the winter is a great way to help them survive the harsh winter months.
Almost 40 percent of Americans have a bird feeder and enjoy this hobby. A bird feeder can supply hours of entertainment for you and your family. One way to get kids involved is having them make some bird treats for the cold, winter days. Bird seed wreaths are an easy one kids love to make.
For a Bundt pan-sized bird seed wreath, you'll need:
3/4 cup all-purpose flour
1/2 cup warm water
3 tablespoons light corn syrup
1 package unflavored gelatin
4 cups bird food, such as seeds, peanuts, berries, dried fruits
Bundt pan or other mold
Nonstick cooking spray
If you don't have a mold, shape the mixture by hand onto a piece of waxed paper or a cookie sheet.
Let the wreath harden by putting it in a cool place or even the freezer for 24 hours. Remove from the mold. Add ribbon for hanging and hang for the birds to enjoy. My family likes to add cranberries for a festive touch. Don't forget to make a hole in the seed mixture to loop a string through for hanging. Smaller ornaments can also be made from the mixture using cookie cutters.
Helpful hints: Coat the inside of your cookie cutters for easier removal. Cool until hardened before removing from cookie cutter.
These wreaths and ornaments make great gifts for teachers, neighbors and others on your kid's gift list. It is especially meaningful to those receiving the bird seed ornament knowing they are made by kids, and the kids are learning about nature in the process.
For more ideas for kid-created bird feeders, check out DIY Bird Feeders.
There are many reasons to feed birds during the winter, helping to enhance their survival rate. Michigan State University Extension suggests the following extra things kids can do for birds this winter:
Feed a variety of foods to attract a variety of birds.
Make bird feeders.
Keep your bird feeding areas clean.
Learn more about birds.
There are many resources available about feeding birds in the winter. The Michigan Department of Natural Resources has many interesting fact sheets on feeding birds. MSU Extension also has tips on winter bird feeding and how to get kids involved in learning more about feeding birds and nature in the following articles: "Winter is bird feeder time!" and "Engaging youth in bird feeding."
For even more information for the very curious kid, visit the following Audubon Society articles: "To Feed, or Not to Feed" and "Bird-Feeding Tips."
Have fun, it's not just for the birds!