Fun and learning with salt-dough ornaments
Include your children in creating special gifts for their friends, family and teachers this holiday season with this salt-dough ornament recipe.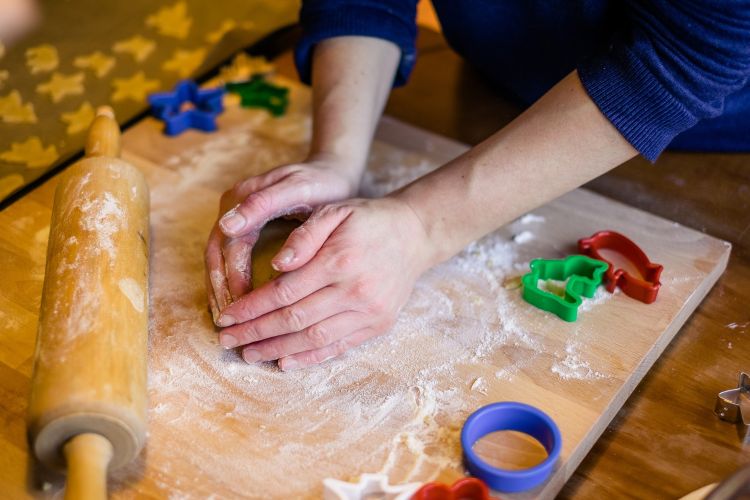 There is nothing more meaningful than a gift from a young child that has been homemade. A favorite across many generations is salt-dough ornaments. Creating and working with play dough of all types supports development and learning in many areas. When children are squishing, rolling, molding and cutting, they are strengthening the small muscles in their fingers. When they're talking with you or their siblings, they're building their social skills. When they're helping to measure and mix, they're building math skills and so much more!
Salt-dough is simply a form of play dough you can dry by baking in the oven to form hardened ornaments or creations. Typically, these are created by rolling out the dough and then cutting out shapes with cookie cutters, baking and decorating as desired.
Salt-dough ornament recipe
Ingredients
1 cup flour
1/2 cup salt
1/2 cup water
Direction
Preheat oven to 250 degrees Fahrenheit.
Combine flour and salt. Mix well.
Add water and mix thoroughly.
Sprinkle flour on table or large piece of parchment paper and knead dough until it's soft and easy to handle. Add flour if it is still sticky.
Using a lightly floured rolling pin, roll out the dough to 1/4-inch thickness.
Cut out ornaments using cookie cutters, move to ungreased cookie sheet.
Poke hole using a straw in order to add a ribbon to hang the ornaments.
Bake in the oven for 2 to 3 hours or until completely dry.
Remove from the oven and allow to cool completely.
Once ornaments have cooled, decorate with paints and glitter as desired.
Clear acrylic varnish can be added to seal the paint and prevent moisture from getting in.
Variations
Children's hands can be pressed into the dough before cooking to preserve a special moment in time.
Stamps, both with and without ink, can be pressed into the dough before cooking for unique designs.
Dough can be made into three-dimensional objects (may need to bake longer).
Learn more about the many ways play dough supports children's development and learning and find more recipes for play dough at the National Association for the Educational of Young Children's article, "Playdough Power."
Visit Michigan State University Extension's Early Childhood Development website for resources and information for families and children and to find upcoming events in your area.