Fungicide resistance in frogeye leaf spot of soybean in Michigan
A new project from MSU researchers aims to better understand the distribution of resistance of frogeye leaf spot to strobilurin fungicides.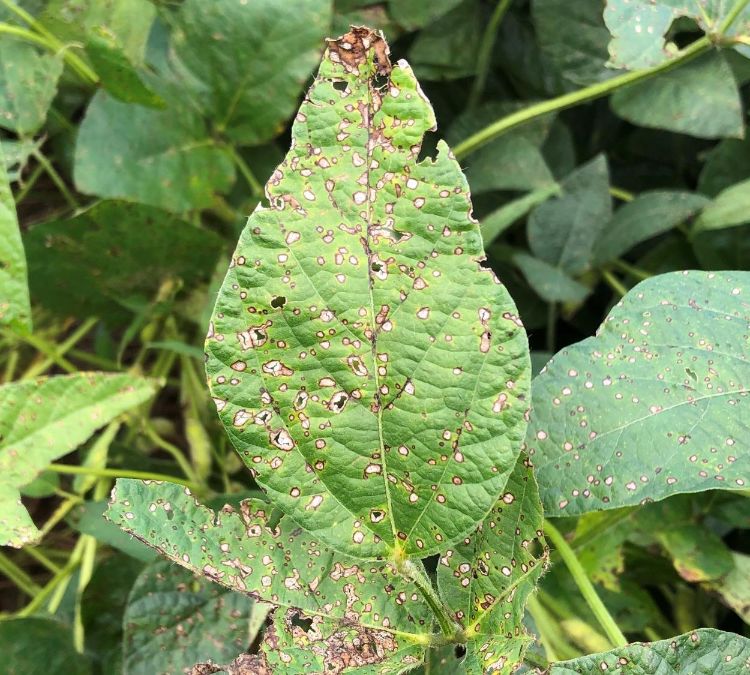 Frogeye leaf spot, caused by the fungus Cercospora sojina, can be found in soybean fields particularly in southern Michigan. Historically, this disease has been more commonly found in the southern U.S., but in previous years it has become more prevalent in northern soybean producing regions.
Symptoms of frogeye leaf spot are small, dark lesions produced on leaves, stems and pods. The centers of lesions change in color throughout the infection process, starting as gray and progressing to brown to light tan. Lesions are surrounded by a purple margin and sometimes by a light green halo. When environmental conditions are ideal for fungal growth, the pathogen sporulates in the lesions creating a fuzzy appearance on the underside of lesions.
Plants of any growth stage are susceptible to infection, but symptoms are most often observed from flowering to maturity. Because younger leaf material is more susceptible to infection, symptoms are often seen first in the upper canopy.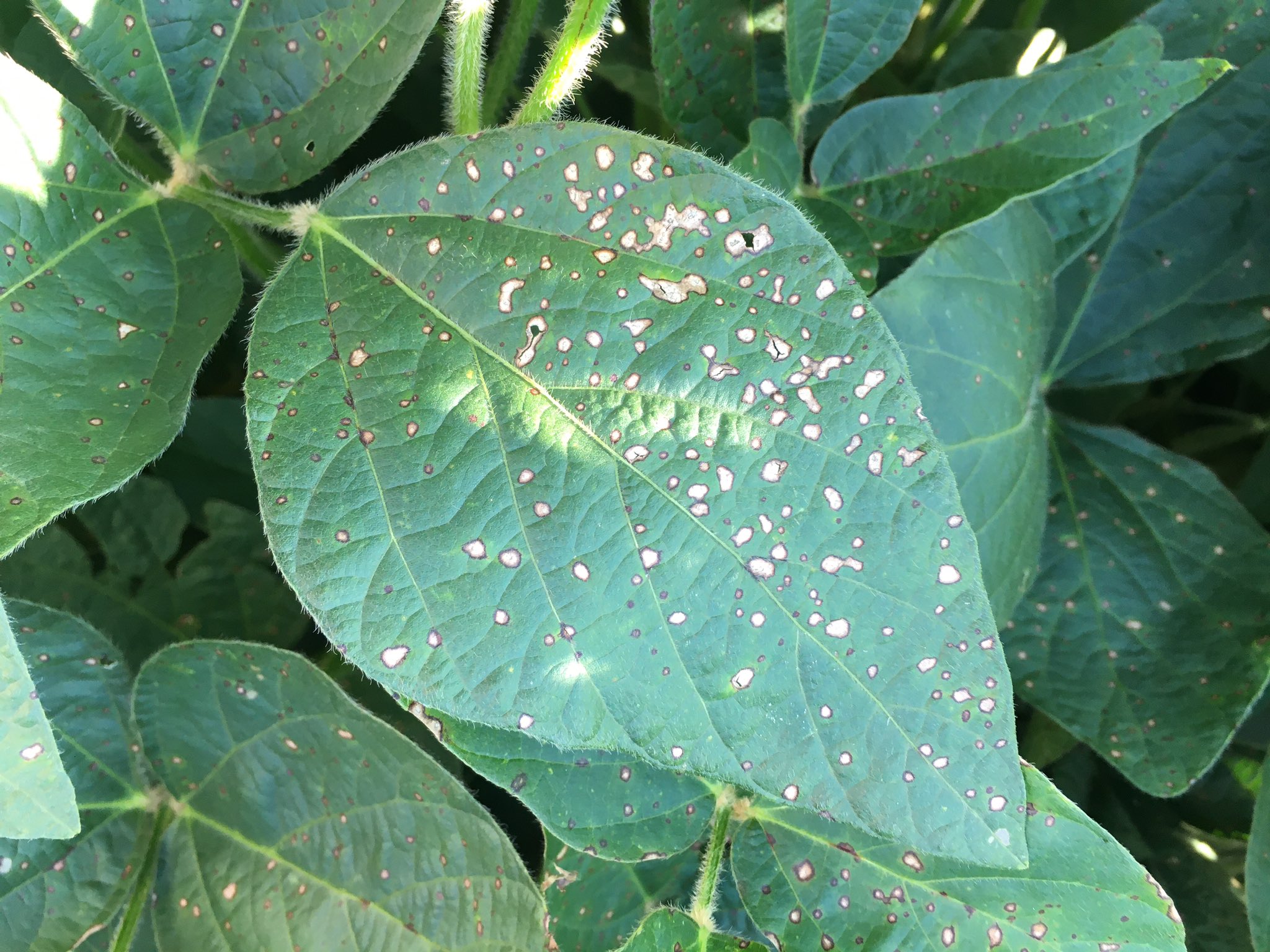 Although in Michigan we do not often see severe frogeye leaf spot. Severe infections of frogeye leaf spot can result in defoliation of plants and infection of seed. Yield losses are greatest when disease occurs in early reproductive stages of growth and have been reported to be as high as 35%.
In addition to planting resistant varieties, rotating to non-host crops and tillage, disease is managed through foliar fungicide applications. Properly timed fungicide applications can help protect yield during pod development. A fungicide application during the R3-R4 growth stages has shown to be most effective. However, fungicide class should be carefully chosen. A small survey of C. sojina from Michigan soybean fields found a couple of isolates that were resistant to strobilurin fungicides. Currently, resistance to strobilurin fungicides is now present in 18 states.
Due to the findings from the 2019 survey of C. sojina, Michigan State University Extension is conducting a larger study to better understand the prevalence and distribution of strobilurin resistance. We are asking for your help in collecting samples of frogeye leaf spot from across Michigan. If you are experiencing infections of frogeye leaf spot in your fields and would like contribute samples to study resistance to strobilurin fungicides, please send your samples to the Chilvers lab at MSU. This information will help answer critical questions surrounding frogeye leaf spot management.
To send samples, collect about five leaves with frogeye leaf spot symptoms and allow them to air dry in a paper bag. Once the leaves are dry, the fungi in them will be relatively stable. Samples can be shipped via regular mail to:
Chilvers lab
Attn: Frogeye project
578 Wilson Road, CIPS 107
East Lansing, MI 48824
Phone: 517-353-9967
Along with the samples, please include this form filled out with information about the field where the sample was collected in your shipment:
Download Frogeye Leaf Spot Survey Form
For more information on frogeye leaf spot, check out the Crop Protection Network's publication on frogeye leaf spot. For information about managing other foliar diseases of soybean, check out MSU Extension's article on the topic, "Managing soybean diseases with foliar fungicide applications."