Garden grant funds local initiatives
The efforts of a MSU Extension educator to provide access to fresh produce in Michigan is being met with community support.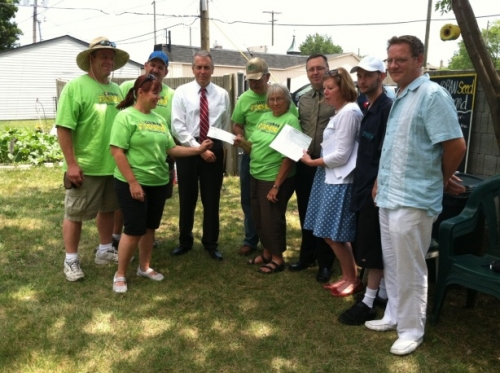 When Kathe Hale started the Michigan State University (MSU) Extension Garden Mini Grant program to help community residents create access to fresh produce for food pantries, schools and churches, she had no idea how supportive the local communities would be.
As helpful as food pantries are in alleviating hunger in communities, fresh produce is difficult to come by to couple with other canned and packaged foods in order to create healthy meals. To combat this issue, many community neighborhoods, churches and schools applied for grant funds that were provided by United Way of Southeastern Michigan. Organizations could apply for up to $500 to purchase soil amendments, garden tools and lumber to build raised vegetable beds. More than 30 organizations and schools received the Garden Mini Grants in Macomb County for a total of 75 gardens in Oakland, Wayne and Macomb counties receiving grant funds.
But then the program grew – a local business, Family Eye Care Associates contacted Hale to donate additional grant funds or match the grants that had been given. They wanted to fund three sites that were in areas served by their three offices in Clinton Township, Eastpointe and Washington Township. Family Eye Care associates D. William Lakin, Robert Schick, Gregory Kalkofen, Michael Breza and Cheryl Junker wanted to partner with MSU Extension to support the gardening efforts in these communities and promote the healthy eating and healthy eye care that comes with growing a garden and eating fresh healthy produce.
Dr. Lakin and Dr. Schick were on hand in the Eastpointe Urban Seed Community Garden this month to present their matching check of $500 to the Urban Seed Group of Suzanne Pixley, Ron LaForest, Todd Wilke, Peggy and Frank DiMercurio, John Hofman, Jamie Rumminger, Laurie Gmyrek, Kristen Bates, Gene Yuells and Mary Bailey (all pictured). Hale also presented a $500 check from the Garden Mini Grant Program to the group.
The group says this will go towards their efforts at putting in a watering system to ensure produce survives in dry summers like the one we have had this year. The gardens are producing quantities of vegetables at this point and some are being donated to the St. Vincent de Paul at St. Basil's Food Pantry. The group has spent time visiting other community gardens in Macomb County, planning to build more raised beds, and looking to build a hoop house for continued vegetable production.
Family Eye Care Associates has also provided funds to the garden programs at Saints John and Paul Catholic Church, in Washington Township and Lutz School with Macomb Intermediate School District.
Community residents can rent a raised bed by contacting Urban Seed at (586) 801-4902.
Photo caption: Dr. William Lakin and Dr. Robert Schick present their check along with Kathe Hale of Michigan State University Extension to the Eastpointe Urban Seed Garden Committee. Pictured are Frank and Peggy DiMercurio, Jamie Rumminger, Dr. Bill Lakin, Gene Yuells, Suzanne Pixley, Dr. Robert Schick, Kathe Hale, John Hofman and Ron LaForest.