Garden program in Flint wins Farmer of the Year at 2015 Michigan Family Farms Conference
The Mr. Rogers Garden Program, a Flint-area youth development program, has been recognized by Michigan Food and Farming Systems for its great work in the Flint community.
The 2015 Farmer of the Year award was presented to Mr. Rogers Program Director Greg Gaines and members of the Program Team (Raymond Campbell, Sherman Williams and Thedore Payne) at the 2015 Michigan Family Farms Conference on Saturday, January 17, 2015 in Marshall, Michigan.
The Michigan Family Farms Conference is an annual gathering for beginning, small-scale and culturally diverse farmers to network, learn and build sustainable family farms. This year's conference was the 12th annual for Michigan Food and Farming Systems (MIFFS), which is dedicated to supporting the many faces of farming, particularly beginning and historically underserved farmers. This year's conference theme, "Sustain our Future - Healthy Soils, Healthy Communities," offered diverse sessions that served farmers from all facets of Michigan agriculture.
Farmer of the Year is presented to a Michigan farm exemplifying community leadership, excellent farm management and a desire to constantly be learning and adapting. The Mr. Rogers Garden Program leaders and youth have presented at this conference in the past, and have attended the conference annually for the past six years, through the coordinating efforts of Michigan State University Extension, edible flint and MIFFS.
The Mr. Rogers Garden Program was launched in Genesee County in 1989, engaging at-risk high school students in youth leadership development while teaching work ethics, responsibility and teamwork. In 1990, Gaines began the urban food garden component as a means of directed activity for the youth in the summer months. The program partnered with Catholic Charities of Shiawassee and Genesee Counties in 2006 to meet the growing need for support and career-focused mentoring of at-risk youth. Under Gaines' leadership for the past twenty-five years, the garden program has expanded in scope and size and has employed hundreds of local youth, with the support of area mentors and funding from the CS Mott and Ruth Mott Foundations, area health systems and the Flint and Genesee Chamber of Commerce.
The Mr. Rogers Program participants grow produce at four different locations in and around Flint, one location even includes a hoop house for year-round (season extension) food production. The youth sell the food at the Flint Farmers' Market as well as transporting extra produce to area seniors on fixed incomes who are often unable to afford fresh produce, improving their access to healthy food. The MSU College of Communications produced a brief documentary video on the program in 2010.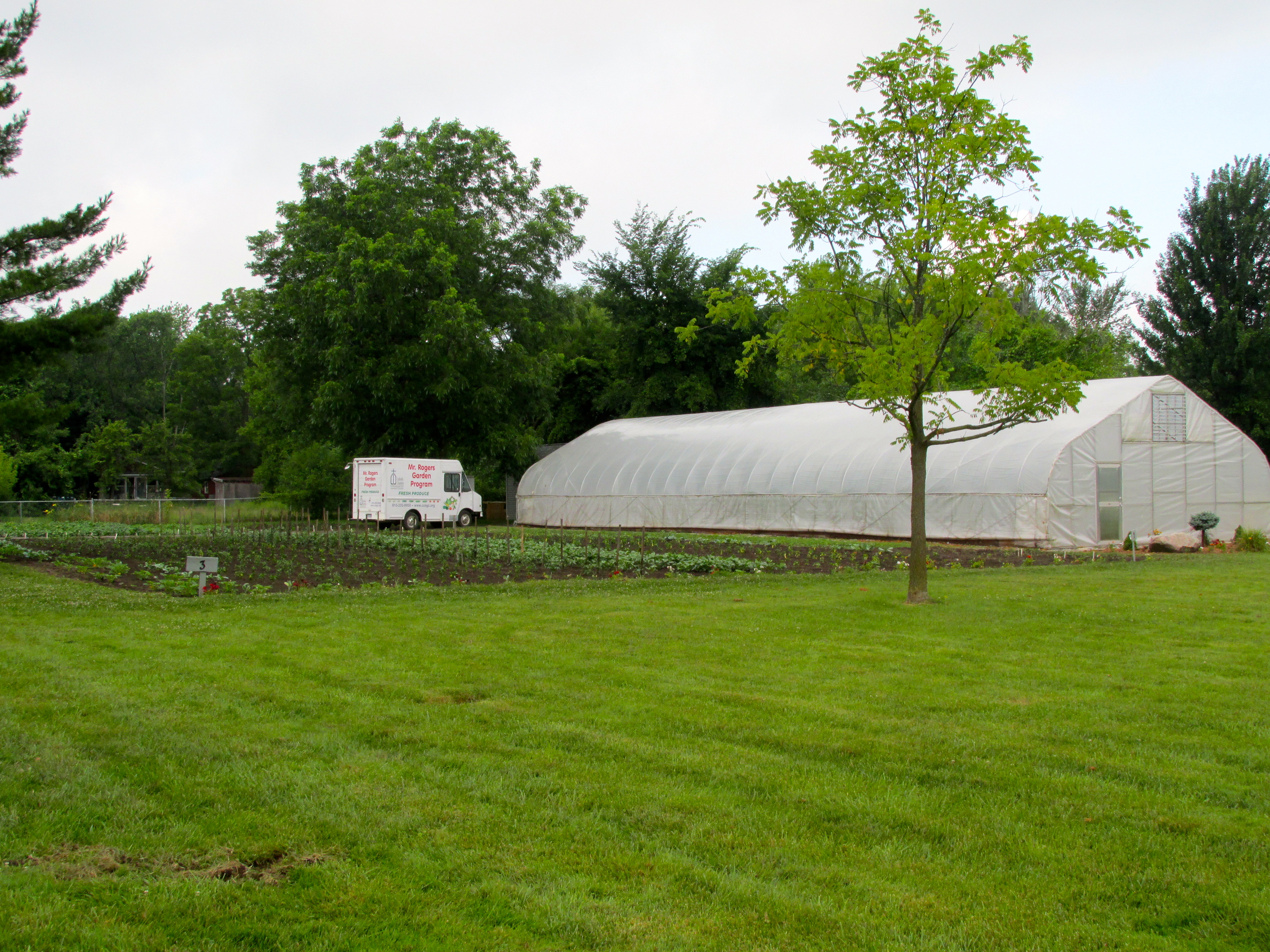 In 2011, the program adopted a culinary component where students attend culinary class twice a week under the guidance of trained chefs, to learn about cooking, safe food preparation and nutrition. According to Gaines, this component was developed in response to the youth's many questions about how to prepare the produce they were growing. Through this additional program component, participants now experience the many facets of food business, from planting and harvesting to marketing and selling, as well as food preparation, consumption and waste management through composting. In August 2013, the program attracted the attention of Senator Debbie Stabenow, who toured the Burton community garden site and shared her praises with the Mr. Rogers team.
Learn more about the Mr. Rogers Garden Program by contacting Program Director Greg Gaines at 810-232-9950 ext. 379 or ggaines@ccsgc.org
Did you find this article useful?
---