Garden safety for kids part 1: Getting ready for the garden
How to pick the best day for gardening.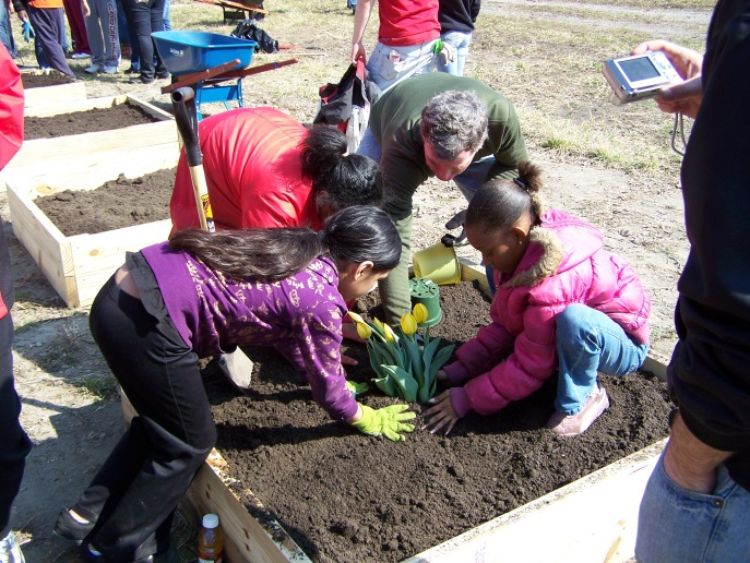 Michigan State University Extension recommends gardening as a great activity for people of all ages. Not only can children learn about the life cycle of plants, they can also learn about fruit, vegetables and build skills for a life-long activity. Keeping safe in the garden is very important for children. The following tips will help keep kids safe whether they are in a school or home garden. A second part of this series will cover using tools safely in the garden.
Before you go into the garden:
Make sure there is adequate drinking water and shade if the day is warm.
Know where the first aid kit is located and check it regularly to insure it is stocked.
Wash hands before visiting the garden if you are planning to harvest and after activity in the garden to avoid spreading garden diseases and keeping food safe.
Have tools adequate to the job you want to do.
Instruct children not to eat plants (or bugs, bark, soil, etc.) in the garden unless approved by a supervising adult. When adults harvest food in the garden with children, take the time to explain what the plant is and how to recognize fruit, roots, or edible portions of the plant from other plant parts (leaves, vines, etc.). This is will help prevent damage to the plant and keep kids from sampling beyond the garden plants. Demonstrate how food is washed and prepared following harvesting before sampling.
You may want to have tools for children that are scaled to their size.
If there is a pond or water feature in the garden, keep an eye on toddlers to make sure they cannot fall into standing water.
What to wear in the garden:
Prepare yourself to go into the garden by what you are wearing.
Sturdy shoes that cover the whole foot should be worn in the garden. Make sure they have a good tread to prevent slipping.
Clothing appropriate to the task and weather conditions may mean that boots are necessary, long pants, long sleeves, and a hat may be warranted.
If using power equipment, make sure that loose clothing cannot get caught in blades or motors.
Gloves protect your hands from punctures, scrapes, blisters and microbes in the soil. They are always recommended.
We also recommend Personal Protective Equipment (PPE) including sunglasses and sunscreen appropriate to the conditions.
If power equipment is being used or when the work may produce debris, you may need safety glasses and ear protection. If you must shout to be heard, the tool may be loud enough to require ear protection.
You may also need insect repellent to wear. Follow the package directions for safe application prior to entering the garden.
On hot days:
Be sure you are drinking water to avoid dehydration.
Plan to take breaks to recover in the shade.
Have sunscreen available for those in the garden.
Greenhouses are designed to be warmer than the outside. Remember that temperatures may be 20-40 degrees warmer than the outside in the greenhouse.
Other articles in this series: