Gazelles gather to feed on information
NLEA organizes a successful program for Northern Michigan CEOs to learn about State of Michigan programs.
Michigan State University Extension partner, Northern Lakes Economic Alliance (NLEA), organized a successful program for Growth Stage Company CEOs and Michigan Economic Development Corporation (MEDC) representatives to share State of Michigan Programs. The program took place on October 11, 2013 at the North Central Michigan College Campus. The group size was perfect for discussion with 27 in attendance including CEO's from 14 of Northern Michigan's largest manufacturing companies.
Jake Schroeder, MEDC Director of PMBC Services and Susan Holben, MEDC Program Administrator presented on the benefits of the Pure Business Connect (PMBC) program. This initiative is a public‐private initiative developed by the Michigan Economic Development Corporation (MEDC) to uncover and develop new business opportunities and support services for Michigan companies. The primary pillars of the program include: providing business support services, increasing procurement in Michigan and the development of a business to business directory.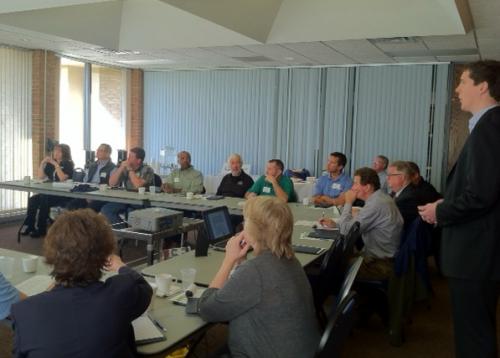 Photo: Representatives from 14 local businesses gather at NCMC Campus
Several local businesses are involved in this program and Supplier Summits, which act as connection points, are being held to continue to grow this program. Tom Moran, president of Moran Iron Works says, "The program connected us with talent and resources that would be costly to duplicate…this program is priceless to small business"
Program discussion continued with Chris Cook presenting on MEDC's Capital Services. Chris explained that the Capital Services Team was designed to helps transform the Michigan economy by developing programs that will increase the availability of capital for Michigan companies.
Tom Erhart, NLEA Entrepreneurship Director, and Tom Nathe, North Central Michigan College, Director of Corporate & Community Education, provided an overview of the Northern Michigan's Mobile Digital Fabrication Lab project. They explained that manufacturers in the northern Lower Peninsula of Michigan had expressed an urgent need for trained Computer Numeric Control (CNC) machine tool operators. To solve this challenge, a collaborative effort was started to bring a unique way of training students and potential manufacturing employees to Northern Michigan. Erhart brought this idea to the region and immediately assembled a collaborative group of partners, in order to make this project a reality.
NLEA's focus when organizing this event was to reinforced the value of partnerships between MEDC, NLEA and local companies. The day was a great success and the information shared will result in business growth in Northern Michigan.