Getting ready to kick-off the seventh season of Breakfast on the Farm
Come one; come all to a Breakfast on the Farm event near you. Starting July 11th, there will be five opportunities for you to visit a modern Michigan dairy farm.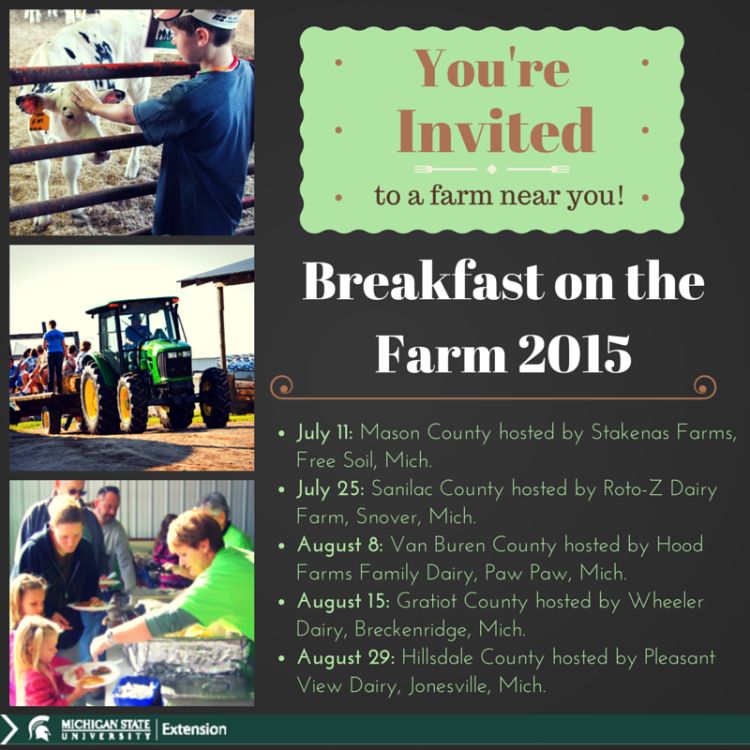 Since 2009, Michigan State University Extension has been partnering with host farm families and industry organizations to provide consumers with a first-hand look at modern agriculture. The effort receives tremendous support from the Breakfast on the Farm (BOTF) statewide sponsors and advisory council and local planning committees and financial donors. This support has enabled over 61,000 individuals to experience modern agriculture at the point of production. Owners of dairy, beef, crop and apple farms have embraced transparency by graciously opening their farms to consumers all over the state and beyond.
Are these events making a difference in consumer perspective? Ted Ferris, Michigan State University Department of Animal Science professor, has spearheaded the evaluation of these events since they began and his recent findings from 2014 events show:
The percentage of high and very high level of trust in modern food production shifted from 66 percent BEFORE their dairy farm tour to 91 percent AFTER their tour.
Visitor's level of trust in milk as a safe food shifted from 80 percent with high or very high trust to 97 percent with high or very high trust AFTER their tour.
Consumers trust that farmers will do the right thing in caring for their animals shifted from 76 percent BEFORE the tour to 97 percent AFTER the tour.
Consumers trust that farmers will do the right thing in safe-guarding milk shifted from 82 percent BEFORE to 97 percent AFTER.
The research shows that the educational tours are building consumer trust and increasing overall awareness of agriculture in Michigan.
In 2015, events will be held in Mason, Sanilac, Van Buren, Gratiot and Hillsdale counties. Consider attending one of the events listed here to see how farmers care for their animals and the environment in order to produce safe, wholesome and nutritious milk.
July 11, hosted by Stakenas Farms in Free Soil
July 25, hosted by Roto-Z Dairy Farm in Snover
August 8, hosted by Hood Farms Family Dairy in Paw Paw
August 15, hosted by Wheeler Dairy in Breckinridge
August 29, hosted by Pleasant View Dairy in Jonesville
The on-farm events include breakfast and a self-guided walking tour of the farm. All events, held rain or shine, begin at 9 a.m. and conclude at 1 p.m. Breakfast will be served until noon. The events are FREE; however tickets are required to eat breakfast and can be obtained at numerous locations in the geographic vicinity of each event. Ticket locations will be announced on the BOTF website approximately one month before each event. Visit the BOTF webpage or call Mary Dunckel, MSU Extension agriculture literacy educator at (989) 354-9875 or Ashley Kuschel, BOTF program instructor, at (586) 469-7616 for more information.