Good Food Matters: Come to the Table conference focuses on community food systems
Inaugural conference focuses on local food system issues and opportunities in Battle Creek, Mich.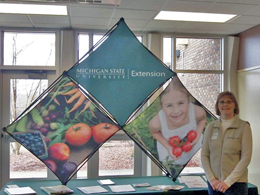 Increasingly, Michigan communities are providing educational forums to explore community food system issues and opportunities. Recently, Good Food BC, a community collaborative in Battle Creek, Mich., hosted its first community conference in an effort to help residents better understand the issues around community food systems.
Nearly 100 people – urban and rural farmers, gardeners, community members, nonprofit representatives, students and educators came to the Good Food Matters: Come to the Table conference which was held March 9.
The conference featured a keynote address by Cheryl Danley of the Center for Regional Food Systems and a key partner of Michigan State University Extension. Danley provided results from a community assessment on ways that conference attendees could participate in helping strengthen Battle Creek's food system.
I followed Cheryl with an Understanding Community Food Systems presentation, in which I defined the seven components of a food system and how food systems benefit local economies, the environment and society, referred to as sustainability or the triple bottom line. Participants went to concurrent sessions to learn more about and discuss community gardening, food access, why and how to buy local foods and healthy eating.
The conference also provided an opportunity for Calhoun Area Career Center culinary program students who are preparing for a statewide competition to showcase their talent with food demonstrations and samples for attendees. Recipes included foods grown in Michigan, and the students put an emphasis on fresh and minimally processed foods.
This inaugural conference provided a forum to share some of the food systems work happening across the Battle Creek community. The conference concluded with a summary of the work of Good Food BC followed by audience discussion on the issues related to the food movement. Good Food BC is a collaborative of residents and organizations who share passion and interest in issues related to strengthening the local food system.
MSU Extension in Calhoun County is a founding member of Good Food BC. For more information on getting involved, you can contact me at klavinsk@msu.edu or 269-781-0784.
MSU Extension has educators working across Michigan who provide Community Food Systems educational programming and assistance. For more information, you can contact an educator by conducting a search with MSU Extension's Find an Expert search tool and using the keywords, "Community Food Systems."
Did you find this article useful?
---
You Might Also Be Interested In