Got worms in your raspberries?
Home gardeners are learning about – and probably eating – our newest pest of small fruit: the spotted wing Drosophila.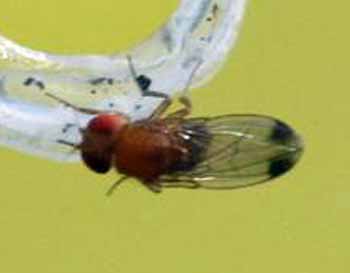 Many gardeners and commercial growers are calling the MSU Diagnostic Services lab complaining about worms in there raspberries. It is very likely these worms are spotted wing Drosophila larvae, Drosophila suzukii (Diptera: Drosophilidae).
The spotted wing Drosophila (SWD) is a small vinegar fly with the potential to damage many fruit crops. It was first detected in Michigan in late September 2010. Unlike most other vinegar flies that require damaged fruit to attack, SWD causes damage when the female flies cut a slit and lay eggs in healthy fruit. This insect is a pest of most berry crops, cherries, grapes and other tree fruits, with a preference for softer-fleshed fruit.
My colleague, Jan Byrne, recommends eating the fruit quickly and not looking! (They don't affect the flavor.)
For more information on the biology and management of SWD, see the MSU Spotted Wing Drosophila website.
For some chemical control recommendations for in the garden and landscape, visit the UC-Davis Spotted Wing Drosophila website.
Read what MSU researchers are learning about this new pest in the Michigan State University Extension article "What are we learning about spotted wing Drosophila management in berries this season?"