Grant award supports classroom-farm interaction
The establishment of land-based learning centers throughout the Upper Peninsula on local farms provides a unique opportunity for students to engage with agriculture.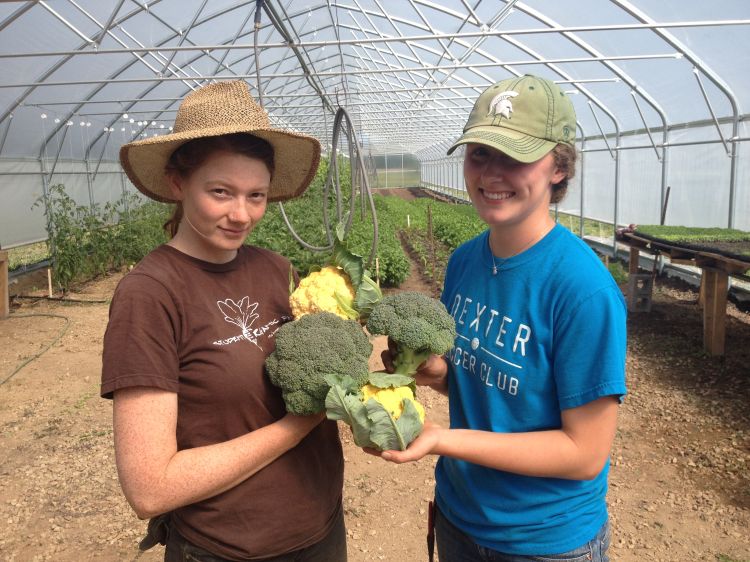 Michigan's Upper Peninsula has a rich culture rooted in agriculture and natural resources, but there is only one state recognized school-based Agriculture, Food and Natural Resource Education (AFNRE) program in the U.P. - an area that comprises one-third of the landmass of Michigan. As public awareness of agriculture and food systems grows, so does interest in establishing educational programs to prepare students for career opportunities in these fields. Recently, the Michigan State University Upper Peninsula Research and Extension Center (MSU UPREC) was awarded a North Central Region Sustainable Agriculture Research and Education grant to provide an innovative solution to this disconnect. Now, U.P. farmers can team up with secondary-school teachers to develop hands-on learning experiences for students, a model that could encourage the growth of formal AFNRE programs throughout the region.
Extending the work of North Farm Teacher Institutes, hosted by MSU UPREC throughout 2017, which provided teachers with curriculum, technical and fiscal support on agricultural and food science concepts, the new project supports land-based, sustainable agriculture learning for educators and students by connecting them to partnering farms implementing sustainable agriculture practices. Working with a team of mentors, students will develop a supervised, Sustainable Agricultural Experience (SAE) project to be deployed on-farm, which includes planning, implementation and outreach experiences. Owners and operators from the on-farm, land-based learning centers have been identified and chose to be involved in this program because they recognize the need to train the next generation of farmers, and for the potential benefit to make on-farm improvements to maximize sustainability and profitability. These non-formal educational experiences will promote student growth and prepare them for careers in agriculture, while making on-farm investments to enhance sustainability – whether it be in increased cover crop usage, diversification of enterprises or improved ecosystem services.
The following U.P. farms have agreed to serve as the first cohort of land-based learning centers, and were geographically distributed to ensure representation in each of the seven U.P. Intermediate School Districts (ISDs):
Cooper Country ISD – Gierke Blueberry Farm – blueberry u-pick operation
Delta-Schoolcraft ISD – Hanson Seed Potato Farm – seed potato operation
Dickinson-Iron ISD – Slagle Family Farm – vegetable, field crop, and livestock operation
Eastern Upper Peninsula ISD – Galloway's Red Clay Ranch – vegetable, field crop, and livestock operation AND Waishkey Bay Farm – Bay Mills Community College tribal farm to support the tribal charter schools in the district – vegetable and livestock operation, focus on indigenous foods
Gogebic-Ontonagon ISD – Wintergreen Farm – CSA vegetable operation that includes value-added processing
Marquette-Alger ISD – Log Cabin Livestock – beef and lamb forage-based operation AND Bean Pole Farm – CSA vegetable operation
Menominee ISD – Steve Brock Family Dairy Farm – dairy cow operation heavily engaged in cover crop research
"If young people are going to be inspired to stay in the U.P. and improve our regional food system, they need a chance to get on the farm and work with owner-operators to solve real-world problems. This kind of team work is intergenerational, authentic and practical so students can experience place-based education that ties academic subjects to farm businesses," says Abbey Palmer, education coordinator at Michigan State University North Farm.
If you are interested in agricultural education in the Upper Peninsula or would like to explore opportunities in bringing these programs to your school, contact Ashley McFarland at 906-439-5176 or ashleymc@anr.msu.edu. McFarland is the Director of the Michigan State University Upper Peninsula Research and Extension Center in Chatham, Michigan.