Grape berry moth model predicts start of second generation around July 4 in southwest Michigan
Early warning of a need to protect high risk vineyard locations from grape berry moths.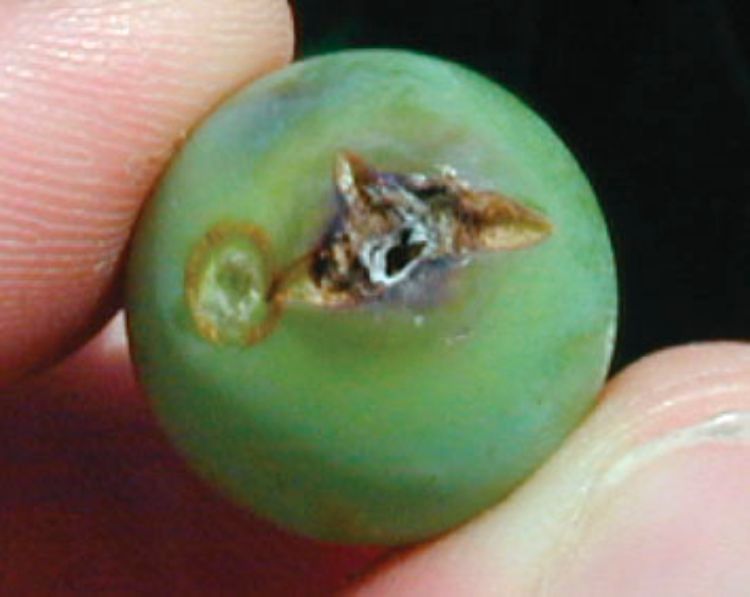 So far during the 2015 growing season, and similar to recent years, we have seen generally low grape berry moth pressure in southwest Michigan vineyards. Samples in the past few weeks showed 0-6 percent of clusters with evidence of grape berry moth damage from the first generation. Sites with the higher of these levels are those nearest to wooded borders, but the pressure declines rapidly as you get further into these vineyards. Despite the low level of grape berry moth damage in recent scouting, Michigan State University Extension advises growers to make plans now for protecting berries from grape berry moths at higher pressure locations because the second generation of this pest is predicted to begin around July 4 at warmer sites in southwest Michigan.
Levels of damage from this second generation of grape berry moth larvae are typically much higher than we see from the first generation. Second generation larvae are able to burrow into berries and cause cracking and splitting of fruit as the berries start to swell. Because larvae are able to feed inside berries where they are protected from insecticides, it is crucial to target insecticide applications for the time when eggs and young larvae are still on the berry surface.
The MSU Enviro-weather grape berry moth model predicts the start of second generation egglaying around July 4-6 for sites near the Berrien Springs Enviro-weather station. Depending on the date when you set biofix back in late May or early June, and depending on your location in Michigan, this predicted start of egglaying could be a few days to a week or more later. The predicted start is based on 810 growing degree days (GDD) accumulated since the date of wild grape bloom in the area near your location. Growers in more delayed sites such as those in northwest Michigan should expect this egglaying to start in mid-July.
Ideally, growers and scouts should assess wild grape (Vitis riparia) in the area surrounding the vineyard. The date when 50 percent of flowers are open on 50 percent of clusters is then used to time insecticide sprays with the MSU grape berry moth model. The table below lists dates of wild grape bloom observed at vineyards we are scouting in 2015. These dates can be used as a substitute in case this information is not available for your farm.
Dates of wild grape bloom observed at monitored vineyards in 2015

County

Wild grape bloom

Predicted start of grape berry moth egglaying

Berrien

May 26

July 4

Van Buren (Lawton)

May 28

July 6

Van Buren (Mattawan)

May 29

July 7

Allegan

June 3

Benzie

June 8

Leelanau

June 8

Grand Traverse

June 9

Antrim

June 11
* This date is currently beyond the range of dates predicted by the MSU grape berry moth model. Please continue to check the model as we get closer to this date.
The predicted start of egglaying is the optimal timing for insecticide applications that are active on eggs and young larvae, such as Intrepid, Altacor or Belt. For these products, excellent cluster coverage is essential, but once it is on the clusters, long residual control of grape berry moths (two to three weeks) and rain-fastness are achieved. For products that are broad-spectrum such as the pyrethroid, organophosphate and carbamate insecticides that are best timed for when larvae hatch from the eggs, applications should be delayed to be timed 100 GDD later at 910 GDD from wild grape bloom. For locations in far southwest Michigan, this will be four to five days later based on the predicted temperatures for the coming week.
In our recent research trials, spray programs that timed applications for berry moth control based on the GDD model outperformed those that used a calendar approach. This was the case for broad spectrum insecticides, and even better control was achieved when we tested GDD-timed sprays using some of the new insecticides that are highly active and long-lasting for berry moth control. For example, a program using Intrepid at 8 ounces for per applied at 810 GDD followed by Altacor at 3 ounces for per applied at 1,620 GDD provided similar or slightly better control than a Sevin and Imidan program in the mid- and late-season timings. Altacor also has activity against Japanese beetles, which were first seen this week in scouting across southern Michigan, making it a useful tool for mid-season control when both pests are present. Belt has a similar mode of action to Altacor and is less expensive, but it is more selective and does not provide Japanese beetle control.
Other pest insects may be important in your vineyards, but if you are focusing on berry moth control, GDD-timed applications of long-lasting and active insecticides applied with excellent coverage provides an effective program to reduce pressure from this pest.
Dr. Isaacs' work is funded in part by MSU's AgBioResearch.
You Might Also Be Interested In