Grape berry moth pressure lower in 2015 – control window approaching for southern Michigan
Check vineyards and MSU Enviro-weather to decide need and timing for third generation control of grape berry moth.
With July going past quickly and early August approaching, it is time to alert growers to the approaching window for protecting clusters from the third generation of grape berry moth. For the most southern parts of southwest Michigan, this timing will be in early August, with later developing regions being progressively later. It typically takes about a month between the start of second generation – 810 growing degree days (GDD) past wild grape bloom – and third generation – 1,620 GDD past wild grape bloom. With southwest Michigan timing for the start of second generation in 2015 being in the first week of July, it makes sense that this target is approaching in the next few weeks. Keep checking the Michigan State University Enviro-weather website to see the predicted timing for the start of this third generation's egglaying.
To access the GDD model for predicting grape berry moth phenology during the season, go to MSU Enviro-weather and click on "Fruit" in the green bar across the top of the page. Click on "Grape" in the left-hand column, then select "Grape Berry Moth" and it will open the model for the nearest weather station. You can select the preferred weather station from the drop-down menu in the top of the page. This will show you the current estimated GDD from various dates in the spring, listed across the top of the table, which should be around the timing of your biofix date, when 50 percent of the clusters of wild grape were at 50 percent bloom. If you didn't record wild grape bloom date, use the middle of the table as an estimate – and promise to keep track in 2016!
The predicted start of egglaying is the optimal timing for application of insecticides that are active on eggs and young larvae, such as Intrepid, Altacor or Belt. For these products, excellent cluster coverage is essential, but once it is on the clusters, long residual control of grape berry moth (two to three weeks) and rainfastness are achieved. For products that are broad-spectrum such as the pyrethroid, organophosphate and carbamate insecticides that are best timed for when the larvae hatch from the eggs, applications should be delayed to be timed 100 GDD later, at 1,720 GDD from wild grape bloom. This will typically be four to five days later based on hot summer conditions in early August.
In our recent research trials, spray programs that timed applications for berry moth control based on the GDD model outperformed those that used a calendar approach. This was the case for broad spectrum insecticides, and even better control was achieved when we tested degree-day timed sprays using some of the new insecticides that are highly active and long-lasting for berry moth control. For example, a program using Intrepid applied at 810 GDD followed by Altacor applied at 1,620 GDD provided similar or slightly better control than a Sevin and Imidan program in the mid- and late season timings. Altacor also has activity against Japanese beetles, which were first seen this week in scouting across southern Michigan, making it a useful tool for mid-season control when both pests are present. Belt has a similar mode of action to Altacor and is less expensive, but it is more selective and does not provide the Japanese beetle control.
It is also important to remember that Intrepid has a 30-day pre-harvest interval (PHI), so some growers have timed their application of this insecticide based around predicted harvest dates if the timing of the third generation gets stretched out later in the season. Typically, there is time for this application without running into this restriction, especially in Concord and later harvested varieties. Another point to make is that the PHI is independent of the rate, so growers looking for longer duration control of grape berry moths through August should consider a higher 12 ounce rate to gain greater extended control.
As with all insecticides, but especially with products that must be ingested such as Intrepid, coverage is critical. Michigan State University Extension recommends you focus sprays onto the clusters and make sure there's enough water volume and appropriate airflow to cover the cluster surfaces. Other pest insects may be important in your vineyards, but if you are focusing on berry moth control, degree day-timed applications of long-lasting and active insecticides applied with excellent coverage provides an effective program to reduce pressure from this pest.
As a final point, we have been monitoring multiple vineyards again this summer for berry moth infestation and the contrast to 2014 is interesting to see. The figures shown below contrast the average infestation in clusters at the vineyard borders and the vineyard interiors, with both areas showing a lower level of infestation this season. Part of this could be because there are more clusters this year, meaning the insect pressure is diluted. It could also be the conditions this "summer" have been sub-optimal for berry moth survival, given all the rain we experienced this year.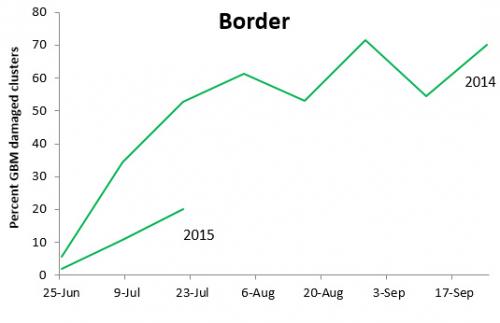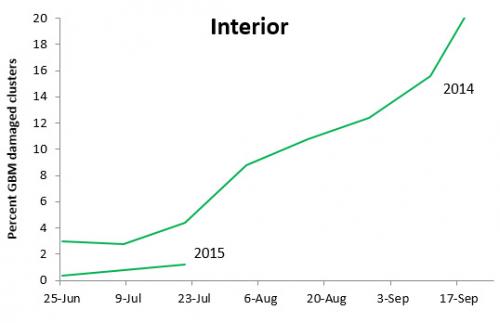 Time will tell how this season plays out, but so far it looks like growers who successfully control grape berry moths in August and perhaps into September will be able to improve on their level of infestation compared to 2014, and this will have benefits for fruit quality and yield.
Dr. Isaacs' work is funded in part by MSU's AgBioResearch.