Grapevine development, nutrient status and insects in northwest Michigan vineyards
Here's the latest update on Vitis vinifera and cold climate cultivars in northwest Michigan.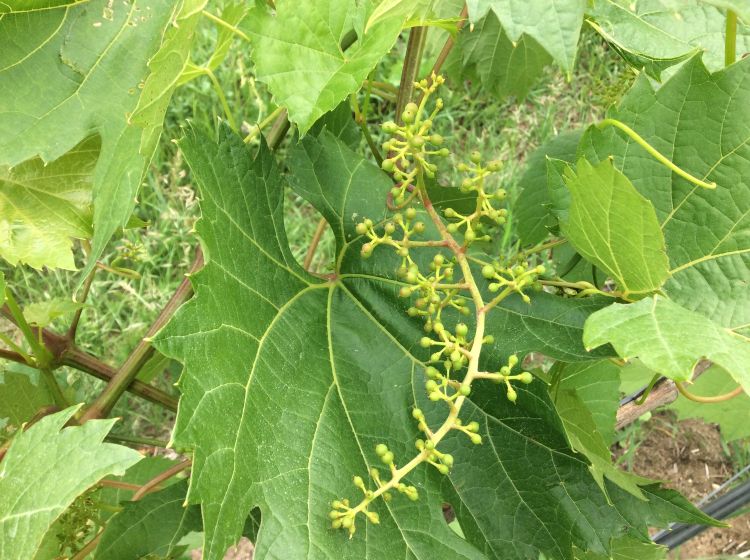 Regional grapevine phenology and temperature
According to Michigan State University Enviroweather, since April 1, 2018, the Leelanau and Old Mission AVAs (American Viticulture Areas) have accrued 55 consecutive frost-free days (days with minimum temperatures above 32 degrees Fahrenheit), with the last spring frost recorded April 29 and 770 and 693 growing degree-days (GDD) (Photos 1-2), respectively.
With May 13 (average date of cold climate cultivar bud burst) as a starting point for active growth, cold climate cultivars (Marquette, Le Crescent and Frontenac gris) grown in Leelanau and Old Mission AVAs have proceeded through full-bloom with 25-40 percent of grape clusters in early fruit set stage (Photo 3) on 3-5 foot long shoots (June 23, 42 days after bud burst). Identical cultivars grown in the more northerly Tip of the Mitt AVA were reported to be have proceeded through bloom stage and 10-25 percent of grape clusters in early fruit set stage. This difference in phenological stages is expected with lower average temperatures and fewer accrued growing degree-days in Tip of the Mitt compared to Leelanau and Old Mission AVAs.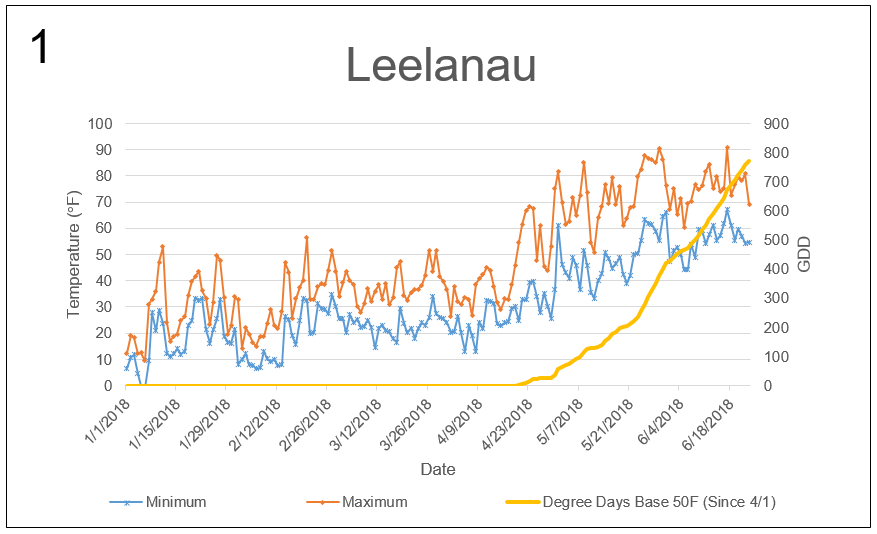 Photo 1. Growing degree-days accumulated in Leelanau AVA.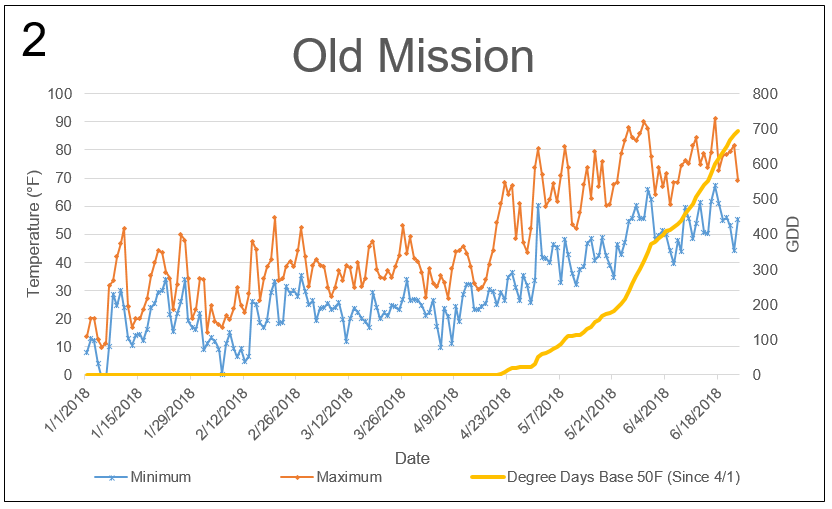 Photo 2. Growing degree-days accumulated in Old Mission AVA.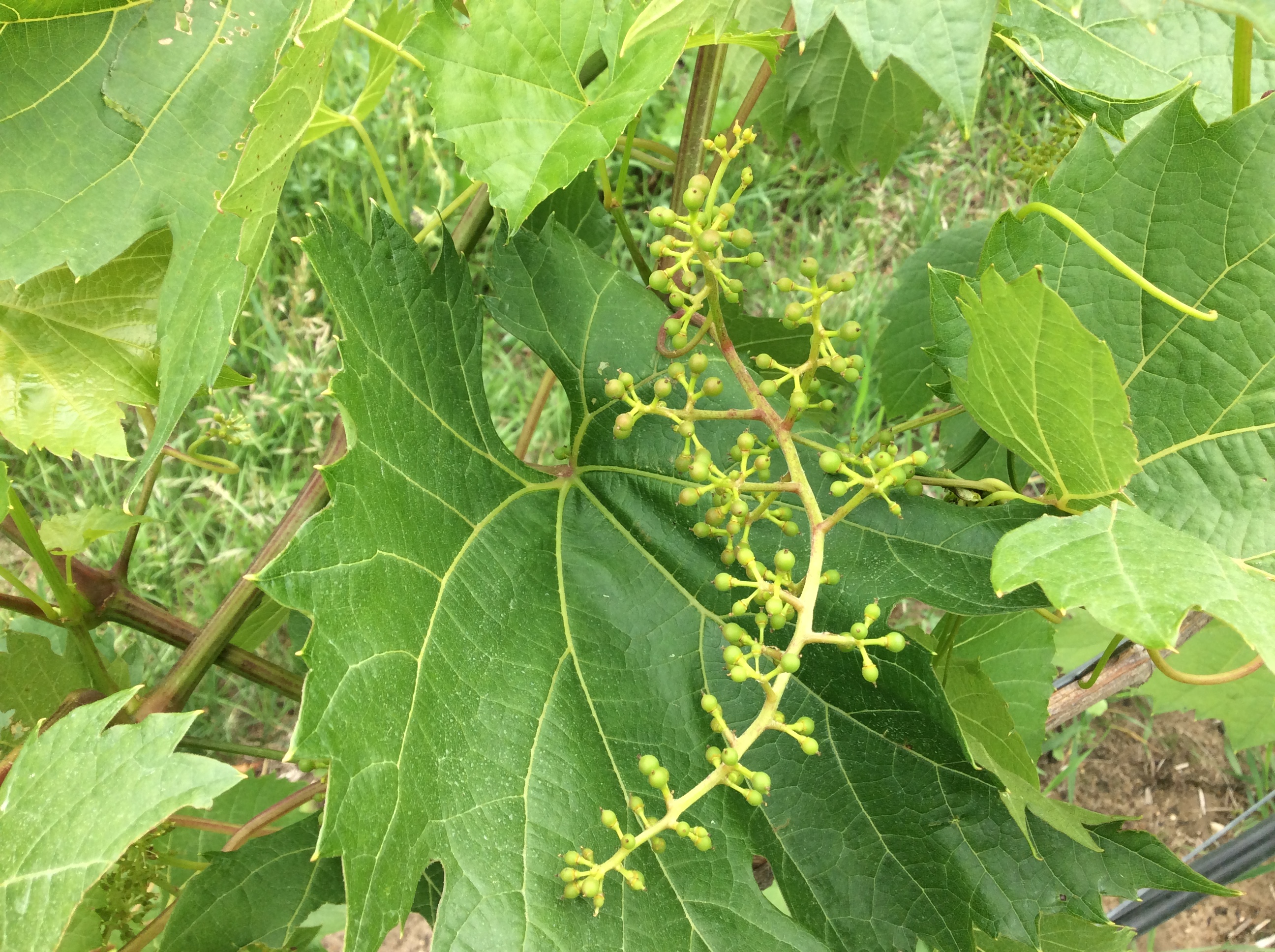 Photo 3. Fruit set in La Crescent.
With May 18 (date of Vitis vinifera bud burst) as a starting point of the active growth, V. Vinifera cultivars (Riesling, Pinot noir and Cabernet franc) grown in Leelanau and Old Mission AVAs entered trace bloom stage June 16 (30 days after bud burst, Photo 4), and rapidly proceeded into 50-75 percent bloom with 2-4 foot shoot length in warmer sites on both AVAs as of June 23 (37 days after bud burst, Photos 5- 6).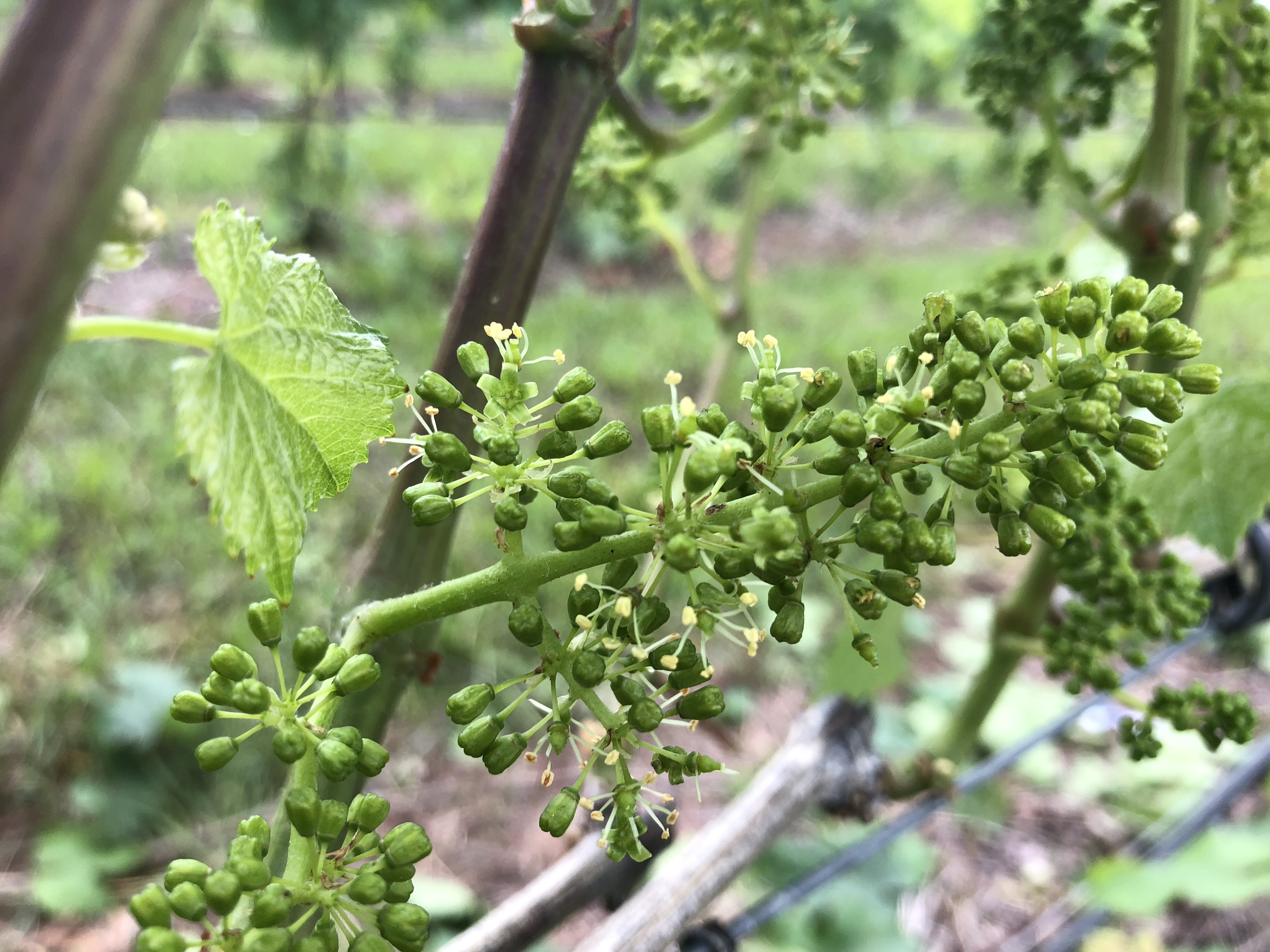 Photo 4. Trace bloom in Vinifera.
Photo 5. 2-4 foot shoot length.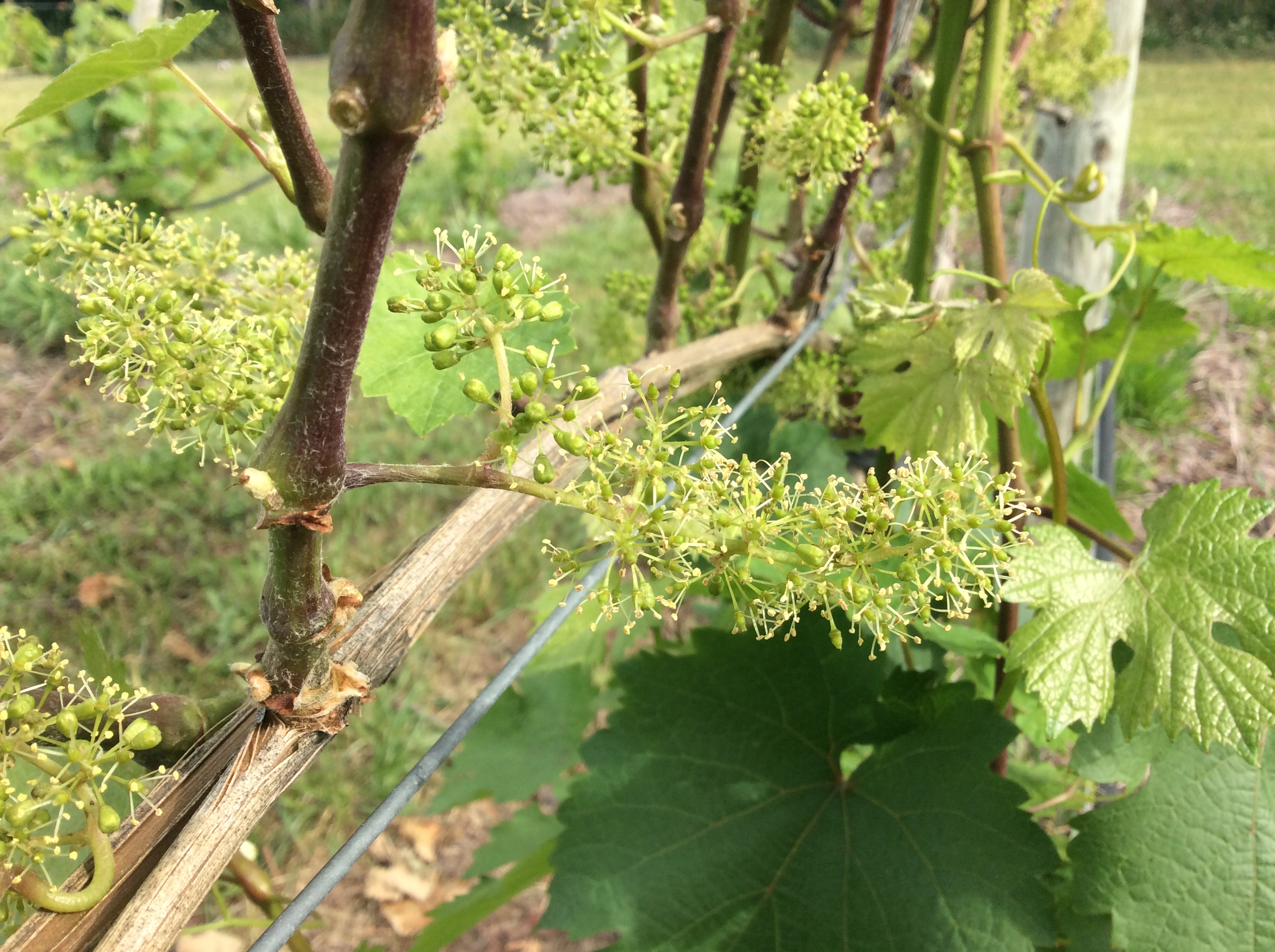 Photo 6. Vinifera bloom.
Those growing grapes in the northern hemisphere are starting their first full week of the summer season and with the majority of vineyard operations determined by the stage of grapevine development, it is recommended to review grapevine phenology and management practices to improve management efficiency.
For more information on phenology and canopy management, see Michigan State University Extension's grapevine growth stages chart and Ohio State University's grapevine canopy management video
Nutrient status
At this point in the growing season, monitor the nutrient status of your grapevines via bloom petiole (tissue that connects leave blade to the shoot) testing to understand which elements and nutrients are lacking or in surplus. There are two main types of petiole tests conducted on grapevines: bloom petiole and veraison petiole testing.
As their name suggests, collecting petioles is determined by the stage of development. For bloom petiole testing, collect a representative sample of petioles (100 petioles per cultivar) that are adjacent to primary clusters in bloom. For veraison petiole testing, collect a representative sample of petioles (100 petioles per cultivar) from the youngest fully mature leaf near the shoot apex, typically this is between the fifth and eighth leaf from the shoot tip. Place petioles in a small, labeled paper bag and immediately send to a laboratory, such as the MSU Soil and Plant Nutrient Laboratory, for testing as a delay.
Visit the links below for specific instructions on bloom and veraison petiole sampling instructions.
Information on bloom petiole sample:
Information on veraison petiole sampling:
Insects
Rose chafers have arrived in the northern Michigan AVAs (Tip of the Mitt, Leelanau, Old Mission) and although chemical control is relatively easy, it is an insect pest that should not be ignored as it can feed on young grape clusters and leaves, directly damaging the current season's crop and the grapevine's ability to photosynthetic (Photos 7-8).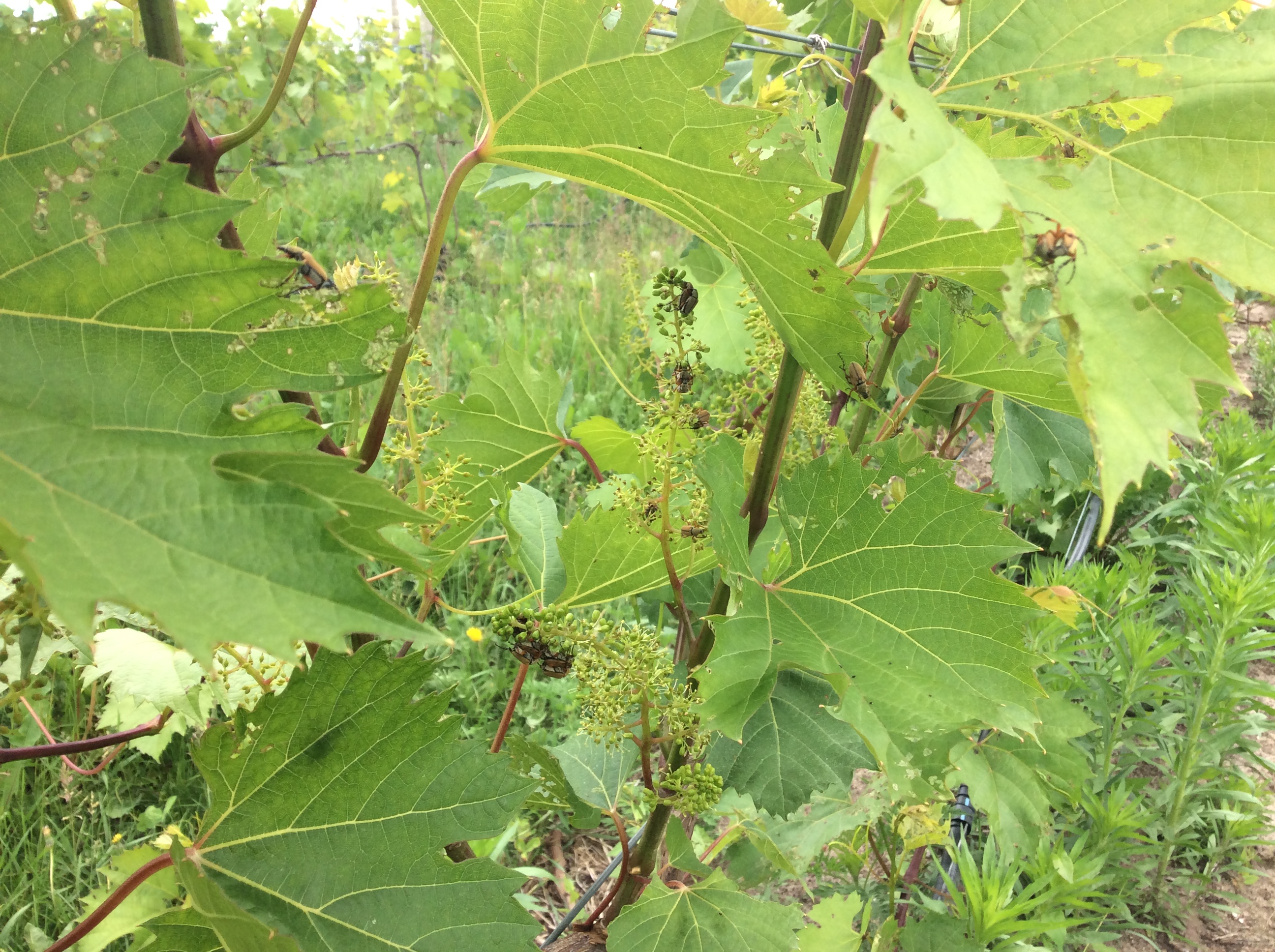 Photo 7. Rose chafer on clusters and leaves.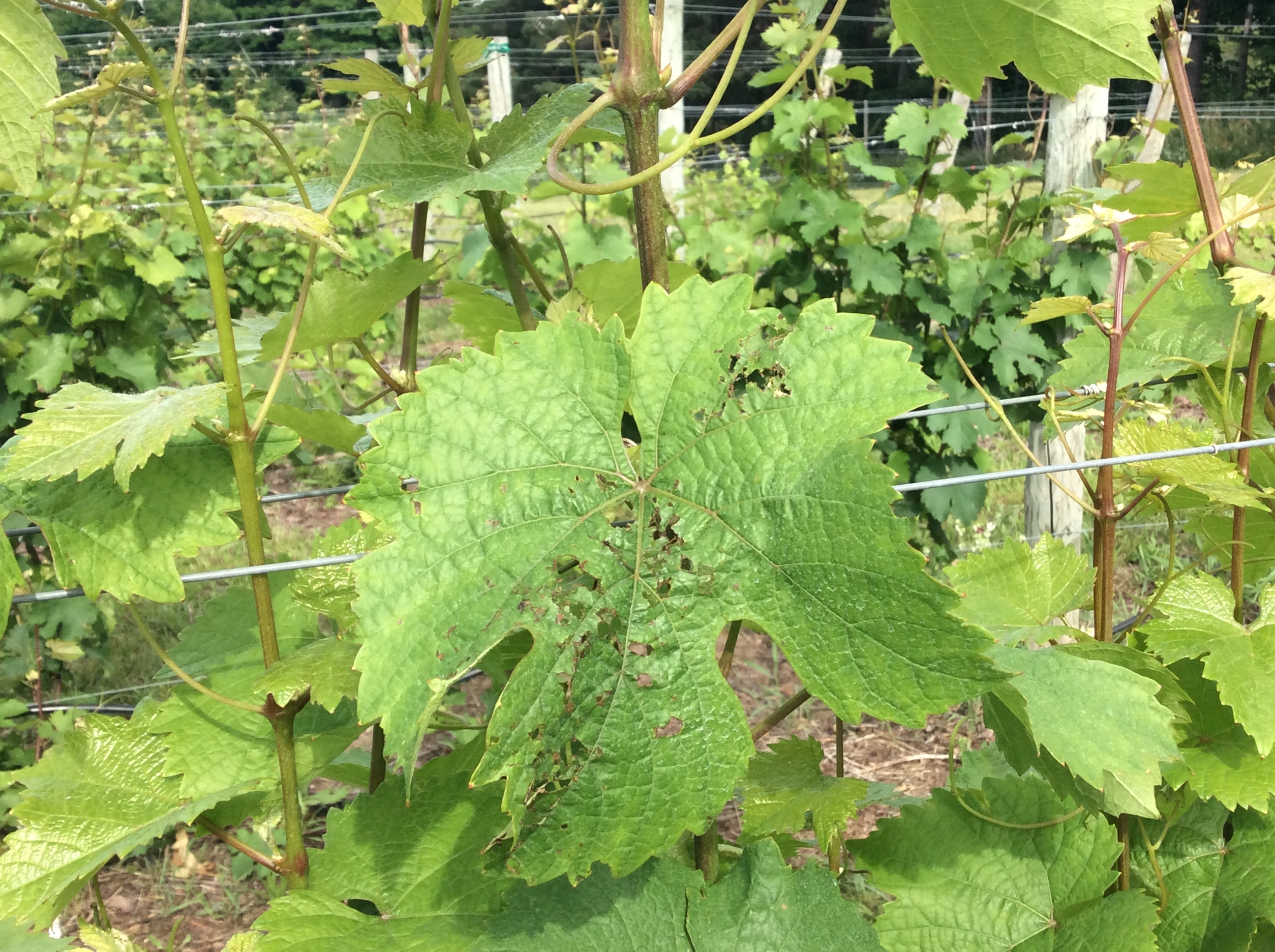 Photo 8. Rose chafer leaf damage.
When considering rose chafer management priorities, growers of cold climate and V. vinifera cultivars reported their cold climate cultivars expressing relatively increased vigor (rate of growth) compared to that of Vitis vinifera, and thus were generally able to recover damaged leaf area quicker and fully ripe fruit and wood by the end of the growing season. Moreover, when V. vinifera cultivars that expressed low vigor sustained significant leaf area damage at the start of summer, characterized by skeletonized leaves at the apical end of the shoot, there were reports of slowed fruit and wood maturity toward the end of the growing season. This suggests low vigor vineyards may require added attention to control this insect.
Many of the chemicals used to control rose chafers may also reduce populations of pollinators and beneficial vineyard insects. The timing of rose chafer activity also can coincide with early-season grape berry moth activity and early potato leafhopper infestation. The insecticides mentioned above will also provide some control of these other insect pests at the same time.
For more information on rose chafer control, see "Rose chafer management for vineyards" from MSU Extension.
Damage from grape cane girdler was observed in a cold climate cultivar vineyard in Leelanau AVA and in a Chardonnay (V. vinifera) vineyard on Old Mission AVA (Photos 9-12). Finding and capturing a live specimen in a V. vinifera vineyard was somewhat surprising as grape cane girdler has been reported to have more of a taste for American (V. Labrusca) cultivars than European (V. vinifera).
In 2017, this insect was reported to have reduced a La Crescent crop growing in Leelanau AVA by about 50-75 percent. However, it appears this type of damage is somewhat rare and can be avoided with special sprays early in the season around the time of bud burst and removal of damaged shoots.
Fortunately, this pest typically has only one generation per year, and its damage has been characterized as mostly cosmetic. If control is warranted, apply Assail 30 SG at 2.5 to 5.3 ounces at the 12-inch shoot stage. Do not use more than once every 14 days. Do not make more than two applications per season. Maximum seasonal rate is 10.6 ounces. Do not use spray adjuvants with Assail (three-day pre-harvest interval, 12-hour restricted-entry interval).
For more information on grape cane girdler, its life cycle and control methods, see this grape cane girdler fact sheet from Cornell University.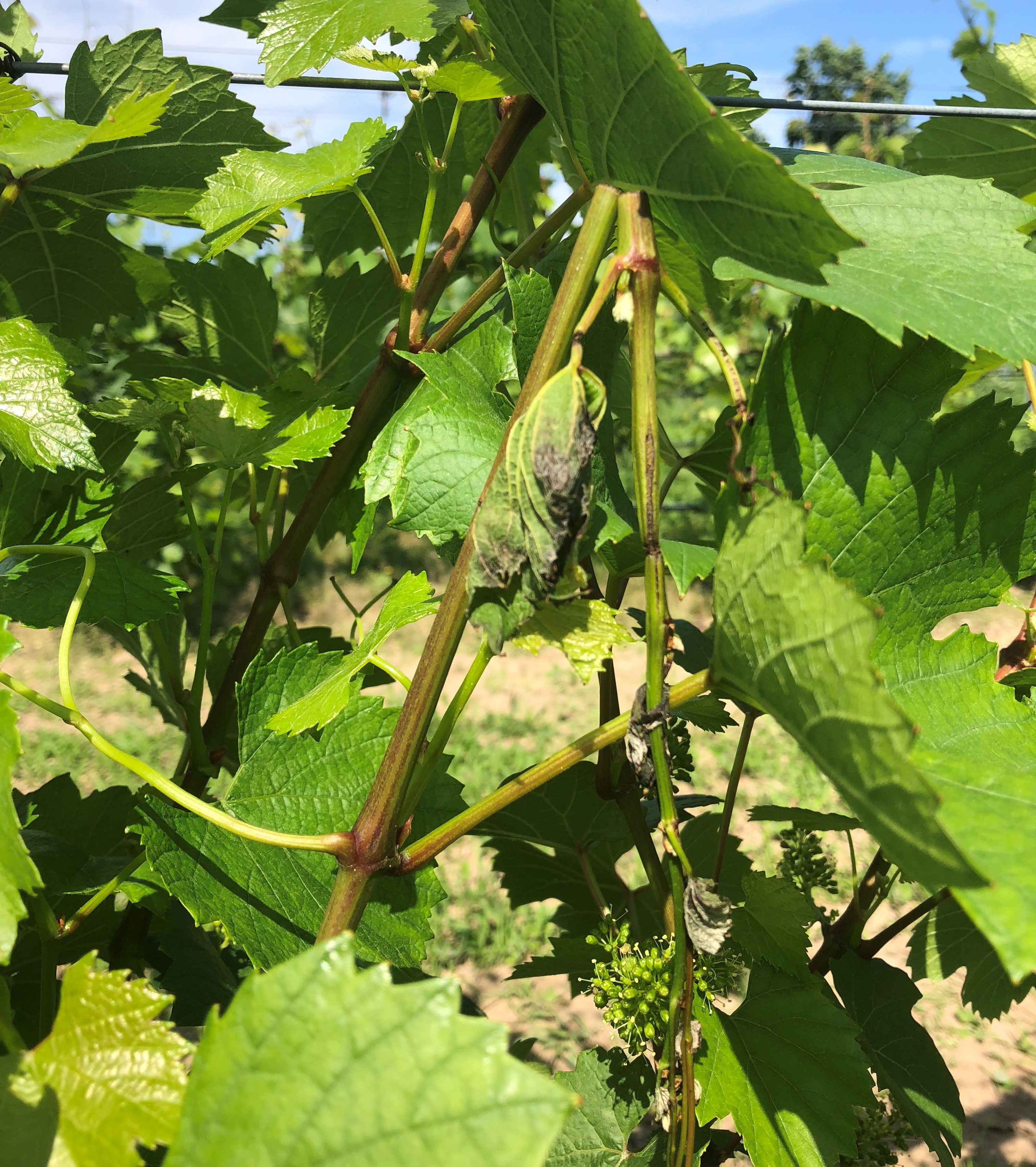 Photo 9. Grape cane girdler shoot damage.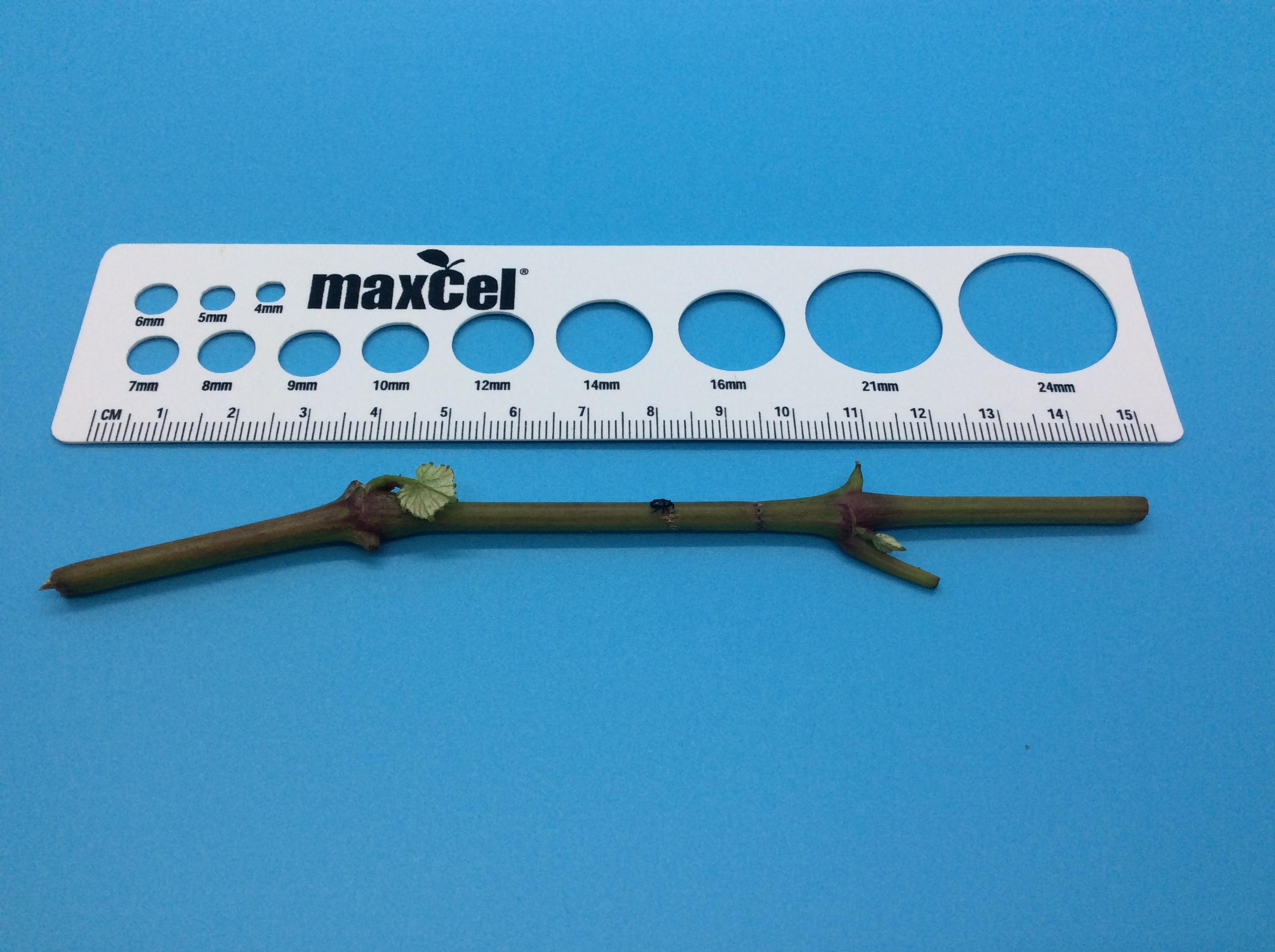 Photo 10. Grape cane girdler.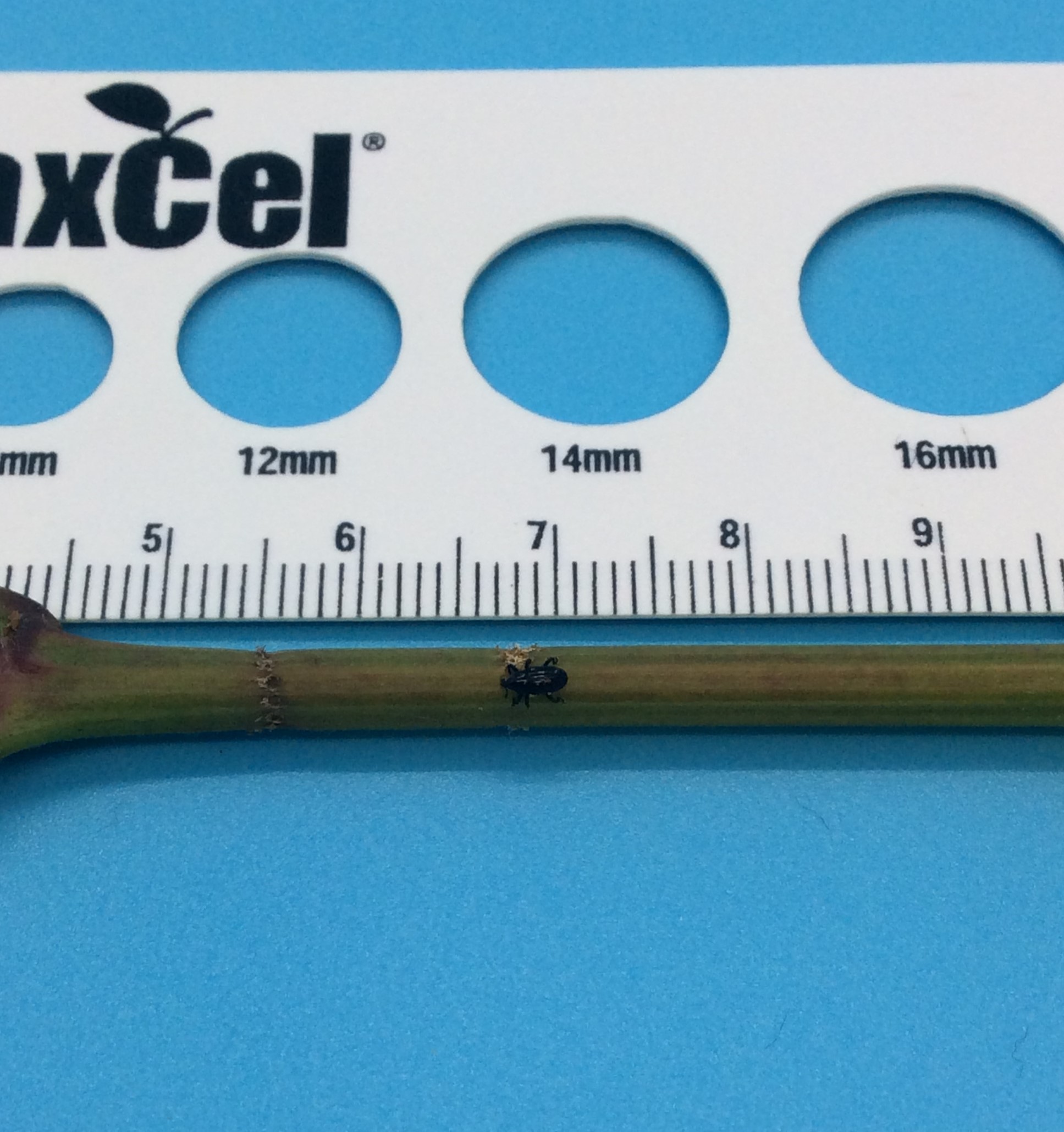 Photo 11. Grape cane girdler.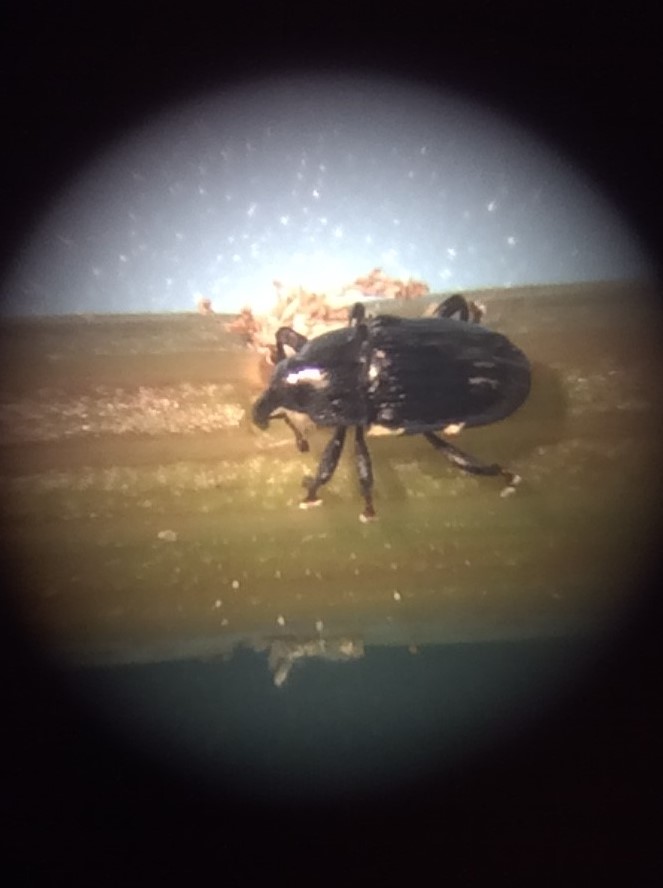 Photo 12. Grape cane girdler through a microscope.