Gratiot County farm to host Breakfast on the Farm Aug. 15
Come join the family behind your food at Wheeler Dairy for a free educational event and breakfast.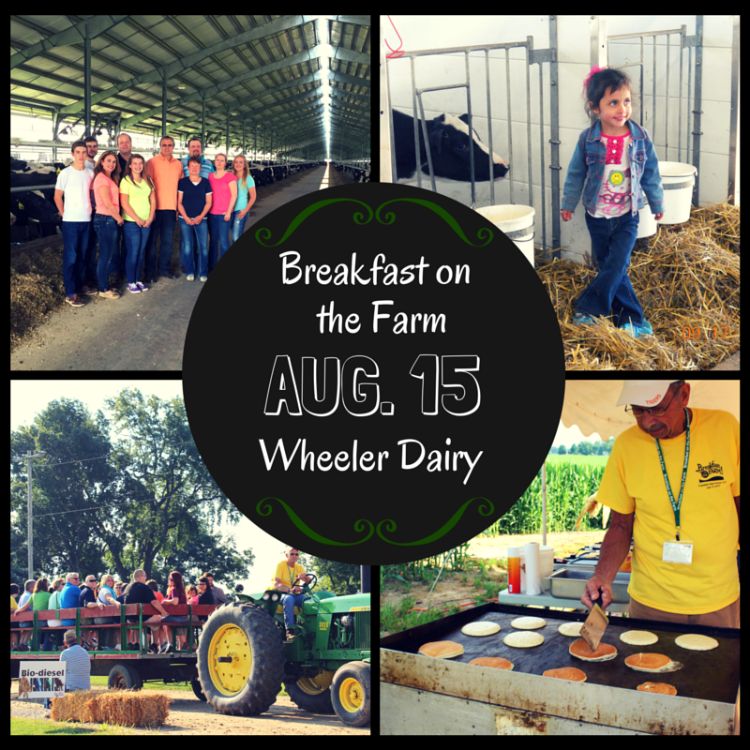 Wheeler Dairy will be teaming with MSU Extension to host this year's fourth Breakfast on the Farm (BOTF) event Aug. 15. Breakfast on the Farm is a special free summer event where families can enjoy learning about modern-day food production. Wheeler Dairy is located at 7478 North County Line Road in Breckenridge.
This Breakfast on the Farm event will give visitors a chance to see the everyday life of a cow on a modern dairy farm. The event will take place from 9 a.m. to 1 p.m., with breakfast being served until noon.
Wheeler Dairy currently milks 3,500 cows on the farm, which was established in 2013. Along with the cows, the family also grows 1,000 acres of alfalfa hay and 2,500 acres of corn.
"We feel that there is a disconnect between the consumer and the dairy farm, and we would like to close that gap by sharing our story and showing where grocery store milk really comes from," said Sanne Van Loon.
Visitors will be able to see how cows are housed and cared for.
"The healthier and more comfortable our cows are, the better their milk production will be," Van Loon said.
The breakfast will consist of flying pancakes by Chris Cakes of Michigan, sausage apple slices, yogurt and milk. After breakfast, visitors can explore the farm grounds on a self-guided tour. Sights will include a manure vacuum that provides clean housing for the animals, a 90- stanchion carousel milking parlor, a feed center and large equipment used on the farm. Volunteers from the community will be stationed around the farm to answer visitors' questions about modern-day farming practices.
The Van Loons are excited about the technology on their farm and want consumers to see how far agricultural practices have come using these new technologies.
"Technology has played a big factor in agriculture, and the ways things are done have changed tremendously over the years. Dairy farming has come a long way since my dad used to milk cows by hand back in the day!" Van Loon said.
"We care for our cows, our employees, our land, our environment and our community," Van Loon said. "Farming is our passion, and for us to pass the farm along to future generations, we must farm responsibly."
Breakfast on the Farm is free, but tickets are required to eat breakfast. Tickets are available from the following businesses after July 15:
Alma: Chemical Bank; Family Farm and Home; Gratiot County Fair for Youth; Gratiot County MSU Extension; GreenStone Farm Credit Services
Breckenridge: Isabella Bank
Carson City: Harvey's Milling Company
Freeland: Isabella Bank
Greenville: Isabella Bank
Hemlock: Isabella Bank
Ithaca: Gratiot County Farm Bureau; Isabella Bank; Tractor Supply Company
Lakeview: GreenStone Farm Credit Services
Midland: Isabella Bank; Midland County Farm Bureau; Midland County MSU Extension; Tractor Supply Company
Mt. Pleasant: GreenStone Farm Credit Services; Isabella County Farm Bureau; Isabella County MSU Extension; Tractor Supply Company
Rosebush: Bader & Sons Co.
Saginaw: GreenStone Farm Credit Services; Tractor Supply Company
St. Lewis: A&E Ag, LLC; Chemical Bank
Stanton: Isabella Bank; Montcalm County Farm Bureau; Montcalm County MSU Extension
After the Gratiot County BOTF, the final event for the summer takes place Aug. 29 in Hillsdale County, at Pleasant View Dairy in Jonesville.
The statewide sponsors for the 2015 BOTF events are the Corn Marketing Program of Michigan, Dairy Farmers of America, Dairyland Seed, GreenStone Farm Credit Services, Kroger, McDonald's, Michigan Ag Council, Michigan Farm Bureau, Michigan Farm Bureau Insurance, Michigan Milk Producers Association, Michigan Soybean Promotion Committee, Michigan Wheat Program, Northrop Trucking and United Dairy Industry of Michigan.
For more information about the Gratiot County Breakfast on the Farm or other BOTF events, visit www.breakfastonthefarm.com, or contact Ashley Kuschel at kuschela@anr.msu.edu or Mary Dunckel at dunckelm@anr.msu.edu.