Gratiot County Science Expo celebrates youth leadership and science exploration
4-H alumnus plan, organize and execute annual science expo to offer fair goers a fun, educational experience.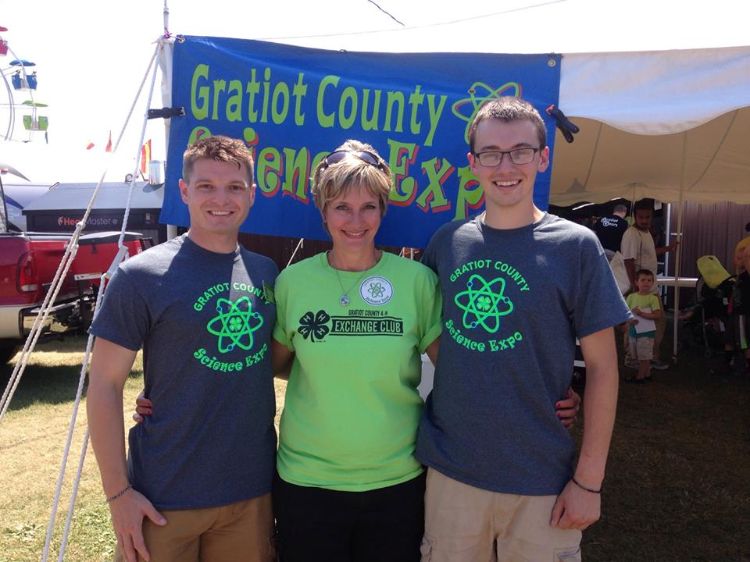 The county fair is generally a time to have fun, try all the rides, eat new fried foods and make memories that last a lifetime. For youth enrolled in 4-H, the Michigan State University Extension youth development program, the fair is a learning opportunity like no other. During a county fair, youth have the opportunity to share the projects they have been working on over the past weeks, months and even years. The fair presents an amazing teaching and learning opportunity for all involved – parents, youth, volunteers and the general public.
Beyond the still exhibits or visiting animals in a barn, there is so much more a county fair can offer when youth take the lead in bringing an idea to fruition. One Gratiot County youth has done just that by planning, organizing and leading the Gratiot County Science Expo held during the Gratiot County Fair for Youth. Austin Brittain of Breckenridge, Michigan, with the help of 4-H volunteer Patty Macha and former 4-H program coordinator Matthew Newman, turned an idea into a reality.
"Austin was impressed by everything he saw and learned during 4-H Exploration Days. While driving back to Gratiot County after the three-day pre-college program, we were talking and Austin said 'Why don't we do something like this in our county?' and that was how the Gratiot County Science Expo started," Newman recalls. "From these initial conversations, Austin took ownership and leadership to find presenters, organize the event, and bring together youth, volunteers and partner organizations to share their passion for science with people of all ages."
"We decided to pilot the Science Expo in 2013 and started with six exhibitors to see if this event was something 4-H members would be interested. The goal was to highlight what 4-H members were doing, building and learning, but in a non-competitive environment. The idea of a science fair was discussed, but we really wanted youth to be able to show off what they were doing without worrying about winning something. The expo was a chance to exchange ideas, inspire and learn from our individual explorations in science," Brittain said. "We had a great response and a lot of interest, so 2014 was the first full Gratiot County Science Expo. We had about 600 participants, kids and adults, attend the expo that year and it keeps growing. The original six exhibitors came back and continue to be involved in the expo years later. The exhibitors have become like family and I look forward to seeing their exhibits and catching up with them every summer."
In 2016, the Gratiot County Science Expo showcased youth and adults leading many different, interactive science activities for fair goers to explore. There were experiments looking at sound waves, environmental science, fossils, water density, states of matter, soil science, animal science, robotics, the 4-H Ag Innovators Experience and much more. Youth and adults alike engaged with exhibitors, taking time to ask questions and discover answers about the science displayed before them.
Reflecting on the science expo, Brittain said, "One of my favorite things about the Gratiot County Science Expo is to see how passionate exhibitors, especially the young exhibitors, are about their projects. The enthusiasm from exhibitors is contagious to expo visitors who might visit an experiment two or three times because they thought it was so cool. The expo also is a chance to highlight less conventional 4-H projects, like robotics. The robotics club has a big exhibit that draws in a lot of visitors. It is very rewarding to see the direct impact the science expo has on my community and how many more kids want to become 4-H members to learn about other science projects like technology and engineering. Clubs and experiences like the expo didn't exist when I was in 4-H, which is why we started the expo and why I will keep it going. The Gratiot County Science Expo is a great way to showcase everything 4-H has to offer to kids who might not be interested in animal, plant or other more traditional projects."
Newman continued, "The Gratiot County Science Expo really embodies the 4-H experience of 'learn by doing.' The expo has provided so many opportunities for youth to take charge for their learning process, especially Austin in his leadership for the event. 4-H grows true leaders like Austin; inspired youth who give everyone hope for a better tomorrow."
Brittain is just one example of how Michigan 4-H helps youth to grow into community leaders. For more information on 4-H, how to join a club, volunteer or support 4-H programming, contact your county MSU Extension office. The Gratiot County Science Expo will return in 2017; check the Gratiot County fair schedule next summer for more information.
Michigan State University Extension and the Michigan 4-H Youth Development program helps to create a community excited about STEM (Science, Technology, Engineering, and Mathematics). 4-H STEM programming seeks to increase science literacy, introducing youth to the experiential learning process that helps them to build problem-solving, critical-thinking and decision-making skills. Youth who participate in 4-H STEM content are better equipped with critical life skills necessary for future success. To learn more about the positive impact of Michigan 4-H youth in STEM literacy programs, read our 2015 Impact Report: "Building Science Literacy and Future STEM Professionals."