Great Lakes Expo educational materials available for gardeners
Gardeners can take advantage of the 2020 Great Lakes Expo virtual education program for commercial growers through Jan. 8, 2021.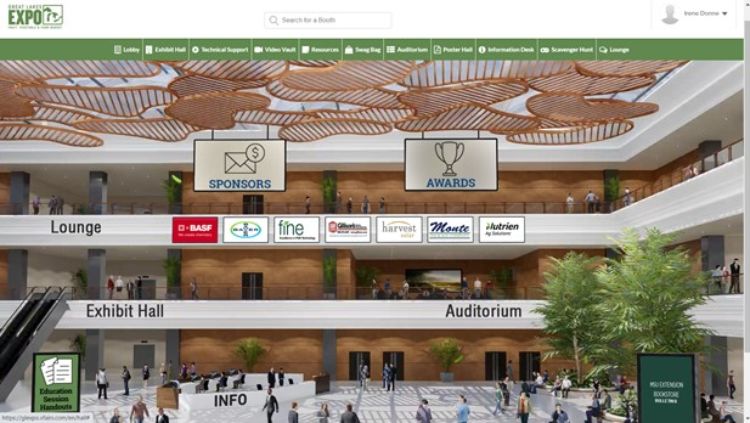 Every year, the Great Lakes Fruit, Vegetable and Farm Market Expo (GLEXPO) brings together thousands of people for education and business opportunities. At Michigan State University Extension, our focus is on coordinating the education sessions, which are designed to support and bring research results from universities to commercial growers in Michigan. However, as a consumer horticulture educator, I find that there are still many interesting session topics that can improve home gardener's, hobby farmer's or aspiring grower's knowledge of growing plants successfully in Michigan. This year, these education sessions can be accessed online, even after the live event.
Like many things in 2020, the in-person aspect of GLEXPO was cancelled, and the event was modified to be delivered virtually for the first time. While I have enjoyed going to the large conference center in Grand Rapids, Michigan, where GLEXPO usually takes place, networking with colleagues that I do not see very often and browsing the vendor tables, I like that the virtual aspect of GLEXPO this year could open it up to broader participation.
The live educational sessions at GLEXPO took place Dec. 8-10, 2020. However, because the sessions were virtual and recorded, you can still register and view the educational presentations from the event through Jan. 8, 2021. Registration is $40 ($25 for students), cheaper than the in-person event, and provides you access to over 84 education sessions from university researchers and educators from MSU, as well as other universities, and industry experts.
When registering for the event, choose a "Registration Type" out of the following options: Fruit, Vegetable, Greenhouse, Fruit/Vegetable, College Student. This helps event organizers get a sense of what topics participants were most interested in, but you will still have access to all the education "tracks" with any type of registration.
Once you are in the virtual conference center (see photo), you can click on the "Auditorium" link and click again to view the education sessions, organized by the categories of "Greenhouse," "Vegetable," "General Interest," "Farm Market" and "Fruit." MSU floriculture educator Jeremy Jubenville and I want to provide some suggestions of sessions from these tracks that could be of interest to gardeners. The education sessions can be found listed in the registration brochure. While these sessions have been prepared for the commercial agriculture crowd, they provide further insight into all the considerations that go into growing food and other specialty crops, whether or not you can use all the recommendations yourself.
With so many sessions, there is no way I can list all the ones that might be of interest to gardeners and small hobby farmers, so just consider these to be some examples and make sure you check out the full brochure. The Vegetable and Fruit tracks are mainly crop-specific talks, so you would look for sessions on what you are interested in growing, such as tomatoes, vine crops, strawberries or blueberries. There may be more relevant options for home gardeners in the Greenhouse and General Interest tracks and Organic sessions.
I hope some new people are inspired to check out the GLEXPO education sessions and learn more about growing fruits, vegetables and ornamental plants in Michigan!
Below are suggested education sessions to explore in the different learning tracks. Note that pesticide credits were only available to participants in the live sessions.
Greenhouse
Greenhouse sessions that may be of particular interest to gardeners are "New and Novel Varieties," "Best Performing Annuals and Perennials in Michigan" and "Specialty Cut Flowers."
Farm Market
"Pick-Your-Own Flower Field" and "Creating Beautiful Market Bouquets" could inspire amateur cut-flower growers.
Fruit
Learn about "Emerging Pest Issues" such as tree fruit diseases, spotted lanternfly and the Asian giant hornet. Other sessions of interest might be "Organic Fruit Production 1" where the ecology of the spotted wing Drosophila fruit pest is discussed and the blueberry sessions.
General Interest
In this track, you might be interested in hearing from farmers about their practices in the "Intro to Organics - Farmer Round Tables" and "Beginning Farmer 1" sessions. In "Beginning Farmer 2," you can learn about choosing vigorous varieties and using cover crops. Other sessions to check out might be "Soil Health," "Ecosystem-Based Fruit and Vegetable Production," and "La Cosecha (The Harvest)," the latter being a session in Spanish to guide new Latinx farmers.
Vegetable
In this track, I recommend reviewing the two "Organic Vegetable Production" sessions, which go over general tomato production, vegetable disease management and dealing with nematodes while enhancing soil health. Many gardeners are interested in growing tomatoes and peppers, so it could also be helpful to watch the two "Tomato/Pepper/Eggplant" sessions that discuss viruses on tomato, thrips control and tomato fertility.