Great Lakes Fisheries Heritage Trails Conference highlights Saginaw Bay
Fisheries Heritage network explores new partners, new fisheries heritage opportunities in the Saginaw Bay region.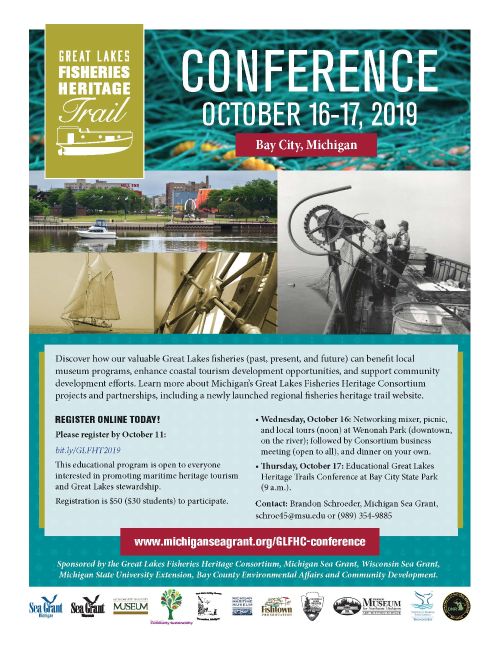 The 2019 Great Lakes Fisheries Heritage Trails Conference heads to the Saginaw Bay region this year to explore local fisheries and new fisheries heritage trail projects and partnerships across Michigan and the Great Lakes region.
The annual conference will be held Oct. 16-17, 2019, in Bay City, Mich., hosted by Michigan Sea Grant, Michigan State University Extension, Bay County Environmental Affairs and Community Development and other Great Lakes Fisheries Heritage (GLFH) network partners.
The GLFH network – including a newly launched Great Lakes Fisheries Heritage Trail website – serves to cross-connect and promote fisheries heritage efforts among communities, maritime museums, fisheries business, and other partners. This conference offers a great opportunity for networking, sharing information and resources, and gaining new ideas linking our valuable Great Lakes fisheries with historic preservation, heritage tourism, education, and other community development efforts.
This annual meeting helps local communities:
Network with other communities involved in fisheries heritage work, gaining new ideas or access to new opportunities.
Learn how others are connecting with their local fisheries, maritime museums or historic sites, fisheries exhibit or educational materials, or even fisheries events or experiences.
Learn about Great Lakes fisheries history and heritage, science and issues – with a focus on Saginaw Bay, Lake Huron.
Use the Great Lakes Fisheries Heritage Trail website to share local fisheries heritage stories and opportunities in more accessible ways.
Explore fisheries heritage and Great Lakes science in Saginaw Bay
A networking picnic on Oct 16., 2019, and is designed for folks to meet and mingle while exploring the community, fisheries heritage and Great Lakes science in the local Saginaw Bay area. The educational conference on Oct. 17, 2019, and features presentations and discussion centered on promoting fisheries heritage in connection with tourism, historic preservation and Great Lakes education goals.
This two-day conference will offer:
Kick-off and networking mixer begins at noon on Oct 16 with a picnic (provided with registration), and local tours at Wenonah Park (downtown, on the river) – including community tours to local Bay County Historical Museum, Delta College Planetarium (additional $3/person at the door for special Dome360 showing of the "Mysteries of the Great Lakes"), and an afternoon river sail with Bay Sail aboard their Appledore schooner (included with registration).
Business meeting for the Great Lakes Fisheries Heritage Consortium is open to all and will be held following dinner (on your own) on Oct 16. Participants are invited to this brief meeting which will cover updates and explore future opportunities for this regional network of fisheries heritage partners seeking to better coordinate and collaborate in their work.
Educational sessions begin at 9 a.m. Oct. 17 at the state Department of Natural Resources Saginaw Bay Visitor Center (Bay City State Park), and includes presenters sharing about past and present Saginaw Bay fisheries heritage, a Great Lakes fisheries documentation opportunity with National Park Service, and how your community can use the new Great Lakes Fisheries Heritage Trail website to highlight local fisheries heritage stories.
Post conference field trip includes a guided visit tour of Bay Port Fish Company's facilities and fish market.
Register online to attend
Visit the conference website to register online. This educational program is open to all those interested in promoting maritime heritage tourism and Great Lakes stewardship. Please register by Friday, Oct. 11.
Registration is $50 ($30 for students) and includes picnic lunch and river tour with Bay Sail on Oct. 16; and participation in educational conference sessions with lunch provided on Oct. 17.
For additional information about this educational program contact Brandon Schroeder, Michigan Sea Grant Extension (schroe45@msu.edu, 989-354-9885).
Michigan Sea Grant helps to foster economic growth and protect Michigan's coastal, Great Lakes resources through education, research and outreach. A collaborative effort of the University of Michigan and Michigan State University and its MSU Extension, Michigan Sea Grant is part of the NOAA-National Sea Grant network of 33 university-based programs.
This article was prepared by Michigan Sea Grant under award NA14OAR4170070 from the National Oceanic and Atmospheric Administration, U.S. Department of Commerce through the Regents of the University of Michigan. The statements, findings, conclusions, and recommendations are those of the author(s) and do not necessarily reflect the views of the National Oceanic and Atmospheric Administration, the Department of Commerce, or the Regents of the University of Michigan.