Great Lakes Conference at MSU to address Great Lakes issues
The 2014 Great Lakes Conference will, again, be part of ANR Week at MSU, and will focus on current issues and information relating to our Great Lakes.
Michigan State University will host, again, the Great Lakes Conference as part of ANR Week. This year's Great Lakes Conference will be held on the MSU campus at the Kellogg Center on Tuesday, March 4, 2014 from 9:00 am until 3:45 pm. The 2014 Conference is sponsored by the MSU Department of Fisheries and Wildlife; MSU Institute of Water Research, Michigan State University Extension; Michigan Sea Grant; and Office of the Great Lakes, Michigan Department of Environmental Quality.
The Great Lakes continually face a complexity of issues of importance, including Great Lakes Areas of Concern, fish stocks, invasive Phragmites control, harmful algal blooms, hypoxia, microplastics, and Asian carp. Scientists and policy makers throughout the Great Lakes Basin are currently addressing these issues. This conference will address some of these key topic areas and highlight some of the latest research, management, and educational efforts being developed to assess these Great Lakes issues.
Workshop presentations will include:
Keynote Address: Making Plans for Michigan's Land and Water - Keith Creagh, Director, Department of Natural Resources, Lansing, MI
Great Lakes Areas of Concern (AOC): U.S. EPA Research on Assessing Remedy and Restoration Success - Jim Lazorchak, Ecological Exposure Research Division, National Exposure Research Laboratory, Environmental Protection Agency, Cincinnati, OH
The Future of Lake Trout and Lake Whitefish Stocks in the Great Lakes - Mark Ebener, Assessment Biologist, Inter-Tribal Fisheries and Assessment Program, Chippewa Ottawa Resource Authority, Sault Ste. Marie, MI
Sustainable Control Options for Invasive Phragmites: What Options are on the Horizon? - Kurt Kowalski, Research Wetland Ecologist, USGS Great Lakes Science Center, Ann Arbor, MI
Lake Erie HABs and Hypoxia: Effects of Nutrient Loading and Changing In-Lake Dynamics - Mary Evans, Research Ecologist, and Ed Roseman, Fisheries Research Biologist, USGS Great Lakes Science Center, Ann Arbor, MI
An Ecological Perspective on Microplastics in the Great Lakes - Larissa Sano, Researcher, Cooperative Institute for Limnology and Ecosystems Research, Ann Arbor, MI
Asian Carp and Chicago Area Waterways - Dan O'Keefe, Southwest District Extension Educator, Michigan Sea Grant, West Olive, MI
The conference is free and open to the public; however, advanced registration by Friday, February 28 is requested.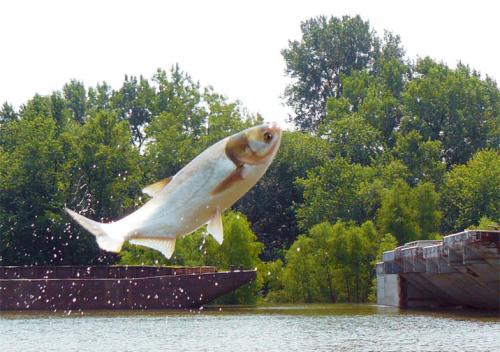 Educators are also eligible to apply for $150 scholarships by contacting Steve Stewart. Scholarship applications are due by Wednesday, February 26. In addition to the conference, an educator luncheon is being provided where information, ideas, and materials useful in advancing Great Lakes Literacy in Michigan will be shared.
You Might Also Be Interested In