Great Lakes EXPO hop session lessons learned
Eastern U.S. industry experts offer hop growing advice to over 125 attendees.
On Dec. 9, 2015, Michigan State University Extension hosted the annual Hop Session at the Great Lakes Fruit Vegetable and Farm Market EXPO in Grand Rapids, MI.
The session kicked off with an overview of the International Hop Growers Congress (IHGC) that took place in July 2015 in Germany's Hallertau region. This review can be found in the Michigan State University Extension article "2015 hop overview: Part 1"
The first keynote speaker to take the stage was Evan Elford, New Crop Development Specialist from the Ontario Ministry of Agriculture Food and Rural Affairs. Elford provided an overview of Canadian hop production and then discussed two major challenges facing Ontario hop growers- 1) downy mildew and 2) late spring frosts. Over the past two seasons, Elford has been attempting to answer the question-When considering downy mildew and late spring frosts, is it possible to optimize hop yields using cultural management techniques?
A common cultural practice to control downy mildew involves removal of the lower leaves from the hop bines to increase airflow. Leaf removal is achieved through hand removal or chemical dessicants. Elford reported that preliminary data suggest that if the leaves are removed when the plants have only reached five to six feet it could reduce yield. Research will be continued in 2016.
Elford also tested the effects of both training date and frost injury on hop yield. In late May, they removed a varying number of hop shoots to simulate both light and severe frost events. Preliminary data demonstrated that growers do not need to retrain hops after a minor frost. However, under a severe frost that results in major shoot damage, growers should not remove the damaged shoots and retrain new growth immediately. Waiting even a week to retrain could reduce hop yields. In 2016, Elford will attempt to determine if training date and hop variety may also play a role.
Steve Miller, Cornell University Hop Specialist, was the second hop session keynote speaker. Miller provided a brief history of U.S. hop production. In 1890, there were over 40,000 acres of hops in the U.S. most of which was grown in New York State. Current New York estimates suggest there are around 300 farms managing 300 acres of hops. Miller suggested that in re-emerging hop growing regions, like New York and Michigan, most growers face multiple challenges such as low yields, poor fertility management, pests, quality control, equipment and handling, and marketing and industry development.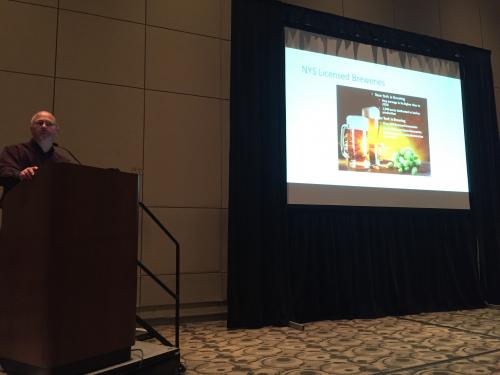 Miller also reported that soil tests and leaf petiole analyses may be useful to help growers "dial-in" their fertility regime. Both are recommended on an annual basis. Whereas petiole testing measures what has been accumulated in the plant up until the sampling date, Cornell has been experimenting with SAP analysis, which measures what is in the plant at the time of the petiole sample. The SAP analysis may offer growers a more accurate determination of plant nutrient needs. For more information on hop fertility please click here.
Miller also explained New York's Farm Brewery Law that went into effect in 2011, based on the state's popular farm winery law that was implemented in the 1970s. The legislation passed with full support from elected officials:
"Craft breweries are a significant sector in our agricultural and tourism industries, and when they do well, our economy does well. I encourage New Yorkers to sample all of what our craft brewers have to offer." – Governor Andrew M. Cuomo.
In order to qualify as a "Farm Brewery" and receive the benefits associated with this license, brewers must purchase a certain percentage of New York grown raw materials (eg hops, barley). The percentage increases to 60 percent in 2018 and 90 percent after 2023. There are over 100 licensed Farm Breweries in New York at present. Interestingly, in order to qualify for the license, breweries need not be located on a farm. Miller suggested that the law has helped spur the growth of the state's hop and barley industries.
Hop Growers of Michigan held their quarterly meeting at the GLEXPO as well. They encourage all growers to complete the 2015 survey as soon as possible. Since 2008, Michigan State University Extension has provided statewide leadership for hop research, education, and outreach. One of the goals of the MSU Extension Community Food Systems Work Team is to facilitate the development of relationships between stakeholders along the hops value chain. Making connections between farmers, brewers, and consumers can help promote increased purchases of Michigan-grown agricultural products, and increased sales of Michigan-made craft beer. The result is regional and rural economic development.
Did you find this article useful?
---
You Might Also Be Interested In