Great Lakes migrants: More than just salmon
The fall salmon run is a powerful reminder that backyard creeks and streams are connected to the Great Lakes. Salmon are one of many fish that move between habitat types.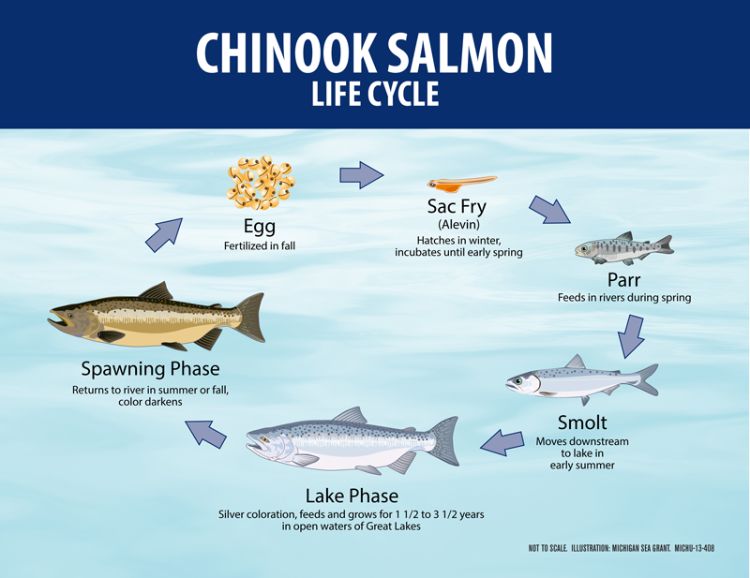 As an employee of Michigan State University Extension and Michigan Sea Grant, I often have the opportunity to talk informally with anglers. Fishing reports and concerns for the future of the fishery due to invasive species and other threats often dominate the discussion. Sometimes concepts or basic definitions from ecology and fisheries science come to the forefront and provide what educators might call a "teachable moment."
Such was the case recently when the subject of anadromous fish came up. It got me thinking about how the term "anadromous" was imported to the Great Lakes region from the Pacific Northwest along with coho salmon and Chinook salmon in the 1960s. The term "anadromous" is commonly used by Great Lakes anglers to refer to salmon and trout species, and particularly to those that enter rivers to spawn but spend most of their life in the Great Lakes.
In their native range, these Pacific salmon live most of their lives in saltwater but at the end of their life cycle they return to the freshwater streams where they were born to spawn. This is an example of anadromous migratory behavior – which is defined specifically as the movement from saltwater to freshwater for spawning. In other words, salmon could be called an anadromous species but their behavior in the Great Lakes doesn't quite meet the definition of anadromous because Great Lakes salmon spend their entire life in freshwater.
"Who cares?" you might well ask. "What does it matter if they are anadromous or not?"
To my mind, the answer is that "anadromous" is a term that carries with it a certain special status in the minds of anglers and other fish enthusiasts. Salmon certainly are special in many ways, but there is another term that more accurately describes their behavior in the Great Lakes, and it also applies to many other species. This term is "potamodromous" and it more broadly refers to behavior that involves moving from one freshwater habitat to another as a regular part of the life cycle.
Like salmon, many native species exhibit potamodromous behavior when they move into rivers to spawn. Walleye and lake sturgeon are good examples of species that (at least in some areas) enter rivers only for spawning, but the list is much longer than that. Even some populations of white sucker and the colorful longnose sucker make impressive migrations from the Great Lakes into creeks and rivers to spawn.
Does it really matter if our Great Lakes salmon meet the technical definition of anadromous? Maybe not to the average angler, but scientists recognize that other species make connections between creeks and Great Lakes environments, too.
In some nutrient-poor Great Lakes streams, the migration of native fish could play the same role as the salmon run does in maintaining the health of streams in the Pacific Northwest. One study even found that nutrients from decaying suckers and sucker eggs stimulated the growth of aquatic insects in a Lake Michigan tributary. The caddisflies that benefit from sucker runs can in turn provide food for stream trout and other fish.