Great Lakes Water Safety Conference to address dangerous currents in Lake Michigan, Superior
Local, state and federal agencies are partnering with Michigan Sea Grant, MSU Extension to help communities forecast dangerous currents in Michigan's Great Lakes.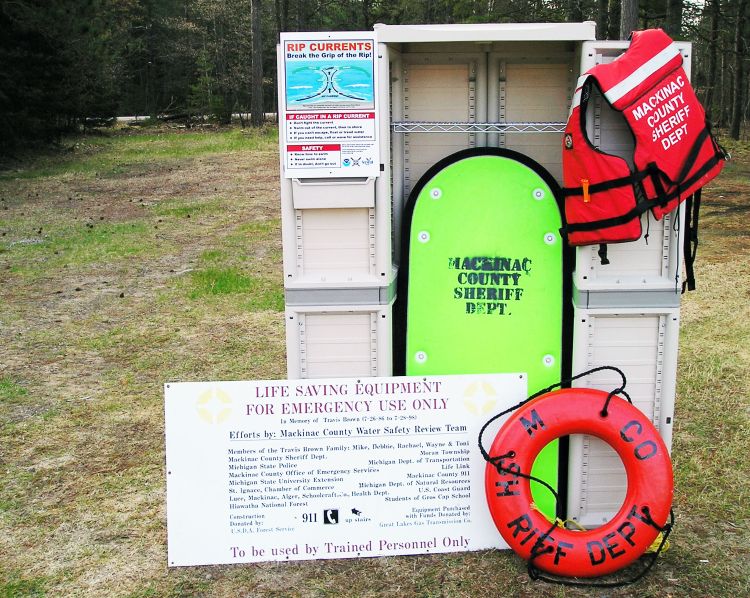 Rip, structural, outlet, and channel currents continue to take the lives of many swimmers each year in the Great Lakes. Many coastal communities continue to work on water safety measures that will help protect swimmers using their beaches. Also, several new projects have been ongoing in the area of education and research on dangerous currents that will help save lives in the future. These are some of the many topics at the Great Lakes Water Safety Conference on May 6 in Gaylord, Michigan. The conference was organized by Michigan Sea Grant, Michigan State University Extension, Mackinac County Water Safety Review Team and the National Weather Service.
The National Weather Service will address several of their current and upcoming projects. The National Weather Service Great Lakes incident report compiles statistics related to dangerous current related fatalities as well as rescues and the geographic areas where most of these dangerous conditions exist. Recent channel current research by the National Weather Service is shedding new light on how these currents, that run parallel to the shore, develop and what geographic areas in the Michigan Great Lakes have these types of currents. In addition, wave hazards and beach forecasts will be discussed as it relates to dangerous currents.
Local, state, and federal agencies that have jurisdiction on the Great Lakes have been involved with programs to ensure the safety of visitors to their beaches that are prone to dangerous currents. Representative from the Mackinac County Water Safety Review Team and the Great Lakes Beach & Pier Safety Task Force, the cities of Marquette and South Haven, and the Grand Traverse County Health Department will address these programs. This will provide a forum for communities to learn from each other on what works best in water safety programs. Non-governmental organizations, such as the Great Lakes Surf Rescue Project, will discuss priorities and progress in the area of community education.
The Michigan Coastal Zone Management Program, Michigan Department of Environmental Quality, through a grant from the National Oceanic and Atmospheric Administration, U.S. Department of Commerce, has funded two projects in Michigan. One of the projects has been led by Michigan Sea Grant—the Dangerous Currents Water Safety Project—that focused on educational workshops and dangerous current messaging. The other was a research project led by Michigan Technological University and the University of Michigan that focused on advancing dangerous current forecasting through perishable data recovery and analysis. Both of these projects will be discussed in detail at the conference. In addition this grant has addressed state efforts at increasing beach safety efforts at coastal parks.
At the end of the conference an expert in communications will lead the group in distilling key points of the day.
A detailed conference agenda and registration information is available on the Michigan Sea Grant website.