Grill outside the burger!
Burgers aren't the only thing you can cook on a grill. There are many options to explore that are tasty and nutritious!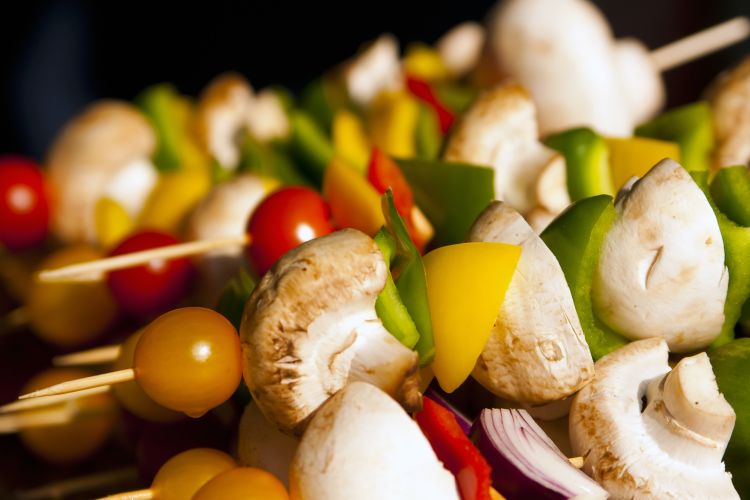 Grilling can become boring if you are cooking the same thing night after night. Grilling does not have to include the same protein source each time you grill out and it can definitely be spiced up by adding some grilled sides as well. Although beef, steak, chicken and fish are common foods to prepare on the grill, they aren't the only food that can be cooked on a grill!
Vegetables
Instead of a meat burger, create a veggie burger to reduce the amount of fat and add a variety of nutrients to your burger. If an all veggie burger doesn't appeal to you, add your favorite vegetables into your meat before you cook it. Chopped onions, peppers (all varieties), mushrooms, beets, carrots and spinach are all great options to add in your favorite 95 percent fat free ground beef or turkey.
Vegetable kabobs are a staple at many cookouts as a side dish, but don't forget they can be served as an appetizer or even as the main dish. Be careful if you plan to add meat to your vegetable kabobs. Serving raw or undercooked meat could be a food safety hazard. These foods might require different cooking times and should be separated as meat and vegetable kabobs. Green, red, yellow and/or orange peppers, cherry tomatoes, zucchini, mushrooms, summer squash and onions can create a mixture of delicious flavors, while also providing many vitamins and minerals. Vegetables offer fiber, potassium, are low in fat and calories and even help to reduce the risk of heart disease, diabetes and obesity. Thus, it is one of the many reasons why it is suggested that half your plate be filled with fruits and vegetables for every meal.
Fruit
Fruit is probably not the first thing you think to grill – but why not get creative! There's usually fruit at a cookout and it sits there beautifully with all the other cold dishes. Next time, throw some on the grill and give your mouth the chance to experience something new. Follow the links below for some tasty grilled fruit recipes.
You cooked what on the grill?
Most of us know that vegetables are delicious on the grill and you might have tried fruit on the grill before as well, but there are many other things that you can cook on the grill. You can take some of your favorite dishes and put them on the grill. Veggie quesadillas are great on the grill. Many recipes call for you to cook quesadillas in the pan but there's no rule saying that you have to! Slap that tortilla on the grill and follow the directions as you normally would. Try the U.S. Department of Agriculture quesadilla recipe.
Pizza on the grill is also a great idea! Are you tired of fighting over what toppings to get? And paying extra for each topping on one quarter of the pizza? Making your own is a great way to stop all the nonsense. You can make your own pizza dough, buy a premade dough or crust, use tortillas or naan (a yummy Asian bread), or scratch the carbs and slice up some eggplant or zucchini as your base.
The weather is right and you want to grill but don't feel like burgers, try some of your favorite home recipes that you normally bake by putting them on the grill. If you're worried about juices spilling or moisture retention, wrap it in foil or use a grill pan to retain the juices.
Michigan State University Extension offers nutrition education classes for adults and youth that includes recipes, budget saving tips and healthy choices consumers can make. More information can be found at http://msue.anr.msu.edu/topic/info/nutrition.