Grower meeting on pollinator conservation practices April 27
Pollinators and pesticides expert Meghan Milbrath will discuss research on which practices are known to harm pollinators and ways to minimize the risk.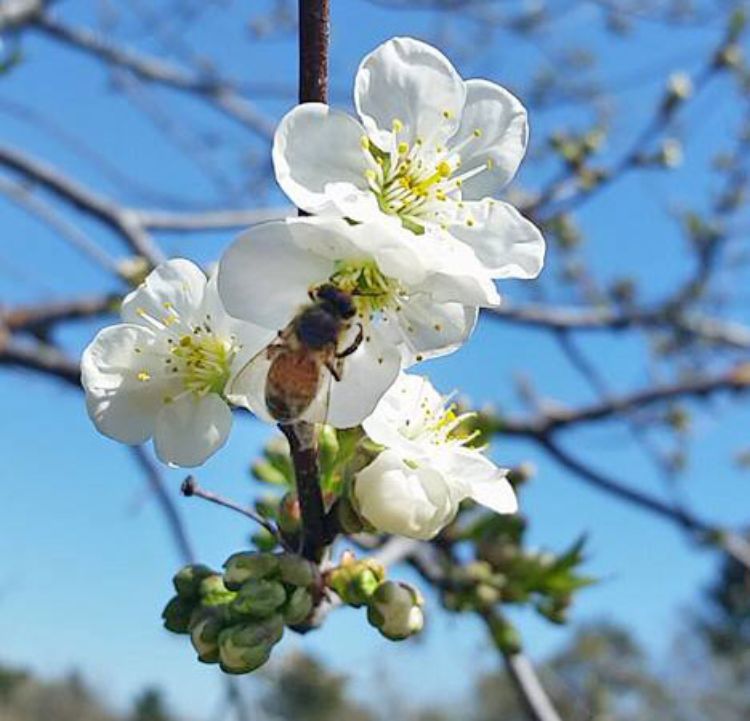 Growers of tree fruit, blueberries and vine crops in southwest Michigan successfully navigate a complex biological landscape of fungal diseases, insect pests and plant competition. At the same time, they protect native pollinators and honey bees by coordinating with beekeepers, timing sprays carefully and using reduced-risk pesticides when available. It is a constant challenge to keep track of how different sprays might affect pollinators in our area and how to minimize these risks while still bringing in the high-quality fruits and vegetables we all know and love.
To give our growers one more resource to meet this annual challenge, Michigan State University Extension, in coordination with the Michigan Pollinator Initiative, will be holding an educational session on pollinator protection at 3 p.m. on April 27, 2017, at the Southwest Michigan Research and Extension Center, 1791 Hillandale Rd., Benton Harbor, MI 49022.
Michigan Pollinator Initiative scientist Meghan Milbrath and MSU entomology graduate student Jacqueline Albert will discuss the importance of pollinators, which farm inputs endanger them, how those inputs reach and injure them, and some best management practices individual producers can employ to reduce mortality of bees and their relatives. We will also discuss recent research on the impact of fungicides on beehive health and survival, and the management implications of this new information.
Attendees will gain a clearer idea of which common production practices present risks to pollinators and how to minimize the negative impact on pollinators from sprays. Please join us for what is sure to be a lively and informative conversation. All attendees are welcome to join us for dinner afterwards.
To register, go to Spring Pollinator Meeting or call 269-927-5674 ext. 4011 for Jamie Styburski or ext. 4012 for Brad Baughman. Registration is $15 if received by April 20 or $20 at the door.