Growing a healthy lawn without insecticides
Homeowners may think that dealing with pesky grubs is inevitable in the quest for a beautiful lawn. But there is a solution.
Michigan State University Extension and Project GREEEN (Generating Research and Extension to meet Economic and Environmental Needs) researchers have come up with a lawn care routine for Michigan homeowners resulting in a green, healthy lawn that can tolerate grubs.
"By following the simple steps we've laid out, homeowners can manage a low-maintenance lawn that will be able to stand up against grubs without the use of expensive insecticides," said Dave Smitley, MSU entomologist.
It starts, he said, by choosing the right grass.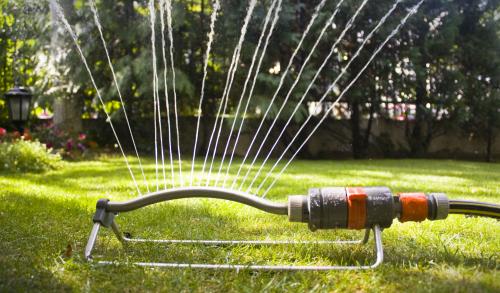 "Kentucky bluegrass and red fescue are the best grasses for this region," Smitley confirmed. "If managed properly, they produce a large root mass, which is imperative for grub-tolerant grass. The denser the root system, the less susceptible the lawn is to grubs."
Smitley's research shows that watering during dry periods, applying a minimal amount of fertilizer (1 pound of nitrogen per year, spread across the growing season) and mowing at 3.5 inches (or at the highest setting on your mower) will keep lawns healthy and free of grub damage.
"Applying more fertilizer is not going to make your grass grow denser roots -- it just encourages greener growth on top, meaning more frequent mowing," he added. "Applying at least 1 pound of slow-release nitrogen three or four times a year starting around Memorial Day and ending around Halloween is sufficient."
Starting from the "ground up," MSU Extension's horticulture educators are embarking on a new campaign to help folks become "smart gardeners." Launching this effort, MSU Extension horticulture educators will be presenting smart gardening in a variety of ways at two public shows in Michigan.
The Novi Cottage and Lakefront Living Show on Feb. 21-24, and the West Michigan Home and Garden Show on Feb. 28-March 3 will host a variety of free seminars, informational booths and be the site to "ask the experts" from MSU Extension about your gardening questions.
For more information on a wide variety of smart gardening articles, or to find out about smart gardening classes and events, visit www.migarden.msu.edu.