Halloween is a fun opportunity for science educators
The Mad Scientist youth can make their Halloween spooktacular using science.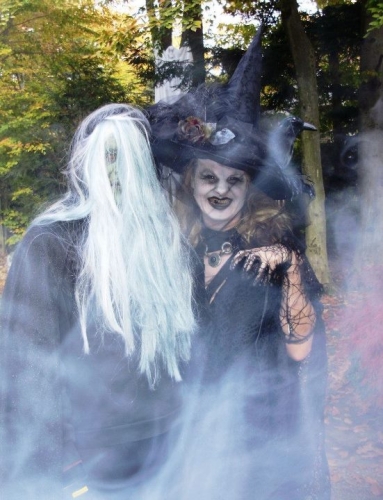 Halloween presents educators with the opportunity to teach science with oozing-, bubbling- and fog-making activities. An example of a fun activity to try is the "Atomic Slime" which is just one of many activities offered by Steve Spangler. In 2008 Steve Spangler was invited in a partnership with the National 4-H Council to serve as their national spokesperson for the first-ever National Science Experiment. Halloween science activities were introduced like the atomic slime, dry ice experiments, exploding pumpkins, Halloween recipes and sounds. For the 2012 year, the national science experiment will be the Eco Bot Challenge.
Science can be used in so many ways during this holiday season. The fall crops of festive pumpkins, gourds and corn help youth become botanists with plant science, introducing friends to scary plants like the Venus Fly Trap or the Tickle Me Plant to Halloween celebrations.
Cooking science can be utilized with fun holiday recipes. Spice up the black cauldron of stew with dry ice below for a scary effect. Make a graveyard chocolate pudding by adding gummy worms and sprinkling with crumbled Oreo cookie on top for dirt.
Science is used with visual art in designing that perfect Halloween costume. For example, scary blood for the vampire costume is simply made by mixing one cup of corn syrup, one tablespoon of water, two tablespoons of red food coloring and one teaspoon of yellow food coloring.
Engineering science for scary props or displays can be lots of fun. Research how to make scary sounds with electronics or moving a skeleton prop arms with robotics. Families can have so much fun quality time together preparing and learning for Halloween.
Youth can learn a lot about science by being involved with Michigan State University Extension 4-H Science Literacy programs. Michigan 4-H offers many educational science outdoor opportunities in an interactive, experiential setting of 4-H Green Adventure Camp.Green science education with four weeks of nature and discovery to answer questions like, "How does your Halloween Jack O' Lantern get so big?" Educators and families can take the scare out of Halloween and teach the science behind this enjoyable holiday.