Harvest is underway in northwest Michigan vineyards
Year-to-year variation in ripening conditions and 2018 fruit maturity.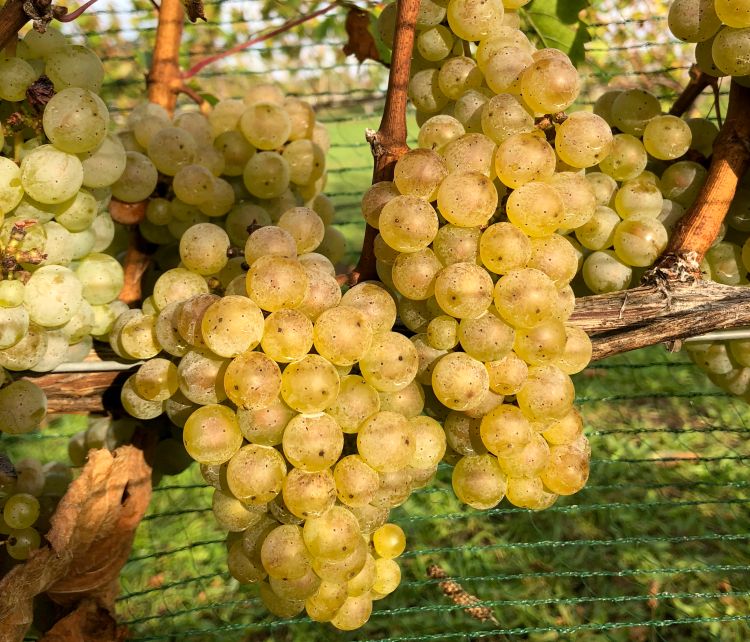 Since late August, the relatively warm and dry season has given way to cooler, cloudy and wet conditions and has been characterized as "one of the most challenging late-season (post-veraison) weather conditions in recent memory," as one regional wine grape producer reported. The data supports this statement with this season's August and September dropping significantly more rain for a longer duration on Leelanau and Old Mission Peninsula AVAs than four out of the five previous years and the five-year average within the same date range (Table 1).
In fact, in 2017 only about 1.9 inches of rain fell on the region during the same date range, which is about four-fold less than this year (about 8.0 inches, Table 1). The Leelanau Peninsula AVA has already accrued 104 more growing degree-days (2,746 from April 1 to Oct. 1) than the entire 2017 growing season (2,642 from April 1 to Oct. 31) (Fig. 1) in 30 fewer days. In other words, the northwest Michigan region has accumulated significantly more heat units and late-season rain than last year, and at a higher rate. This has led to reports of fruit rot situations, mainly in Pinot Noir, Pinot Gris and Pinot Blanc, ranging from a manageable 1-3 percent to more severe cases of 15-20 percent of clusters presenting either Botrytis or sour rot damage.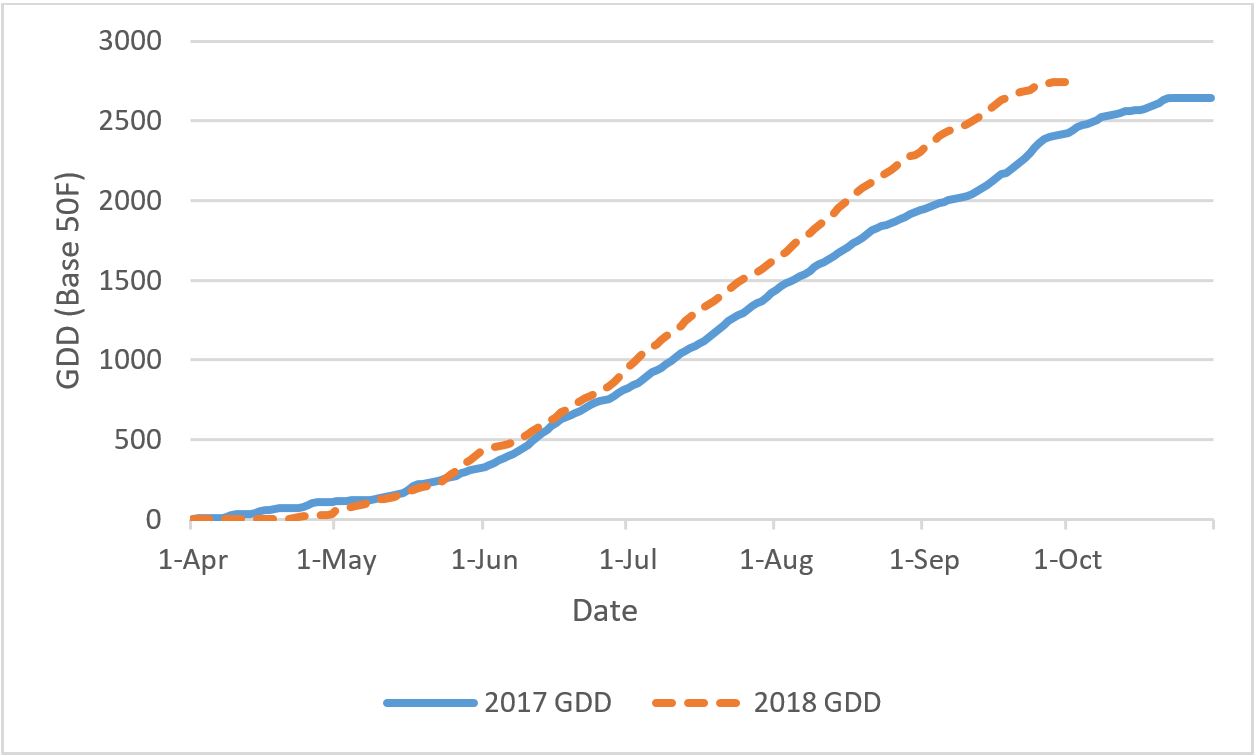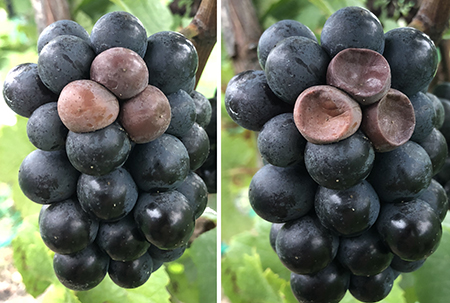 Although the Tip of the Mitt AVA receives fewer heat units (growing degree-days, GDD) during the growing season than Leelanau and Old Mission Peninsula AVAs, the major cold climate cultivars were harvested earlier, between Sept. 7 and 30. The fruit of cold climate cultivars generally have thicker skins, accumulate sugars quicker and maintain higher acidity (pH and TA) compared to those of Vitis vinifera (Tables 2-3). Therefore, as wet conditions continue to compromise V. vinifera fruit that is still on-vine, the most vulnerable cultivars, i.e., tight clustered and thin-skinned, across the region are scheduled to be picked soon, within the next five to 10 days.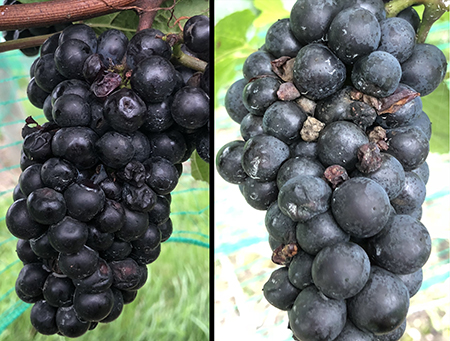 Fortunately, Merlot, Cabernet Franc and Riesling fruit, for the time being, have been resisting the negative impacts of this post-veraison rainfall and are within the normal parameters of ripening (Brix, pH, TA). This season's post-veraison period, due to increased rainfall, is in stark contrast to last year's dry September and October where Pinot Noir, Pinot Gris and Pinot Blanc (tight clustered and thin-skinned cultivars) were allowed to hang deep into the second half of October. The differences between 2017 and 2018 heat accumulation (GDD) and rainfall (inches and duration) highlight the year-to-year variation in wine grape ripening conditions for this region.
Table 1. Amount of rainfall on Leelanau and Old Mission Peninsula AVAs.

Year

Rainfall Aug. 20 – Oct. 1

Inches

Hours

2018

8.06

99

2017

1.87

45

2016

4.8

97

2015

4.89

68

2014

8.23

81

2013

5.83

50

5-year avg.

5.12

68.2
Source: MSU Enviroweather
Table 2. Fruit characteristics, harvest dates and fruit maturity of cold climate cultivars.

Location

Cultivar

Fruit color

Wine color

Harvest date

Soluble solids (Brix %)

pH

TA (g/L)

Tip of the Mitt AVA

Frontenac Blanc

White

White

9-07-18

22.5

2.90

15.6

Frontenac Gris

Greay

White

9-18-18

23.8

2.99

15

Frontenac

Blue

Red

9-18-18

22.5

2.95

14

Marquette

Blue

Red

9-18-18

22.0

3.00

12.75

Leelanau Peninsula AVA

Frontenac Gris

Gray

White

9-17-18

21

2.94

12.2

La Crescent

White

White

9-17-18

22.6

2.96

12.3
Table 3. Fruit characteristics and maturity of V. vinifera cultivars, collected/analyized Oct. 1, 2018.

Location

Cultivar

Fruit color

Wine color

100-berry wt. (g)

Soluble solids (Brix %)

pH

TA (g/L)

Old Mission

Peninsula

AVA

Chardonnay

White

White

136

20.7

3.29

4.7

Riesling

White

White

116

17.5

2.96

10.3

Cabernet Franc

Blue

Red

151

19.8

3.42

6.7

Merlot

Blue

Red

159

20.8

3.30

4.65

Leelanau Peninsula AVA

Riesling

White

White

118

17.3

2.96

11.3

Pinot noir

Blue

Red

111

20.0

3.2

9.0