Heat stress of zonal geraniums
Heat stress causes foliar bleaching and chlorosis of zonal geranium.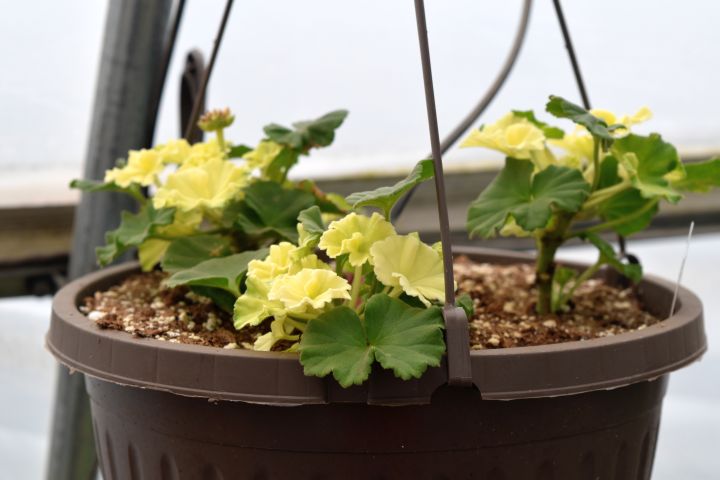 While visiting two separate growers in Michigan, we were asked to look at a greenhouse section containing zonal geranium hanging baskets. The hanging baskets were suspended from the greenhouse bows and the geraniums were exhibiting bleached (Photo 1) to chlorotic foliage (Photo 2).
Earlier reports indicated high temperatures can lead to chlorotic leaves and eventually necrosis. For geraniums, high growing temperatures above 85 degrees Fahrenheit can result in bleaching and chlorosis of the leaves. In this instance, the zonal geranium hanging baskets were in front of unit heaters that lead to the heat stress symptoms. Lack of or limited air flow around hanging baskets suspended in greenhouse peaks may also lead to heat stress.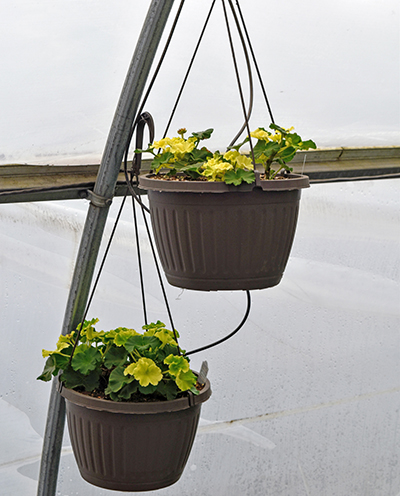 Michigan State University Extension recommends removing the symptomatic plants from the area and plants should regain normal color and vigor within a couple of weeks. Check thermostats and environmental computer to ensure your geranium crop is not exposed to extreme temperatures. Avoid suspending hanging baskets close to heaters or in direct air flow as this will help reduce the potential of inducing heat stress.
Position heater fins to direct heat flow in a direction in which it will minimize direct contact to plants as it may assist in reducing heat stress. Never obstruct or shield heaters with flammable materials to reduce the potential of heat stress. Check plants often if it is necessary to suspend hanging baskets in front of heaters.
To read more about heat stress, check out our recent e-GRO Alert, "Heat Stress Causes Foliar Bleaching and Chlorosis of Zonal Geranium.
Did you find this article useful?
---