Help make a difference on Michigan's inland lakes. Join the Cooperative Lakes Monitoring Program today!
This summer, embrace the outdoors while monitoring water quality on your favorite lake. Enrollment is open through May 10, 2021.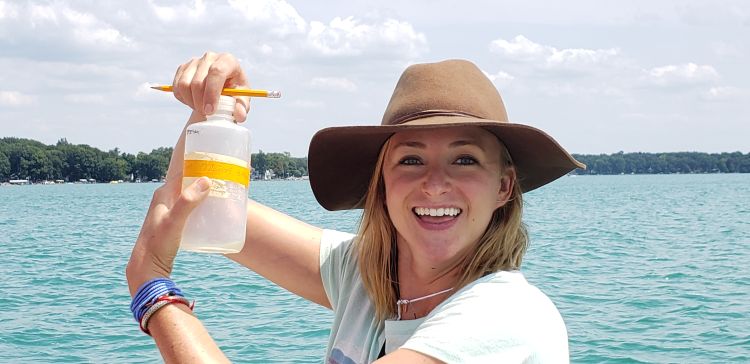 The MiCorps Cooperative Lakes Monitoring Program (CLMP) is back and seeking volunteers who want to enjoy and protect Michigan's 11,000 inland lakes. Michigan's lakes are a valuable resource that provide beauty, recreation, and economic opportunities. As more people use and live on and around our lakes, the potential for pollution and degradation increases. Monitoring a lake's vital signs through time allows for informed and personalized management of that lake. By being a CLMP volunteer, you can help make a difference on your favorite lake while also deepening your connection to it.
As a CLMP volunteer, you collect important ecological information needed to make data-driven decisions about how to protect and improve Michigan's beautiful lakes. More specifically, volunteers monitor water quality (clarity, nutrients, dissolved oxygen, and algae), invasive species, and habitat conditions in lakes of their choosing. Volunteers receive detailed instructions, training, and equipment. Further, the data they collect are added to the MiCorps Data Exchange, a public database that includes CLMP lake information dating back to 1974.
Interested in volunteering?
Visit the CLMP enrollment webpage for details on the program. Training is required for new volunteers and they can access a recorded training workshop on the CLMP training web page. There is a nominal fee to cover the cost of sampling equipment and support from lake professionals. Experienced volunteers are also encouraged to watch the session as an opportunity to review program information. Enrollment is open now through May 10, 2021.
MiCorps was established in 2004 by the Michigan Department of Environment, Great Lakes, and Energy (EGLE) to engage the public in collecting water quality data for use in water resources management and protection programs. MiCorps is administered for EGLE by Michigan State University Extension, in partnership with the Michigan Lakes and Streams Association and the Huron River Watershed Council.
Direct any questions about the CLMP to Erick Elgin, MSU Extension, at 218-340-5731 or elgineri@msu.edu; or Tamara Lipsey, Lake Michigan Unit, Surface Water Assessment Section, Water Resources Division, EGLE, at 517-342-4372 or LipseyT@Michigan.gov.
Follow MiCorps on social media for updated information, videos and announcements of grant opportunities on Twitter and Facebook.