Helping children adjust to a new sibling
A new sibling can turn your child's world upside down. Learn some ways to help ease the transition and prepare your child to share your time and attention.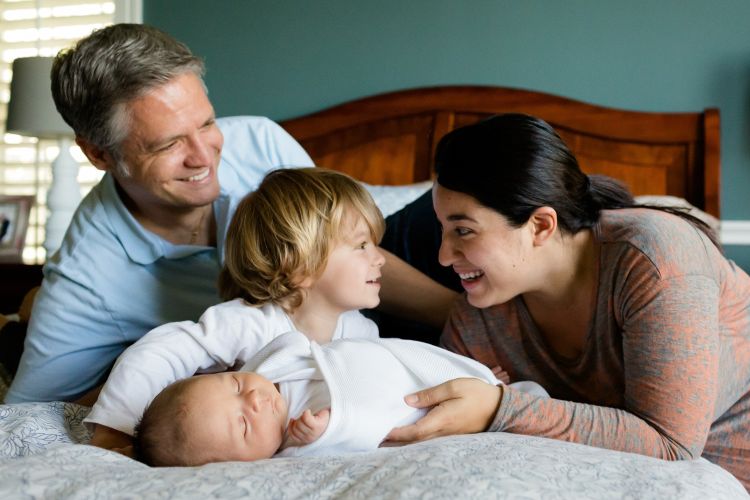 Welcoming a new sibling can be a big transition for everyone in the family and can be especially tough on children. All of a sudden, a young child's world shifts dramatically. They have to share their home, their things and the attention of their parents and other special adults. This can lead to behavior outbursts, regression and even tantrums.
Michigan State University Extension has some tips to help prepare your child for their new sibling:
Talk about it. Talk about the new baby and what things will be like. "Your little brother will come home and live here with us. Here is where he will sleep. He will cry a lot in the beginning because that is how he tells us what he needs. When he gets bigger you will be able to play with him."
Get them involved. If possible, include your child in helping prepare for the baby before they arrive. Let them pick out special items for the baby or decorate the nursery.
Plan some special time. One of the hardest parts of welcoming a new sibling can be sharing time with Mom and Dad. Try planning some special time with your older child where they can have your undivided attention at least for a little while. This will help them feel important and special, even if they have to share your attention.
Read books. You can also read books about new siblings like, "The New Baby" by Mercer Mayer, "Peter's Chair" by Ezra Jack Keates, "There's Going to Be a Baby" by John Burningham or "Martha Doesn't Share" by Samantha Berger.
Be understanding. If your child struggles to adjust to their new sibling, be understanding. Remember that it's a big adjustment and will take time and practice. They may regress, have more tantrums or outbursts than normal or be extra clingy—this is all normal. The best thing you can do is to be empathetic instead of punishing your child. Reassure them with words, "It can be hard to share your time with Mommy, or share your toys. That makes you feel really sad. I understand. It's OK to be sad."
Show them love. Load your child up with lots of love and support to reassure them they are loved and supported no matter what changes are taking place at home. Give them physical affection with hugs and snuggles, verbal affection with praise and encouragement and lots of quality time together.
For more information on welcoming a new sibling, check out Kid's Health, Mott's Children's Hospital and Zero to Three
For more articles on child development, academic success, parenting and life skill development, please visit the Michigan State University Extension website.
To learn about the positive impact children and families experience due to MSU Extension programs, read our 2017 impact report. Additional impact reports, highlighting even more ways Michigan 4-H and MSU Extension positively impacted individuals and communities in 2017, can be downloaded from the MSU Extension website.