Heroes to Hives: A new program to support veterans in beekeeping
Heroes to Hives aims to support military veterans by teaching the profession of beekeeping. Applications to attend the program can be submitted through Dec. 15, 2016.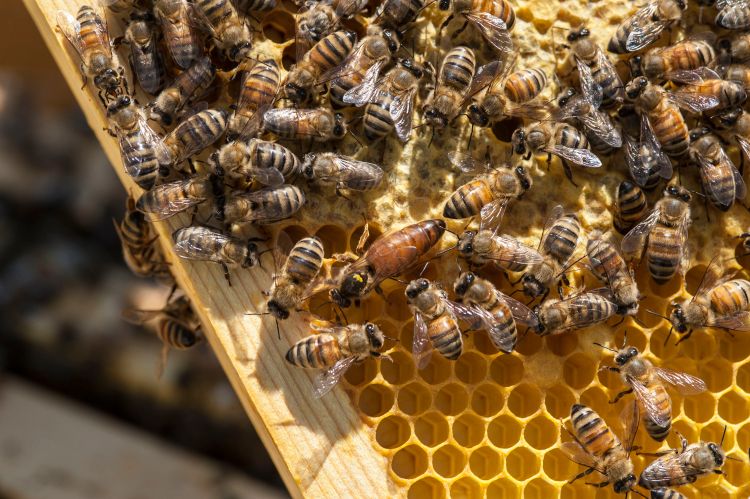 Michigan State University is proud to announce a new initiative aimed at supporting veterans in agriculture, Heroes to Hives. Heroes to Hives is a beekeeping education course for military veterans that seeks to address the financial and personal wellness of veterans through professional training and community development. MSU's Michigan Pollinator Initiative has partnered with the Kellogg Biological Station's Bird Sanctuary to host the program in 2017.
A cohort of 15 veterans will meet two to three times per month for nine months to learn the profession of beekeeping and to work with other veteran beekeepers. Instruction will cover everything from biology to business plan creation, and will be composed of in-class lecture-based education, hands-on learning, web-based lectures, reading and personal management of bee colonies.
Veterans will be selected through a competitive application. Applications are currently open and will remain open through Dec. 15, 2016. All veterans interested in beekeeping are urged to apply at Heroes to Hives Program Application 2017.
More information on the Heroes to Hives program can be found at the Heroes to Hives webpage.
The MSU Heroes to Hives program is entirely donation funded. Thanks to the generous support of the AT&T Foundation and private donors, Heroes to Hives will be offered at no cost to the veteran class of 2017. If you would like to support the continuation of the Heroes to Hives program at MSU, you can donate online to the Heroes to Hives program. Donations can be made by mail or phone using the information below and allocation code A11090.
Donate by mail: Make a check made out to Michigan State University with "A11090" in the memo line and mail to:
University Development
University Advancement
Spartan Way
535 Chestnut Road, Room 300
East Lansing, MI 48824
Donate by phone: Call 800-232-4MSU or 517-884-1000. Mention the name Heroes to Hives, allocation code A11090 and provide your credit card number and gift amount.
To learn more about the Heroes to Hives 2017 program, please contact Lacey Ingrao at 517-492-7474 or ingraol1@msu.edu.