Highlights of the 2015 Soybean Harvest Equipment Field Day
More than 100 participants learned new information about reducing soybean harvest losses and farm truck regulations and safety.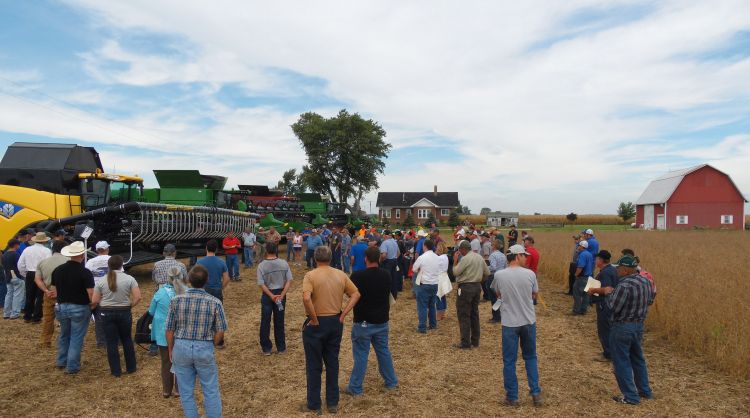 On average, harvest losses reduce marketable soybean yields by 1-2 bushels per acre. Given the projected soybean prices, this could cost soybean producers $9.25 to $18.50 per acre in 2015. Harvest losses can increase significantly if the crop is lodged, very short or harvest operations become delayed.
Because of this, Michigan State University Extension cooperated with Chad and Mindy Goetz Farms, Fred Ott, Inc., Archbold Equipment Inc., Burnips Equipment Company, Crary Industries Inc., the Michigan Soybean Checkoff and the Ohio Soybean Council to conduct a Soybean Harvest Equipment Field Day near Blissfield, Michigan, on Friday, Sept. 18, 2015. Despite a light rain in the morning, more than 100 soybean producers and agronomists participated in the event.
Craig Anderson, Michigan Farm Bureau Agricultural Labor and Safety Services manager, kicked off the field day with a presentation on new farm truck regulations and safety procedures. This was obviously a timely and relevant topic as many questions ensued.
The weather cleared so we were able to run four combines and measure the gathering losses from each machine. The combines that ran at the field day included a John Deere combine equipped with a 30-foot auger head, a second John Deere combine equipped with a 35-foot John Deere draper head, a Case IH combine equipped with a 35-foot Case IH true flex draper head and a New Holland combine equipped with a 35-foot Mac Don draper and a Crary wind system. We used six, 1-foot square frames to measure the gathering losses as these typically account for 80 percent of the total harvest losses. Our counts were not replicated enough times to publish the actual numbers. However, some interesting and beneficial observations were made.
The first and most important observation was that the light rain created nearly ideal harvest conditions in the field so shatter losses were not a problem. All of the machines kept the gathering losses to less than a bushel per acre.
We asked each operator to run their combines at 3 mph and again at 5 mph. In one case, the 5 mph speed was not possible because the class 6 combine was horsepower limited given the width of the head and the crop conditions. In general, keeping a combine's threshing cylinder or rotor full utilizes the combine's capacity and improves grain quality. Consider this when matching header width and combine horsepower in the future.
When the plants were leaning in the direction of travel, the faster ground speed increased gathering losses due to a higher number of poorly cut or uncut plants. This was true for draper and auger heads.
The uneven soil surface in the field was another source of gathering losses. Plants that grew in shallow valleys were not cut as cleanly and retained a few pods. The higher ground speed tended to increase the losses caused by the uneven soil surface. Again, this type of loss occurred with all of the combines and demonstrated the importance of providing a level soil surface when planting soybeans.
We also ran the New Holland combine with and without the air. The air-assisted reel provided a slight reduction in harvest losses under the ideal harvest conditions we experienced. However, air-assisted reels are most beneficial when harvesting short plants.
Each participant received a packet of information on reducing soybean harvest losses. Please contact me at staton@msu.edu if you would like to receive the information from the packet. The Michigan Soybean Checkoff and Michigan Farm Bureau also produced a video of the field day that producers may find beneficial.
This article was produced by the SMaRT project (Soybean Management and Research Technology). The SMaRT project was developed to help Michigan producers increase soybean yields and farm profitability. The SMaRT project is a partnership between Michigan State University Extension and the Michigan Soybean Promotion Committee.
You Might Also Be Interested In