History of dairy cow breeds: Ayrshire
Learn more about Ayrshire dairy cattle and other major dairy cattle breeds in the United States.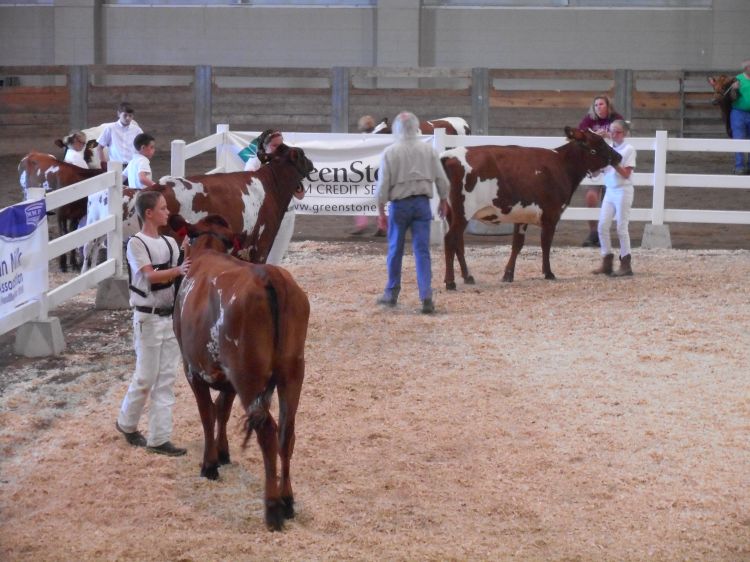 Have you ever looked at a dairy cow and wondered about the history of the breed? This series from Michigan State University Extension will explore the history of the seven major breeds of dairy cattle in the United States. Holstein cattle were the first in the series followed by Jersey cattle, and now we turn our attention to Ayrshire cattle.
About 600 miles north of where Jersey cattle originated is the County of Ayr, Scotland, United Kingdom, the location where the Ayrshire dairy breed was started. In the early years, this breed of cattle was first known as Cunninghams, then Dunlops, and finally the Ayrshire name was adopted. It took several years for the cattle's characteristics to be well-defined enough to be considered a different breed, but that happened with the first Ayrshire show, sponsored by the Highland Agricultural Society, in 1786. The precise cattle breeds used to generate Ayrshires is not known, but it is hypothesized that strains of other European or Channel Islands breeds were mated with cattle native to this geographic region to create Ayrshire dairy cattle. Early Ayrshires flourished in the Scottish landscape because they were very efficient grazers, were well-adapted to the climate and terrain because of the cross with native cattle species, and were known for the quality of their udder.
Ayrshire cattle are noted for their red and white color pattern. The red may range from a very dark, almost black mahogany to a very light brownish-red. The cattle could be almost a solid red or white with the complimentary color spotted across their hide or they may have more of a broken mix of red and white. Purebred Ayrshire adults will only produce red and white colored offspring. One historic feature of the breed was their long, elegant horns. When allowed to grow, the horns were light colored with dark tips and could be over a foot in length. Most modern Ayrshire cattle are dehorned as calves for animal and human safety.
This breed is considered a medium-bodied dairy animal, reaching up to 1,200 pounds at maturity. Ayrshire cattle are highly adaptable to numerous different management systems, have excellent udder conformation and are generally free from most foot and leg problems. Additionally, calves are known for their vigor and easy rearing.
This Scottish breed debuted in the U.S. in 1822 when they were imported to Connecticut. The climate and terrain in the northeast was similar to that of Scotland and Ayrshires did very well in this environment. Presently, the largest numbers of registered Ayrshire cattle are still found in many New England states, including New York, Pennsylvania and Vermont, but they have spread throughout the entire country and also have strong numbers in many Midwest states including Wisconsin, Ohio, Iowa, and Illinois.
For more information about Ayrshire cattle, check out the U.S. Ayrshire Breeders' Association, Ayrshire Breeders' Association of Canada or Ayrshires International.
Other articles in this series