Hop crop report for the week of May 1, 2023
This is the first hop crop report for the season.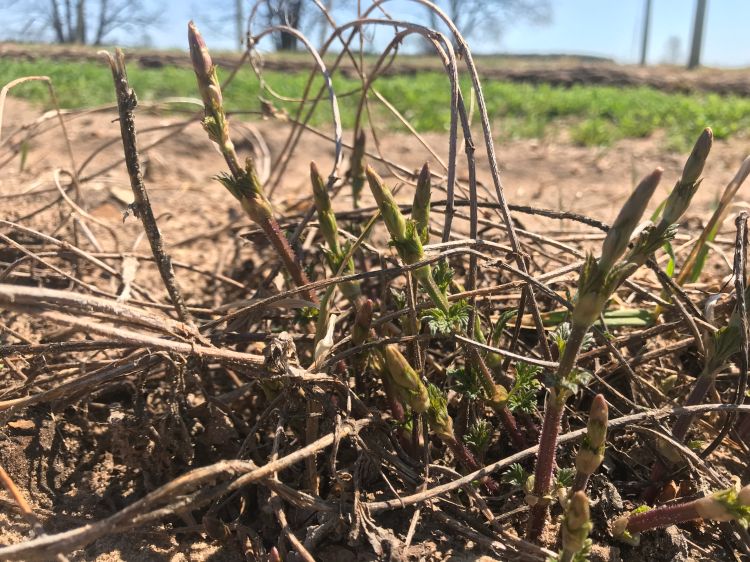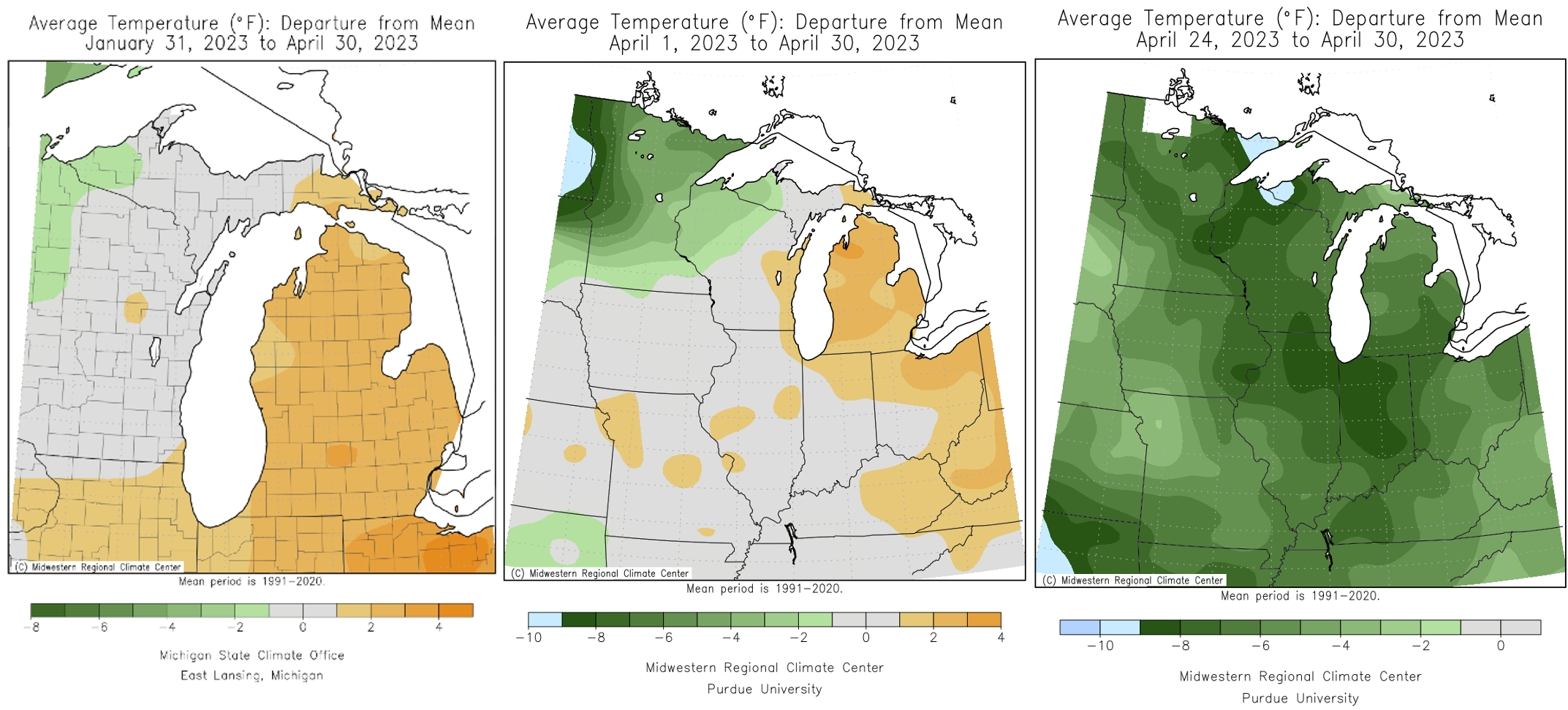 From the end of January through the end of April, temperatures were higher than average for the Lower Peninsula. Early summer temperatures (up to 20 degrees Fahrenheit above normal) that occurred in mid-April returned to normal and well-below normal temperatures for most areas across the state since then.
The temperature rollercoaster has been quite evident across much of lower Michigan, with some areas experiencing record lows during the end of March, record highs in mid-April and record lows again (see below).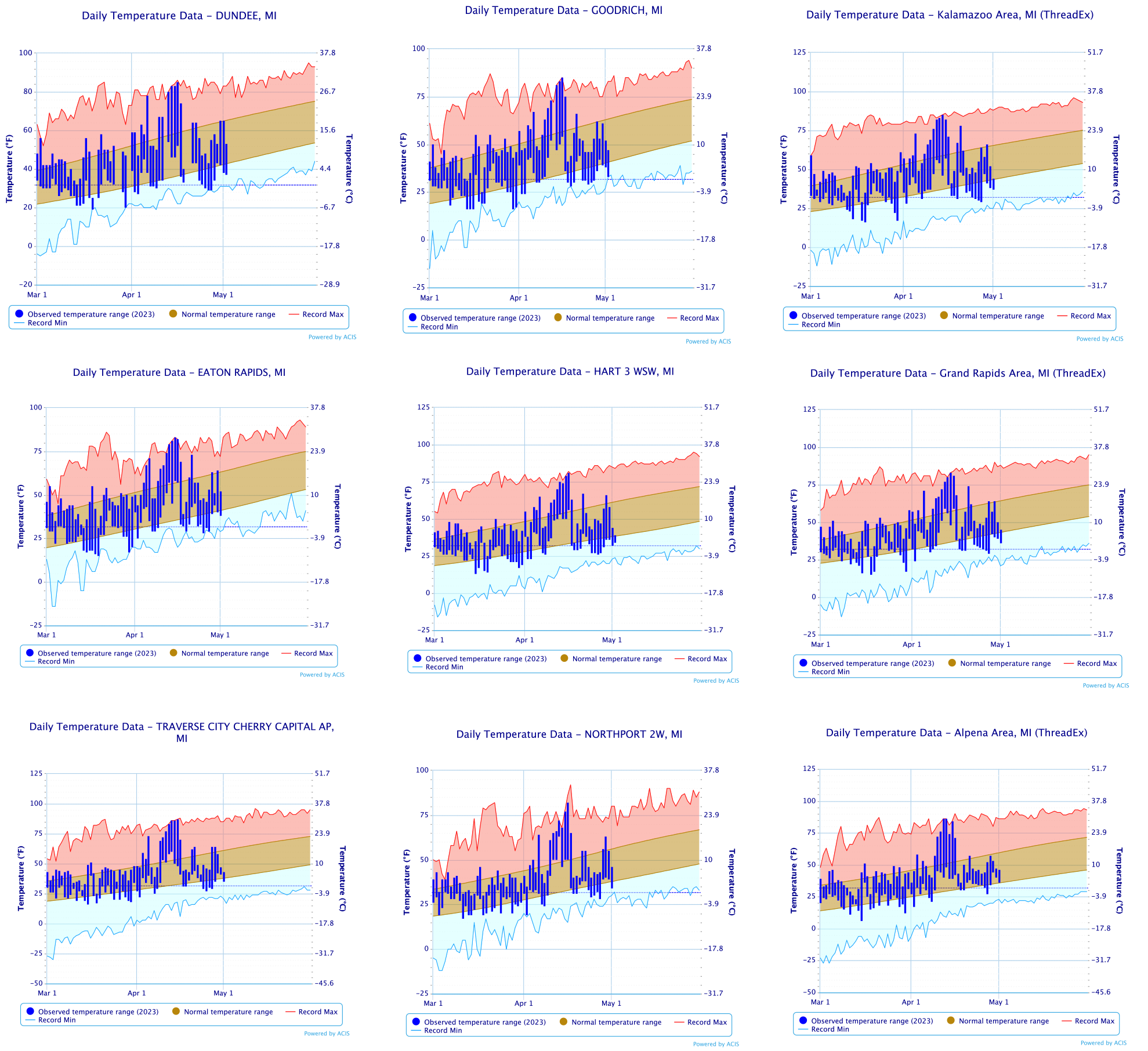 Despite cool conditions the first week of May, most areas of the state are slightly ahead of normal in terms of growing degree day (GDD) accumulation.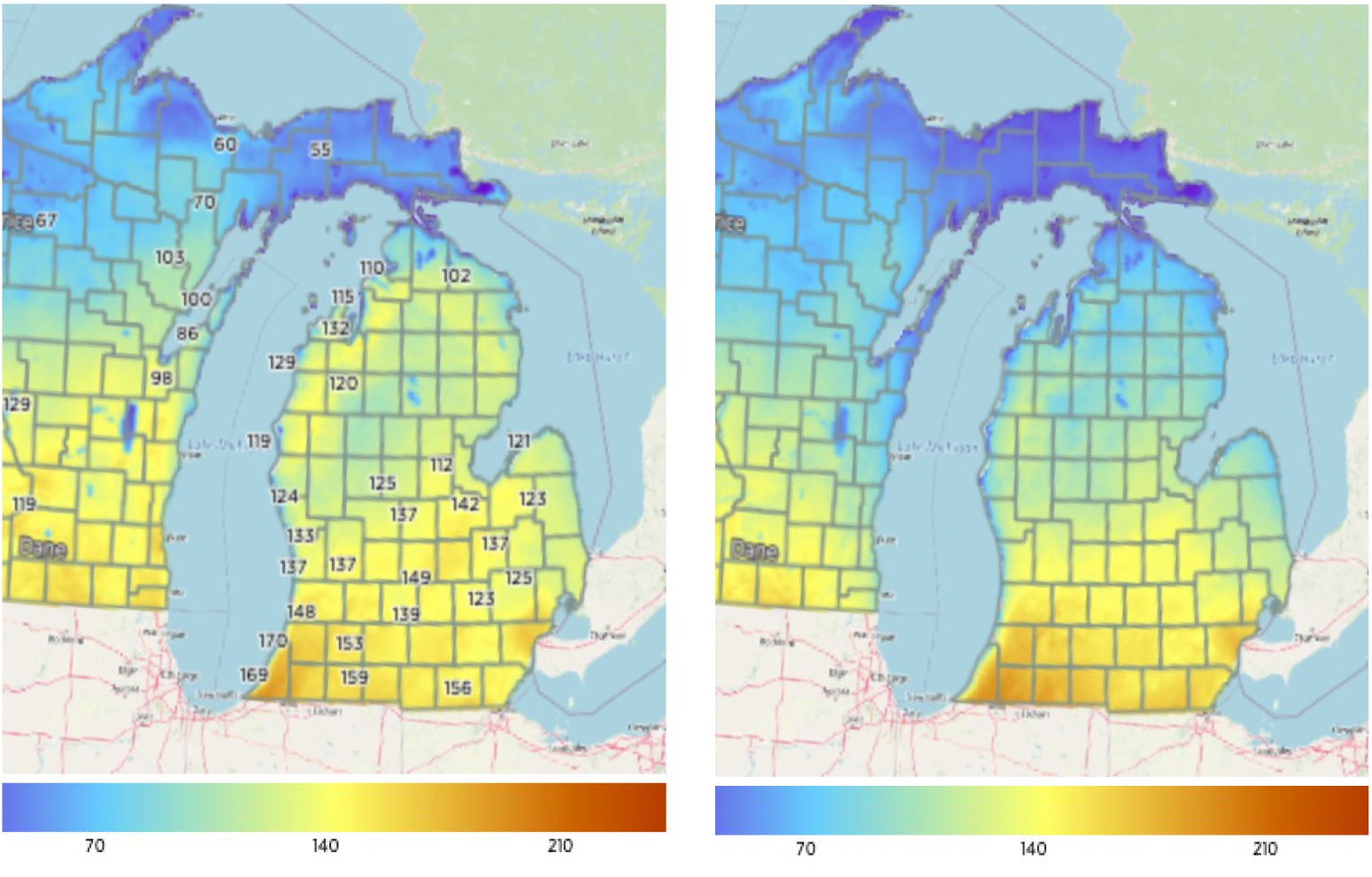 Most areas of the state received greater than average precipitation Jan. 31 – April 30, 2023. Northeast Michigan, the Thumb and the Upper Peninsula received two to three times the average during April.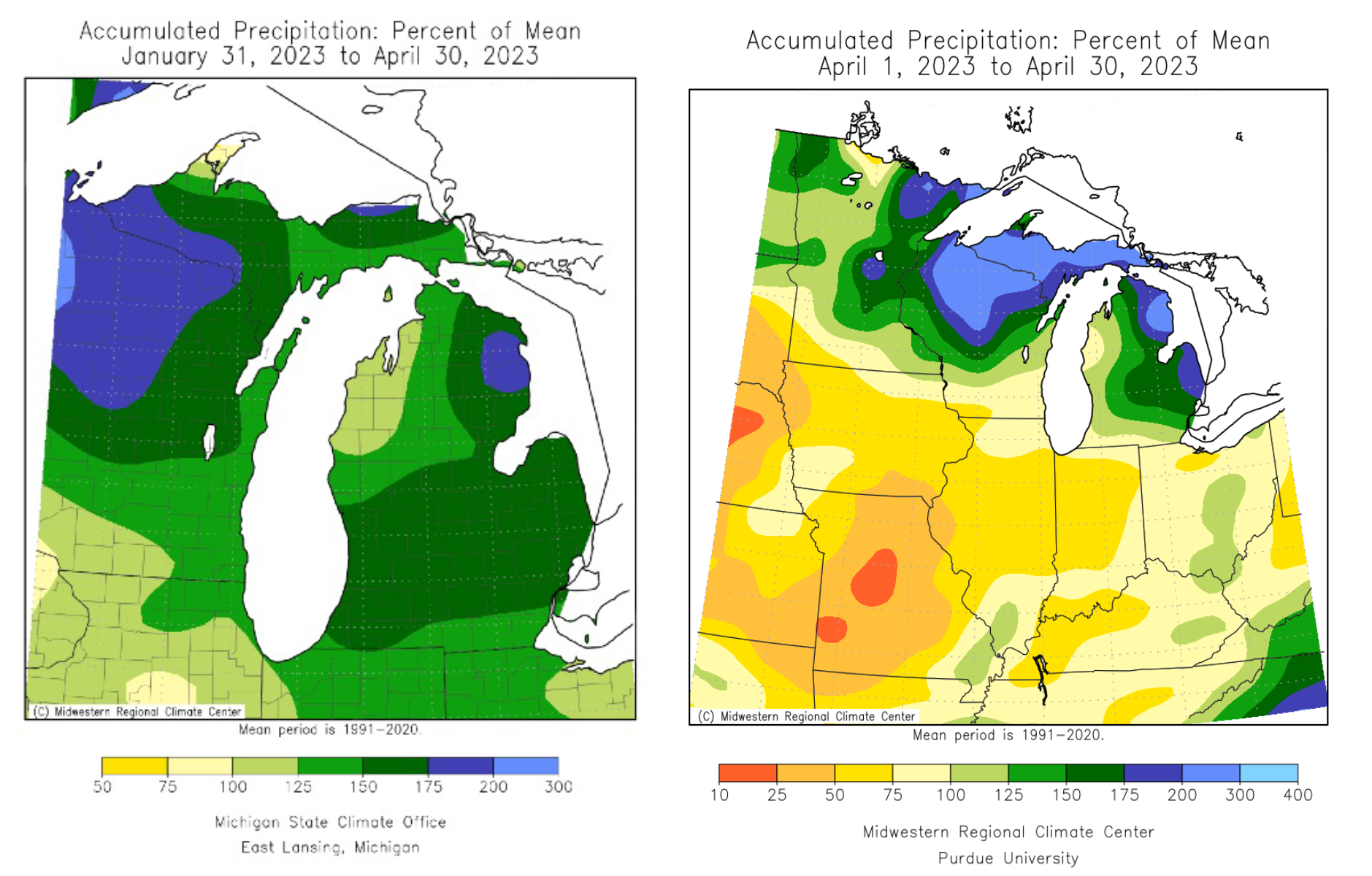 Looking ahead
Medium range guidance calls for a transition back to warmer than normal temperatures and near to below normal precipitation.

New long lead outlooks calls for warmer than normal temperatures and normal to above normal precipitation.
View the most recent MSU agriculture weather forecast.
Stage of production/physiology
Hops across Michigan are in Principal Growth Stage 1: Leaf Development and entering Growth Stage 2: Formation of Side Shoots and 3: Elongation of Bines, depending upon growing location.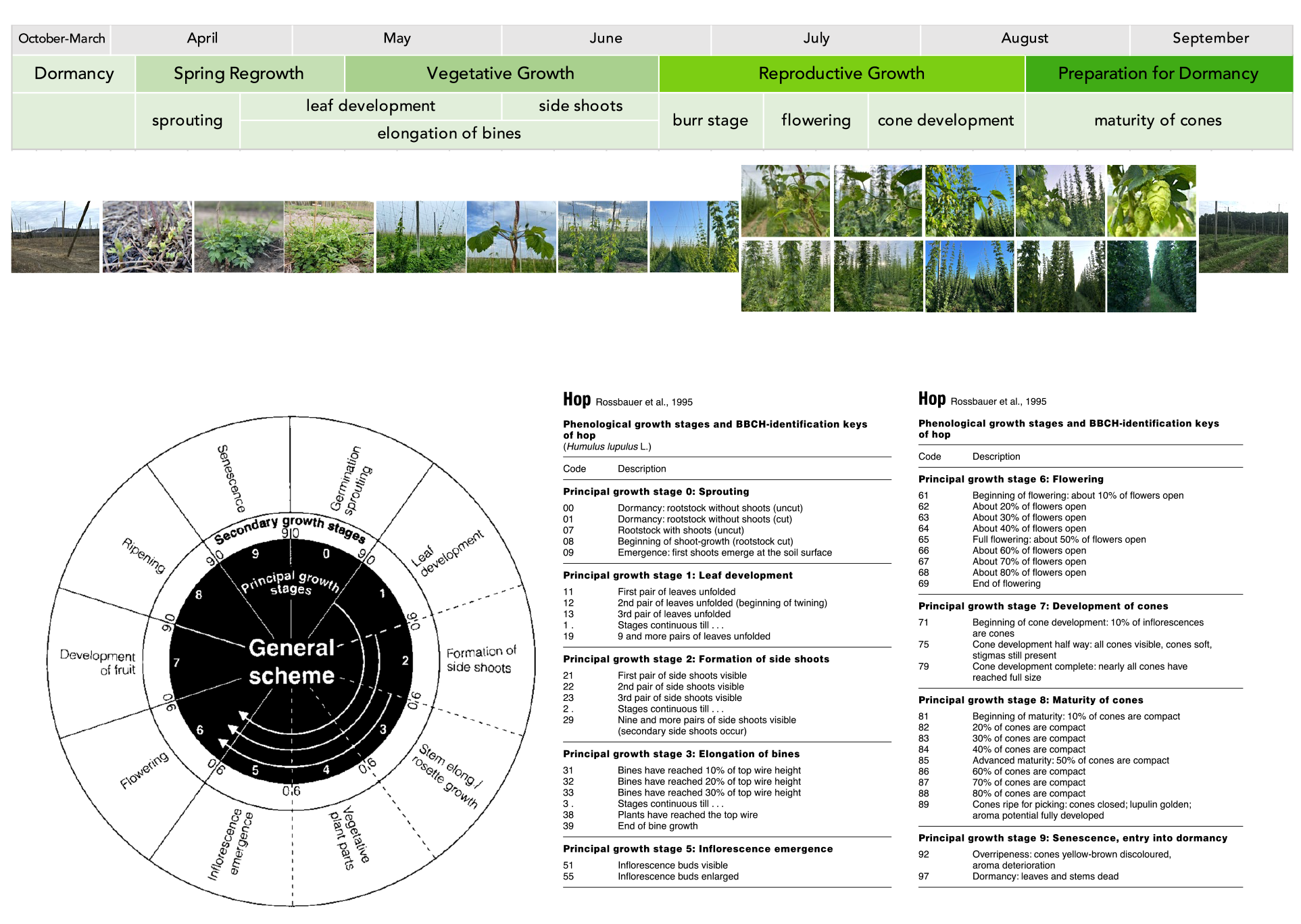 In the field
Across Michigan, many growers have pruned and are in the process of finishing up stringing depending upon growing location. Irrigation systems, at least in the southern areas of lower Michigan, are coming back online. Most growers have taken soil samples to develop nutrient management plans and some have applied dry fertilizer. Most growers have applied or will soon apply a fungicide drench for early season downy mildew control. Strong winds, precipitation and colder than normal temperatures have hampered some yard work across the state. Growers will likely begin training hops in the southern parts of the state around May 10-15.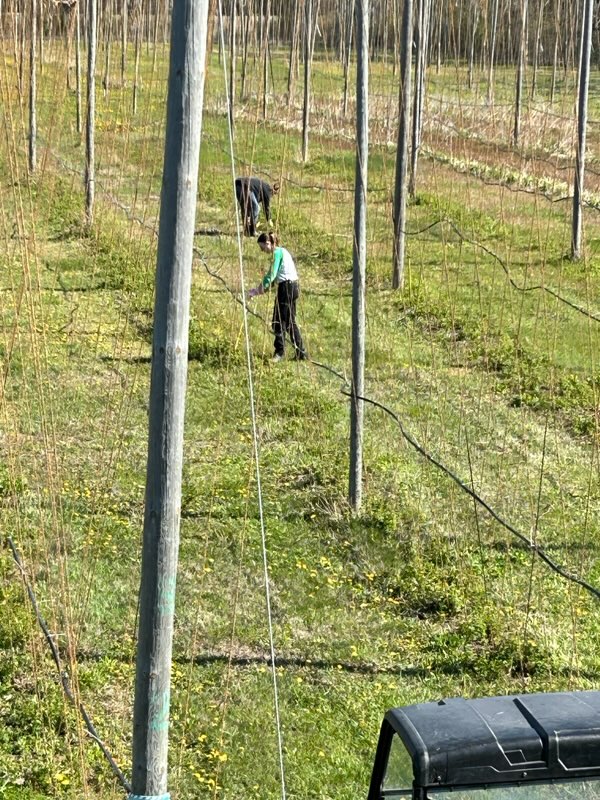 Pest report
Weeds
Many growers applied preemergent herbicides last fall or late March – early April. The window for the application of early season, non-selective herbicides like glyphosate is closed. It was a narrow window again this year and broadleaf weeds may be an issue this season. With the recent precipitation and expected warmer temperatures, grass weeds are taking off and need to be treated when small for optimal control. Refer to the Michigan Hop Management Guide for weed control options.
Diseases
Downy mildew spikes are visible in some locations. Downy mildew is caused by the fungal-like organism Pseudoperonospora humuli and is a significant disease of hop in Michigan, potentially causing substantial yield and quality losses. This disease affects cones and foliage and can become systemic; in extreme cases, the crown may die. Cool and damp weather during the spring provides ideal growth conditions for the pathogen.
Disease severity is dependent on cultivar, environmental conditions and management programs. Focus on proactive management strategies, including 1) sourcing clean planting stock, 2) clean crown management in the spring, 3) scouting regularly and 4) utilizing a preventative fungicide program. Refer to the Michigan Hop Management Guide section on downy mildew for additional management resources.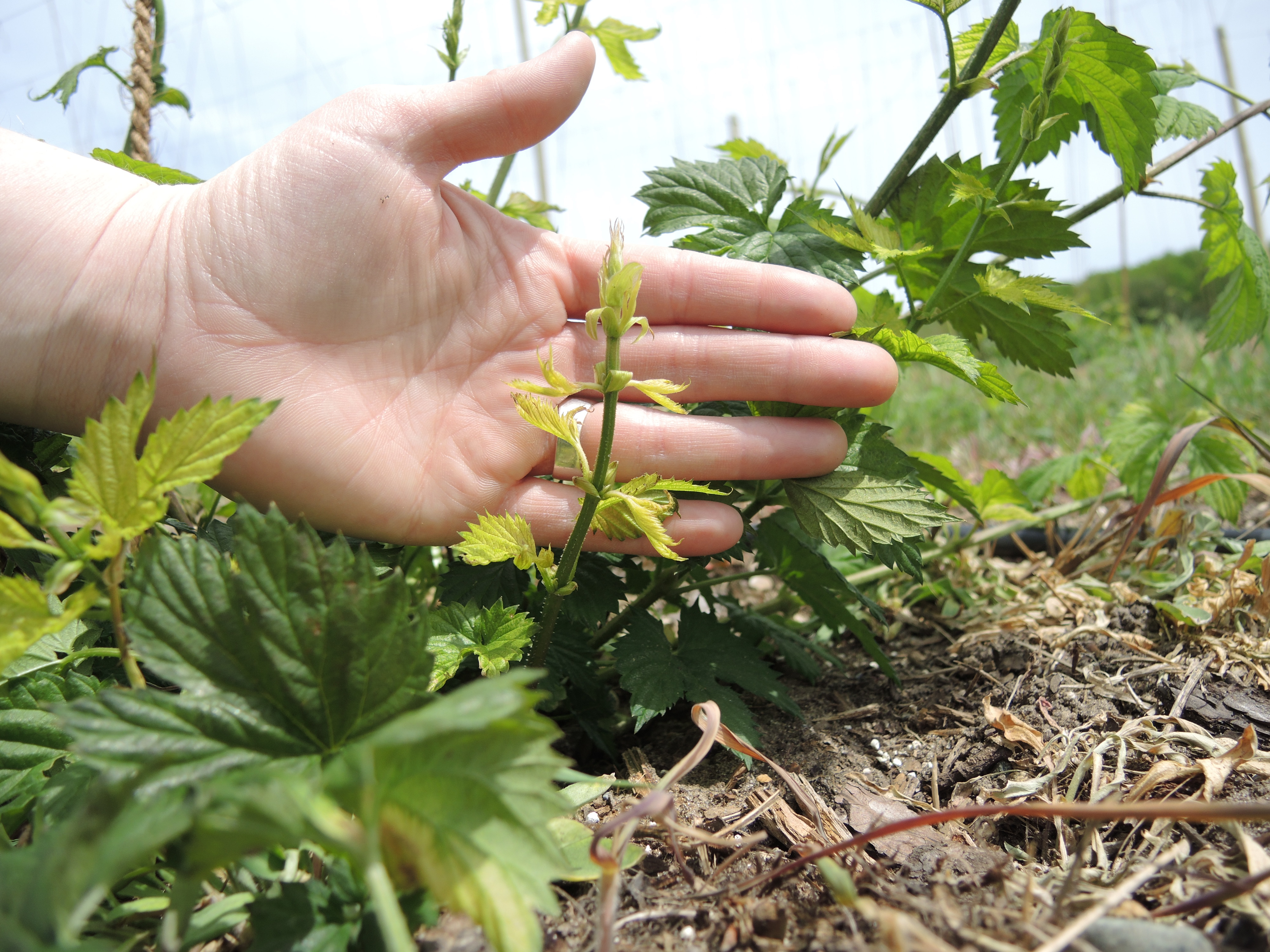 Insects
First flight of European corn borer is approaching. European corn borer overwinters as larvae inside the host plant where it pupates in response to warming temperatures in spring. First generation flight of moths is expected at 450 growing degree days (GDD) base 50, based on a March 1 start date for GDD accumulation. Currently, GDD50 accumulation in the Lower Peninsula ranges from 102-170 (May 2) with 450 GDD falling outside of the forecast data range currently. Historically, first flight has occurred in early June. First generation moth emergence continues for 500 GDD (through 950 GDD base 50) with females laying 200-500 eggs over a period of two to three weeks.
Egg development is driven primarily by temperature, but generally eggs hatch in approximately 12 days. Newly hatched larvae then feed externally on leaves for approximately seven days before boring into stems and petioles where they continue to feed and grow. Once inside the plant, observations in hop indicate that European corn borer larvae damage vascular tissue, disrupt the flow of nutrients and water and impede plant development.
In 2019, European corn borer larvae were found in leaf petioles, sidearms, cone petioles (strigs) and bines. Their location and prevalence in the plant dictates the severity of damage. The most severe damage in 2019 appeared to occur in hopyards infested by first generation flight in June during bine elongation and subsequent sidearm and cone development stages. This early infestation greatly reduced yield and led to variable cone maturity dates. For more information on European corn borer management, refer to the Michigan State University Extension article, "Be on the lookout for European corn borer in hops."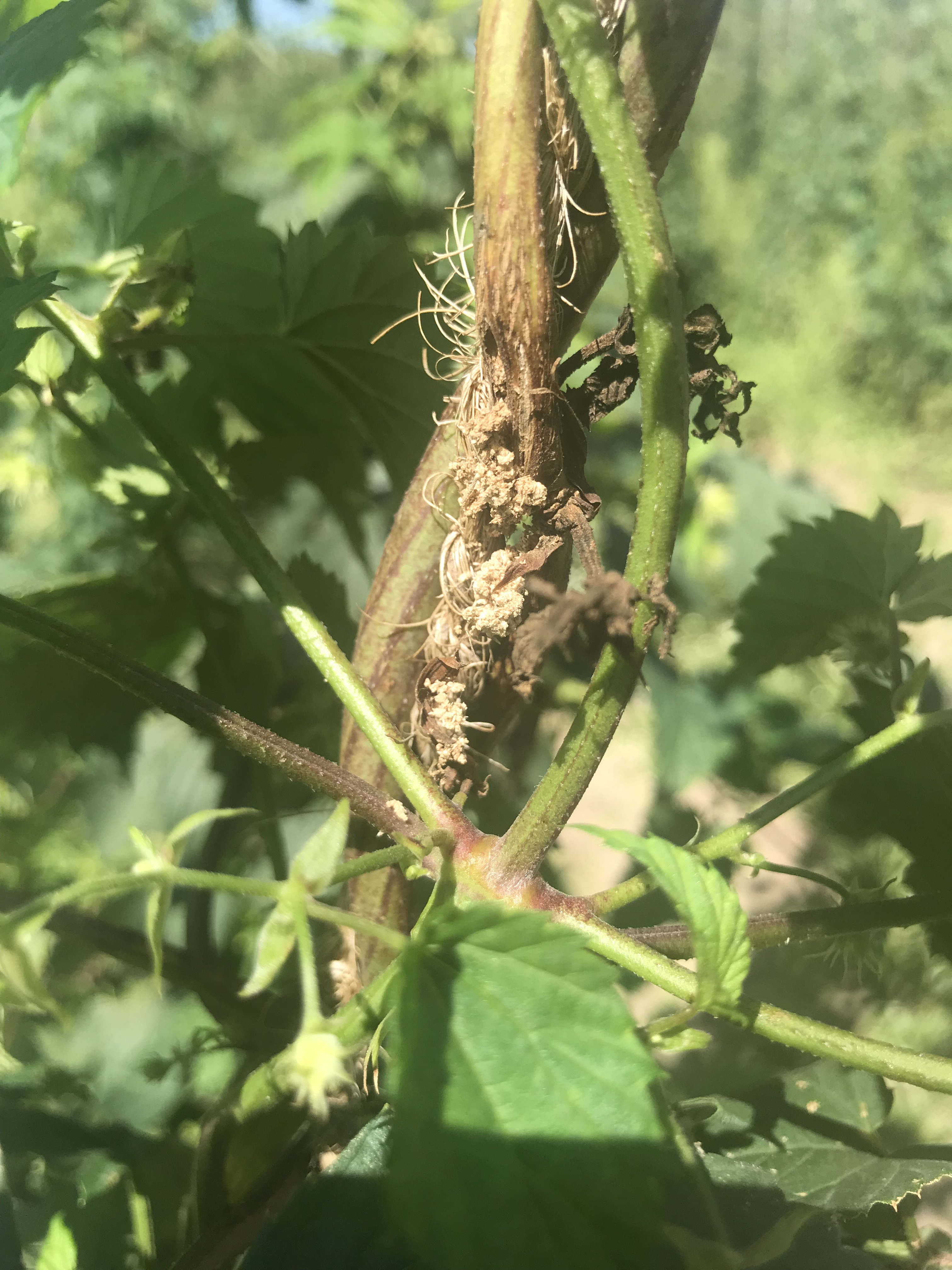 Other news
For more information on hop production practices, please sign up for the free MSU Hop Chat Series.
MSU Extension sincerely thanks the Michigan hop producers who provide timely input for the Michigan hop crop reports.
Please continue to visit the MSU Extension Hops website or the MSU Hops News Facebook page for up-to-date information.
This work is supported by the Crop Protection and Pest Management Program [grant no 2021- 70006-35450] from the USDA National Institute of Food and Agriculture and the North Central IPM Center. Any opinions, findings, conclusions or recommendations expressed in this publication are those of the author(s) and do not necessarily reflect the view of the U.S. Department of Agriculture.