Hop crop report for the week of May 9, 2022
Across Michigan, many growers have pruned and are in the process of finishing up stringing.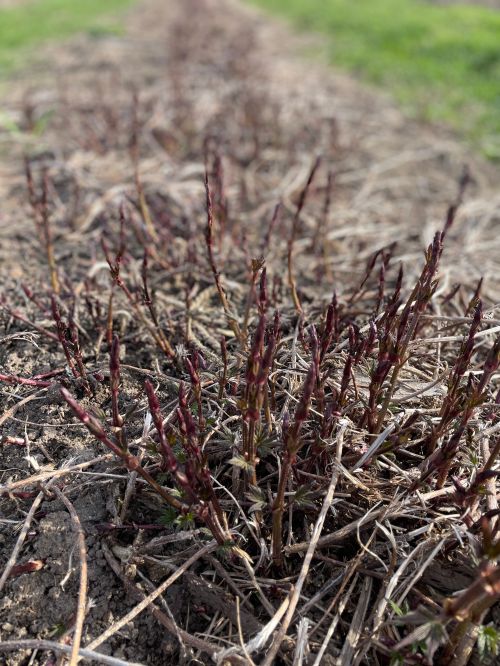 Weekly weather review
The temperatures for the first week of May were below normal for the entire state. In terms of Growing Degree Day (GDD) accumulation, southern and central Michigan were just slightly behind the five-year average, but cool conditions had northern Michigan lagging almost two weeks behind. Temperature and humidity increased dramatically this past weekend with unseasonably warm weather continuing through the week.
Much of southern Michigan received rainfall last week, upwards of 2 inches in some locations. The northern Lower Peninsula has been very dry with low humidity and high winds driving concerns about fire danger.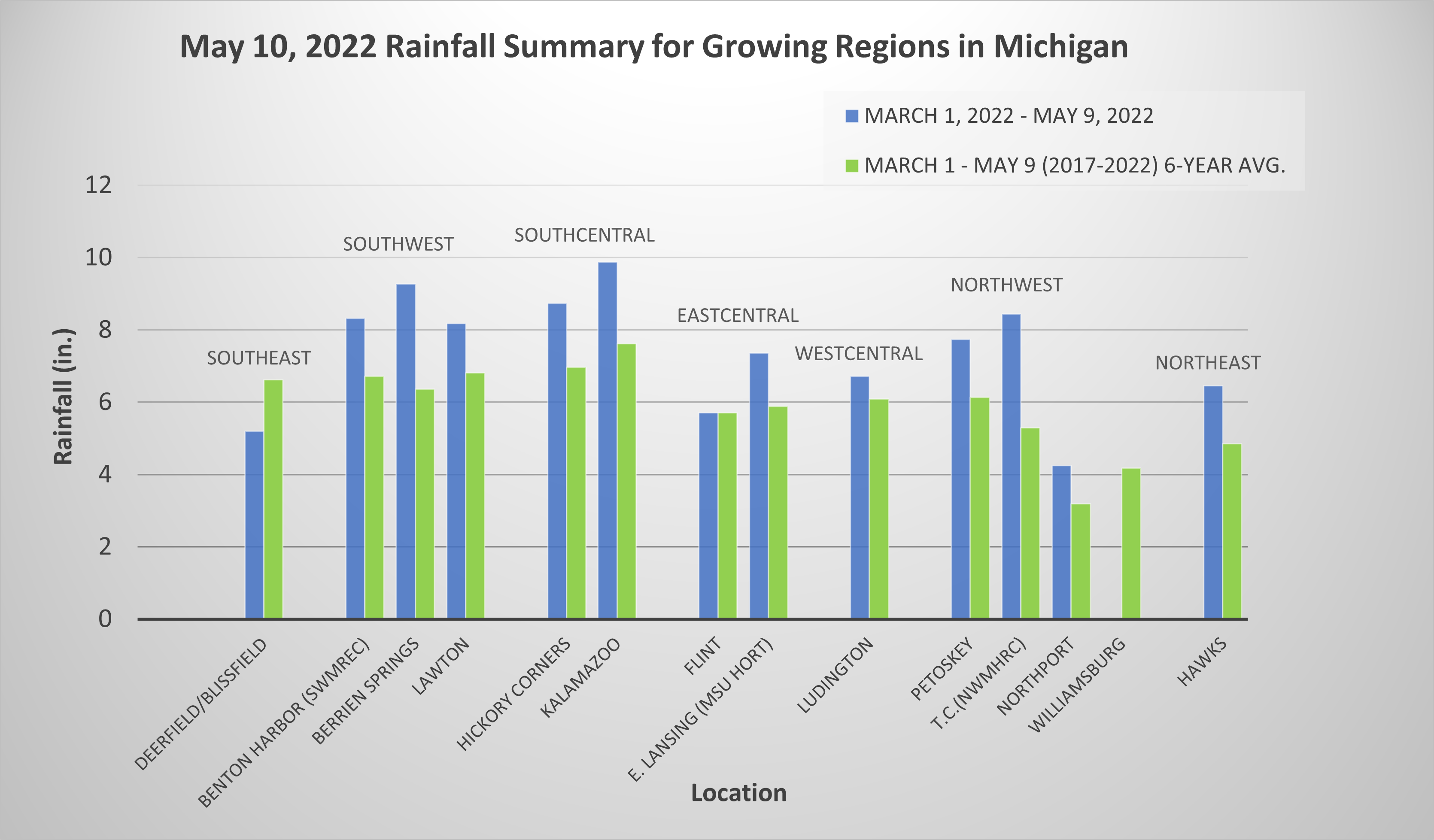 Looking ahead
Temperatures and humidity will be high to round out the work week. It may hit 90 degrees with lows only in the 60s in some locations. The next chance for rain will be Saturday/Sunday with scattered showers in some locations. After the front moves through, temperatures will cool back to normal or even slightly below normal as we head into next week. As you can tell from the NOAA 6-10 day outlook graphics below, be aware that the temperature and precipitation predictions can change day to day.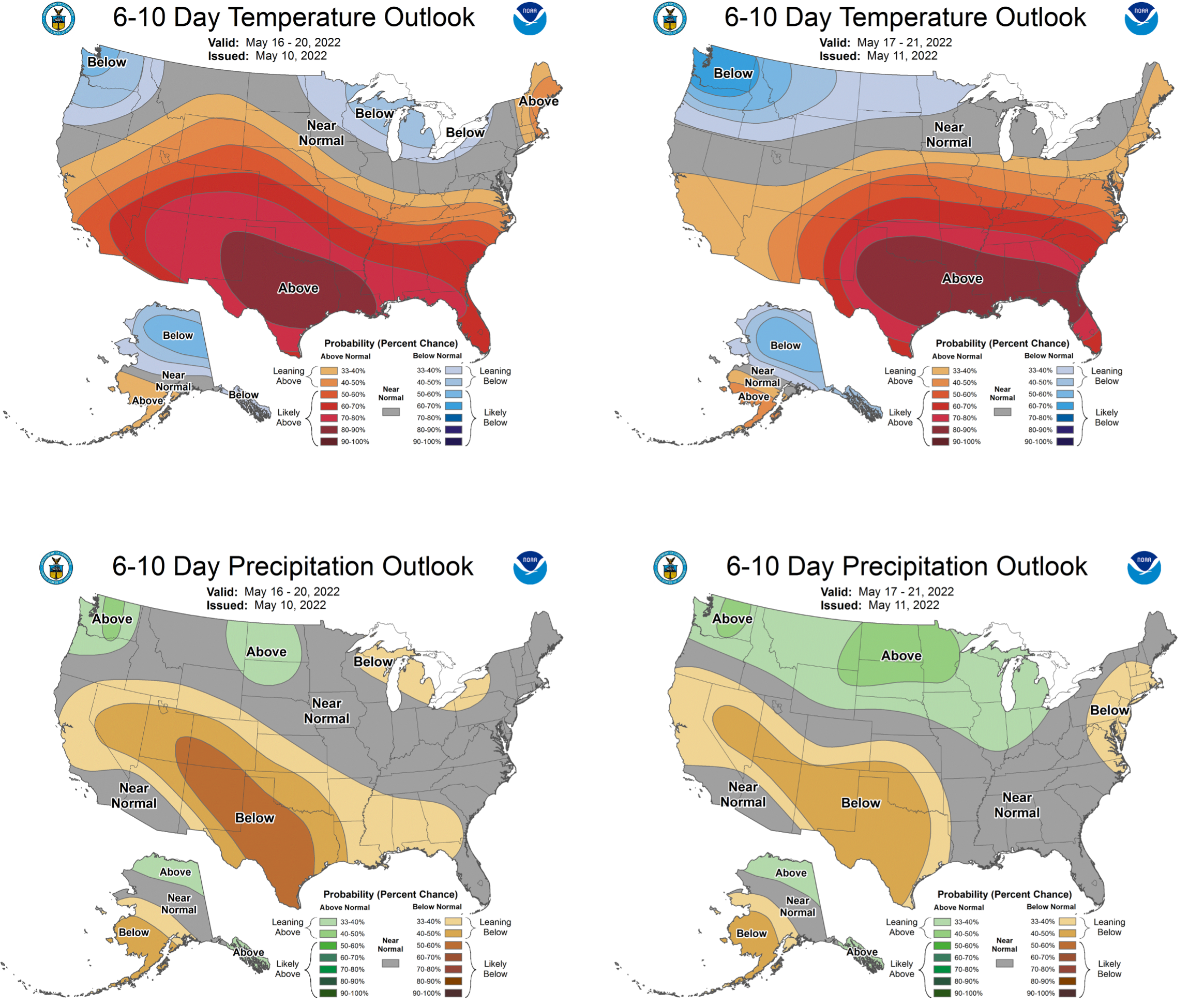 View the most recent MSU agriculture weather forecast.
Stage of production/physiology
Hops across Michigan are in Principal Growth Stage 1: Leaf Development and entering Growth Stage 2: Formation of Side Shoots and 3: Elongation of Bines depending upon growing location.
In the field
Across Michigan, many growers have pruned, and are in the process of finishing up stringing depending upon growing location. Irrigation systems, at least in the southern areas of lower Michigan, are coming back online. Most growers have taken soil samples to develop a nutrient management plan and have or will apply a fungicide drench for early season downy mildew control. Strong winds have hampered some yard work across some northern Michigan hopyards.
Pest report
Weeds
The window for the application of early season, non-selective herbicides like glyphosate is closed. It was a narrow window again this year and broadleaf weeds may be an issue this season. Grass weeds are taking off and need to be treated when small for optimal control. Refer to the Michigan Hop Management Guide for weed control options.
Diseases
Downy mildew spikes are visible in some locations. Downy mildew is caused by the fungal-like organism Pseudoperonospora humuli and is a significant disease of hop in Michigan, potentially causing substantial yield and quality losses. This disease affects cones, and foliage and can become systemic; in extreme cases the crown may die. Cool and damp weather during the spring provide ideal growth conditions for the pathogen. Disease severity is dependent on cultivar, environmental conditions, and management programs. Growers should focus on proactive management strategies, including 1) sourcing clean planting stock, 2) clean crown management in the spring, 3) scouting regularly and 4) utilizing a preventative fungicide program. Refer to the Michigan Hop Management Guide section on downy mildew for additional management options.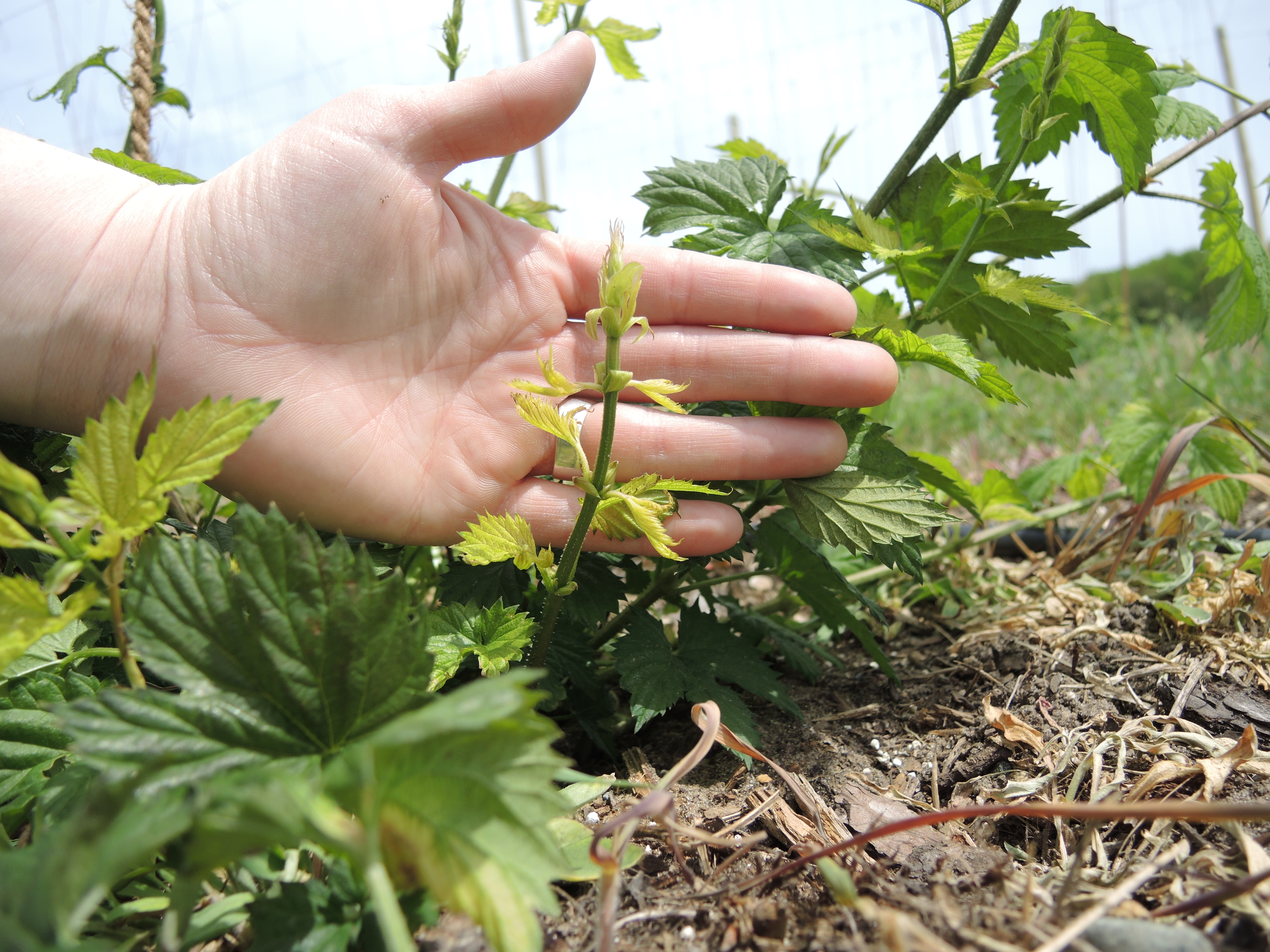 Insects
First flight of European corn borer is approaching. European corn borer overwinters as larvae inside the host plant where it pupates in response to warming temperatures in spring. First generation flight of moths is expected at 450 growing degree days (GDD) base 50, based on a March 1 start date for GDD accumulation. Currently, GDD50 accumulation in the lower peninsula ranges from 92-238 with 450 GDD50 falling outside of the forecast data range currently. Historically first flight has occurred in early June. First generation moth emergence continues for 500 GDD (through 950 GDD base 50) with females laying 200-500 eggs over a period of two to three weeks.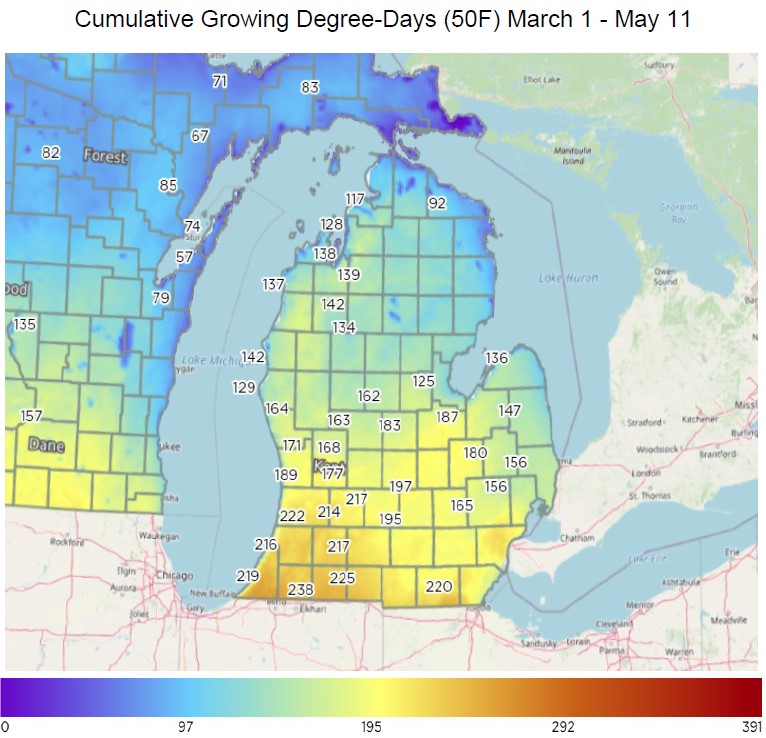 Egg development is driven primarily by temperature, but generally eggs hatch in approximately 12 days. Newly hatched larvae then feed externally on leaves for approximately seven days before boring into stems and petioles where they continue to feed and grow. Once inside the plant, observations in hop indicate that European corn borer larvae damage vascular tissue, disrupt the flow of nutrients and water and impede plant development.
In 2019, European corn borer larvae were found in leaf petioles, sidearms, cone petioles (strigs) and bines. Their location and prevalence in the plant dictates the severity of damage. The most severe damage in 2019 appeared to occur in hopyards infested by first generation flight in June during bine elongation and subsequent sidearm and cone development stages. This early infestation greatly reduced yield and led to variable cone maturity dates. For more information on European corn borer management, refer to the MSU Extension article, "Be on the lookout for European corn borer in hops."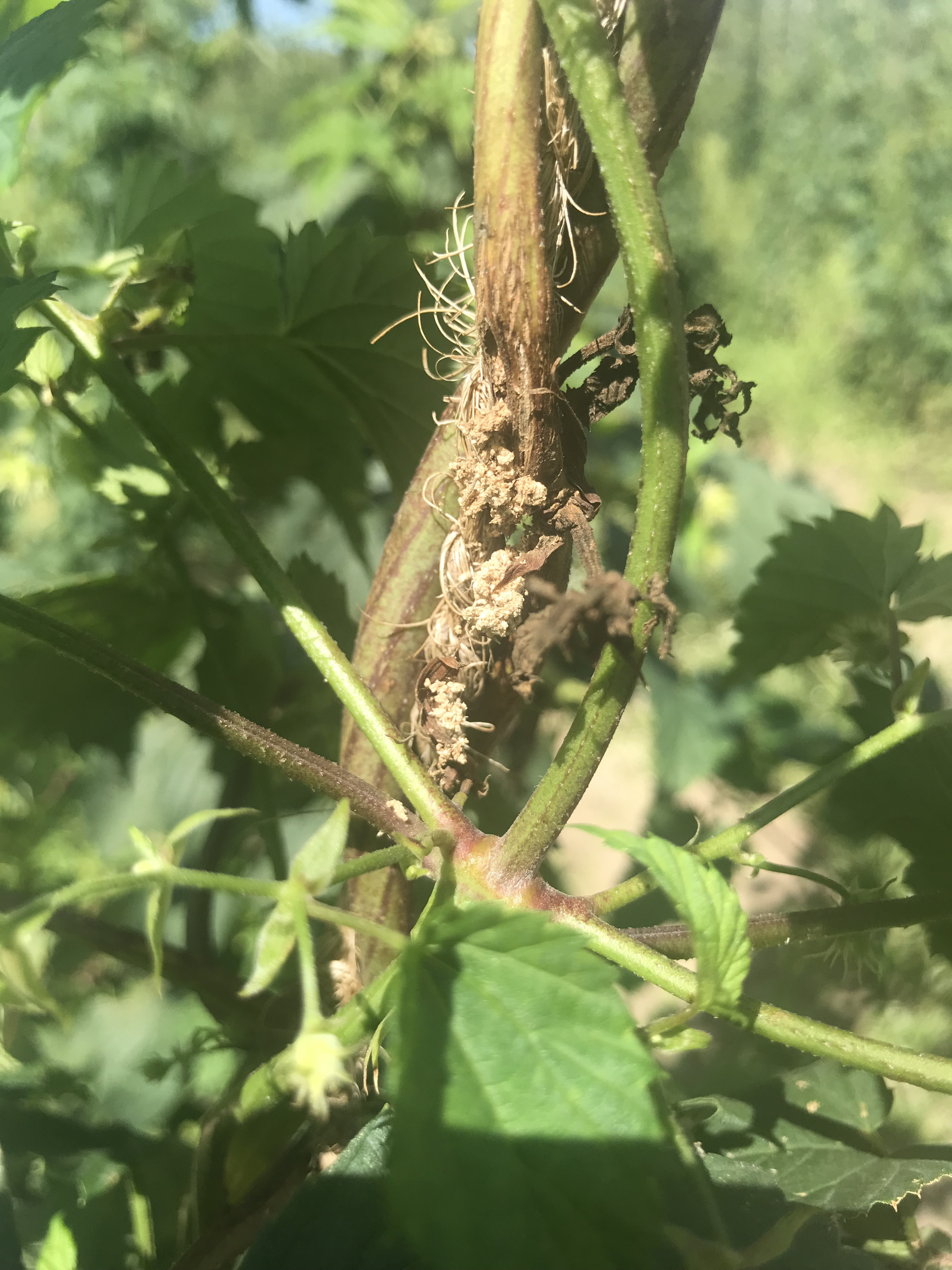 Other news
Grower input is needed on disease management in hopyards. Take our MSU hop disease survey.
Save the date for our MSU Hop Research Field Day on July 13.
For more information on hop production practices, sign up for the FREE MSU Hop Chat Series.
MSU Extension sincerely thanks the Michigan hop producers who provide timely input for the Michigan hop crop report.
Please continue to visit Michigan State University Extension's Hops website and the MSU Hops News Facebook site for up to date information.
This work is supported by the Crop Protection and Pest Management Program [grant no 2021- 70006-35450] from the USDA National Institute of Food and Agriculture and the North Central IPM Center. Any opinions, findings, conclusions or recommendations expressed in this publication are those of the author(s) and do not necessarily reflect the view of the U.S. Department of Agriculture.