Hop Growers of Michigan partners with MSU for hop IPM demonstrations
Come learn about best scouting practices in the field and participate in the 2017 Hop Growers of Michigan Farm Tours.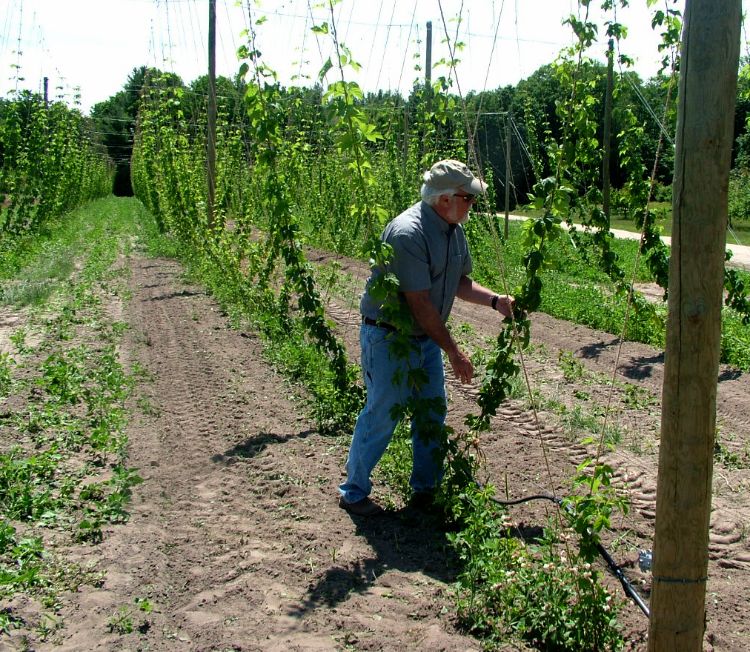 Michigan State University Extension is proud to partner with Hop Growers of Michigan to provide integrated pest management (IPM) education as part of the annual Hop Growers of Michigan farm tours.
The meetings will kick off with an introduction of the farm followed by IPM education. The IPM portion of the tour will include a review of the major pests of hop as well as how to scout for and identify them. The event will wrap up with a tour of the farm and some time to talk informally.
Growers are encouraged to bring unknown plant and insect samples for diagnosis. Please place samples in sealed bags as a courtesy to our host farms. These meetings will be held outside rain or shine, so dress accordingly and plan for inclement weather. Registration is required, but the program is free. Donations to Hop Growers of Michigan may be made at the event. Restricted use pesticides credits will be available. To register, please visit Hop IPM Workshops 2017.
Dates and locations
Saturday, June 24 from 1-4 p.m.
Mr. Wizard's Hops
John and Rose Stahl
2646 W. Albain Road
Monroe, MI 48161
Saturday, July 15 from 1-4 p.m.
Black Creek Hops
Howard and Amy Haselhuhn
235 E. Decker Road
Scottville, MI 49454
Saturday, Aug. 5 from 1-4 p.m.
Empire Hops hosts at Bruce Lundin's Farm
Dan and Alex Wiesen
12500 S. Plowman Rd.
Empire, MI 49630
For more support for your scouting program season long, sign up to receive the MSU Hop News Digest newsletter or visit us on Facebook at Michigan State University Hop News.
This material is based upon work supported by the National Institute of Food and Agriculture, U.S. Department of Agriculture, under Agreement No. 2015-09785. Any opinions, findings, conclusions, or recommendations expressed in this publication are those of the author(s) and do not necessarily reflect the view of the U.S. Department of Agriculture.